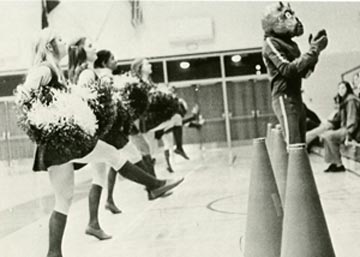 An early version of Duke Dog leads cheers at a 1973 basketball game.
The Duke Dog mascot as we know him today first appeared in the 1982-83 basketball season. There had been an earlier version of the Duke Dog mascot. A wild-eyed – and totally unconvincing – mascot first appeared in the 1972-73 basketball season but failed to generate any support for continued existence.
The current mascot, extremely popular with fans young and old, was the brainchild of Dr. Ray V. Sonner, the vice president for university relations who was behind the bulldog mascot and the Duke Dog cartoon. Sonner commissioned a professionally-made mascot outfit to be worn by student volunteers.
Eight-foot-tall Duke Dog, complete with crown and cape, entertains crowds at major JMU sports events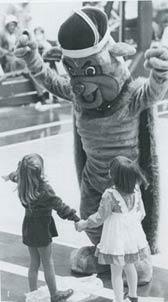 Duke Dog entertains two young fans at his debut in 1982
as well as making public appearances through the state.
Duke Dog debuted on Nov. 28, 1982, when the Dukes played Virginia Military Institute in the first game played in the new JMU Convocation Center .
Even though students were on Thanksgiving break, the Convocation Center was packed for the V.M.I. game and a capacity crowd erupted when Duke Dog made his first appearance. Duke Dog brought the same magic as the bulldogs Duke III and Duke IV in producing a win in his first appearance. JMU won 58-33.
In the 2004 football season, Duke Dog competed with 11 other college mascots in Capital One's College Mascot of the Year competition. Duke Dog gathered far more votes than any of the other mascots in the popular voting but, because of judges' ratings, the championship went to Monte, the grizzly bear mascot of the University of Montana – the team JMU had defeated in the Division I-AA national title game.
The results of the Capital One contest drew considerable criticism from JMU fans. Capital One has since announced that the 2005 contest will be awarded solely on the results of the popular vote.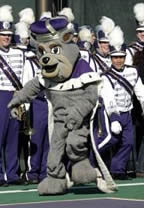 Today's Duke Dog cavorts with
members of the Marching Royal Dukes.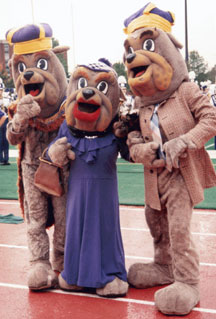 Duke Dog is joined by his Mom and Dad at a 1996 Parents Weekend game.