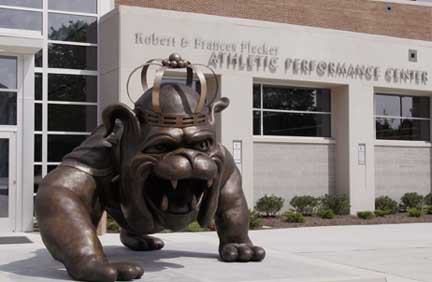 A 2,100-pound, eight-feet-long Duke Dog stands menacingly
outside the Plecker Athletic Performance Center
The latest addition to the Duke Dog family – one weighing more than a ton – took his place on campus just before the beginning of the 2005-2006 school year.

The massive bronze statue of a snarling Duke Dog sits menacingly in front of the Robert and Frances Plecker Athletic Performance Center , which is behind the south end zone of Bridgeforth Stadium.
 
The statue weighs 2,100 pounds and is seven and a half feet wide at his front paws, six and a half feet tall and eight feet long. The Duke Dog statue stands on a two-foot base.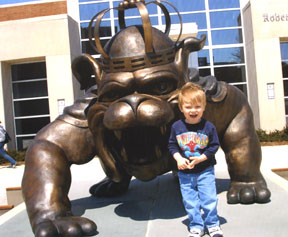 The Duke Dog Statue and a member of the JMU Class of 2027, Jacob Hilton
The statue was created by Lee Leuning, the South Dakota artist who also sculpted the James Madison statue that stands between Varner House and Logan Hall. The Madison statue has been on the JMU campus since 2002.
A smaller version of the Duke Dog statue – one about two feet long – went on display in the Convocation Center earlier in 2005.

Donations by JMU alumni were responsible for both statues. The large statue was commissioned with gifts from the owners of the University Outpost: Rick ('89) and Christine ('90) Johnston and Jeff ('91) and Karen ('91) Wolter.

 The smaller statue resulted from a gift from the Bruce and Lois ('64) Forbes family.