Overview
JMU is dedicated to creating a safe environment for all students. Our students describe campus as welcome and safe. We have public safety officers, safe transportation for students, and safety programs on campus. Harrisonburg is knowns as the "Friendly City" and our JMU community is waiting to welcome you here! Please see our #youarewelcomehere at JMU video.
JMU works to ensure every member of the campus community feels safe and protected. The JMU Department of Public Safety has programs and resources available for students, faculty, staff and community members. JMU police officer patrol around campus on foot, bike and in cars. If you ever need assistance and they are not around, you can call them. The number can be found on the back of your JACard.
Emergency: 540-568-6911 or simply call 911
Non-Emergency: 540-568-6912
Campus Safety Escorts: 540-568-6913
Blue Lights
Blue Lights, or Areas of Rescue Assistance, are outdoor emergency phones located across campus to allow instant communication with JMU Police.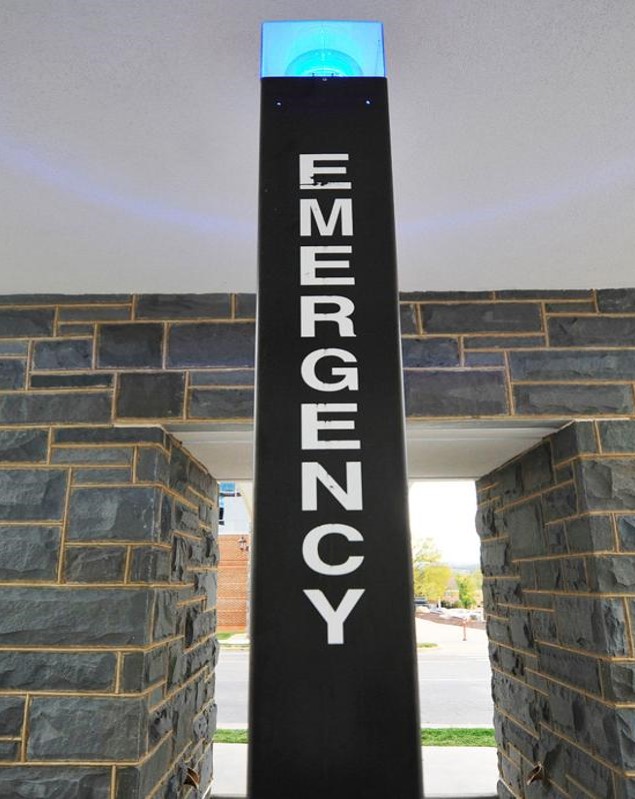 Image rights belong to Holly Warfield, the Breeze Photo Editor.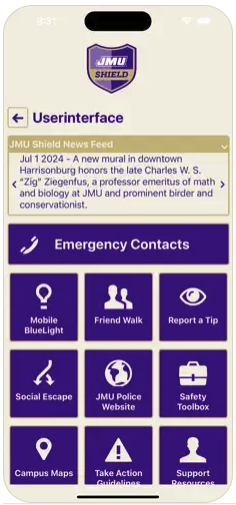 LiveSafe
LiveSafe is an App that allows you to
Share information, tips, and safety concerns with police via text messaging...
Stay anonymous anytime, or send your caller ID and location to police immediately
View a helpful safety map that displays where recent incidents have occurred, and nearby safety locations.
Let your family and friends see where you are by activating a GPS-tagged monitoring feature.
Receive notifications regarding important safety information in your community.
SafeRides
SafeRides offers free rides to students on weekends. Particularly to prevent drunk driving. To request a ride call (540) 268-7433 during their operating hours.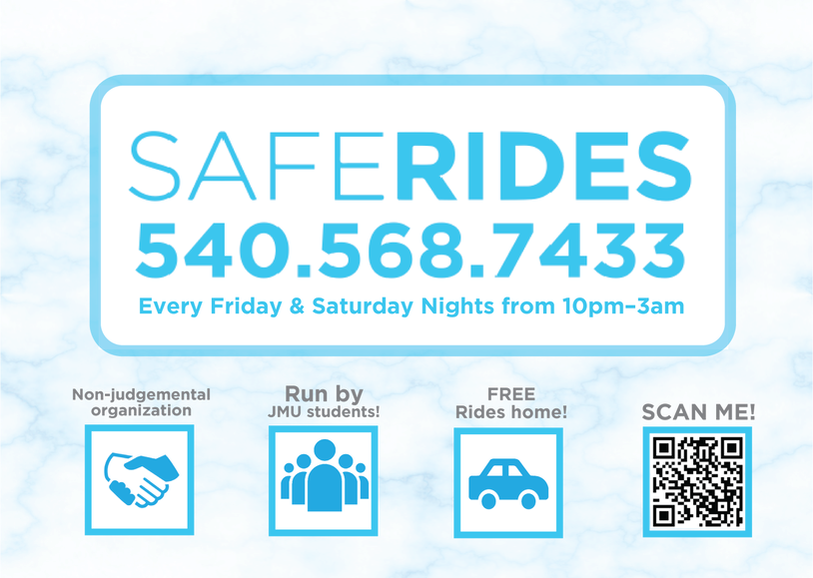 Safety Escorts
Safety Escorts are available to any student on campus, free of charge. Escorts are provided by carefully screened and trained student employees known as the Campus Police Cadets. To request a ride call (540) 568-6913 during safety escorts' operating hours (mainly from 9pm until 3pm).