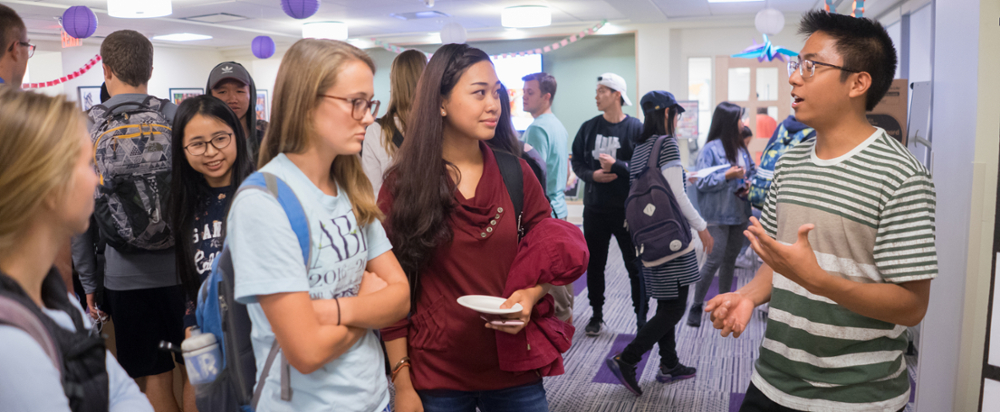 Which student organization(s) are you a member of?
There are over 350 active student organizations on campus with many diverse focuses, such as community service, the arts, cultural engagement, and leadership skills. With so many organizations available, it can be hard to know where to start!
So, how can you get involved in them?
Start your search online at Be Involved to identify the student organization(s) that you are most interested in.
Attend Student Org. Night to talk to in person with the student leaders who are running the organization to find out if (a) your interest will be met by participating in this organization and (b) when their student organization meeting will be taking place. At the beginning of every semester, the Student Activities & involvement organizes a Student Org. Night (or SON) during which all of the existing student organizations are invited to attend for anyone to attend and learn more about them.
Attend the student organizations' meetings and get ready to meet some great individuals with similar interests as yours.
If you don't find what you are looking for, you can even create your own student organization.
Are you the leader of a student organization?
International Student and Scholar Services (ISSS) is committed to working with student organizations to:
Stress the importance of being globally engaged,
better address their needs
advise them
address and advocate for the issues that globally-minded students face on this campus.
We look forward to connecting and collaborating with you to find ways to bring individuals together and engage them in cultural-related awareness and exploration, and for student organization to feature their talents/cultures, or facilitate an activity.
How can we collaborate?
Our office organizes monthly events during which we can promote and involve student organizations. To give you an example, for the past 3 years our office has organized a Spicy Food Night during which we invite any student organization to provide food samples of a spicy dish of their choice for participants to sample and vote for. This is one of the many monthly events we organize and would welcome your organization's participation.
International Week provides for many opportunities to showcase your organization by (1) having your own table during the International Bazaar, (2) performing or showcasing a particular talent specific to your organization and (3) submit an event proposal to host an I-Week event organized by your organization.
Annually in mid-March our office organizes the International Student Leadership Conference. This might an opportunity to (1) connect with similar organizations as yours found on different campuses, (2) require your future executive board members to attend as a means to be trained for their future responsibilities, and (3) possibly present a session about your student organization's special achievement.
Our office has created a listserv where all of our globally-minded individuals can be subscribed to receive a weekly email to promote our events and other cultural/international events. Want to subscribe or promote your events?
Contact Us
For any other questions regarding student organizations and involvement, please contact ISSS.