Study at James Madison University!
James Madison University is proud to offer exchange opportunities to students who attend our partner universities. Our exchange program allows students to study one or two semesters at our campus. Incoming exchange students will be able to take courses within many of the majors that are offered here. Credits earned during the exchange period will be transferred back to your academic institution.
JMU has a strong support staff that will be able to assist you throughout Exchange experience. From starting your application, to airport pickup, to course enrollment, we are here to assist you in any way that we can! Our team within the JMU Center for Global Engagement will do our best to make sure you have a smooth experience while at JMU.
How to Apply
All interested students must first be nominated by their home institution. Once the home university has notified JMU of their nominees, the exchange program coordinator at JMU will provide access to the online JMU application. Once the JMU application has been completed, the student will receive their official acceptance via email and also an acceptance packet via email. This packet will include information regarding attaining the J-1 exchange student visa.
Nomination Deadline (for universities): March 1st 
Application Deadline (for students): April 1st 
Required Application Materials:

English Proficiency Scores:  

Nomination from home institution
Personal Statement
Transcript
Financial Evidence
Language Proficiency (see next column)
Passport Copy
Course preferences
Signature documents for enrollment, housing, JMU Honor Code, etc.

IELTS minimum overall score of 6.5
GTEC CBT minimum score of 1210
Duolingo English Test minimum score of 105 with no single sub score below 80
Pearson PTE Academic minimum score of 58
TOEFL minimum score of 81 on the internet-based test or 550 on the paper-based test
SAT minimum score of 500 on the Evidenced Based Reading and Writing Portion of SAT exam

All scores must be recent. Scores cannot be older than 2 years at the time the student begins their exchange term at JMU.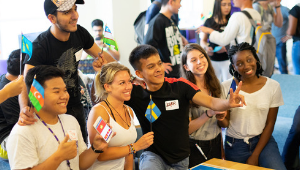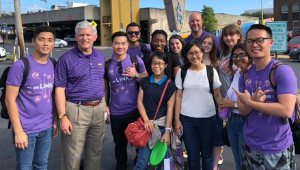 Academics
Exchange participants are required to take a minimum of 12 credits hours in-person (approximately 4 courses) per semester to be considered full-time and abide by J-1 visa regulations. When completing the JMU application, students will create a list of preferred courses they wish to take. The collected information will be used for course enrollment. Please note that all preferred courses are not guaranteed. Students must also meet any prequisites for courses they are interested in taking at JMU. 
Courses at JMU: Exchange students can take a maximum of 2 courses in their major field of study and then will take 2-4 courses in other interdisciplinary areas. In the United States, and specifically at JMU, these general education coruses are part of the liberal arts educational system.
Restricted Majors:
- Nursing and Medicine
- Hospitality/tourism management
- College of Business (including economics, finance, accounting, administration, management, marketing, etc.)
Accommodation
JMU will provide on-campus housing for all exchange students. After the students are accepted by JMU, they will be contacted by the Office of Residence Life regarding instructions on how to select their housing. On-campus students will have a mandatory 14-meal plan at cafeterias on-campus. Please note that residence halls will be closed during holiday breaks, so the students will have to make other arrangements for food and lodging during those times.
Off-campus housing is only an option for students who wish to stay for the academic year. JMU is not responsible for prodiving off-campus housing arrangements. It is the student's responsibility to secure living arrangements if they decide to live off-campus.
Exchange Student Fees
| | |
| --- | --- |
| On-Campus Room Rent | $2,875 per semester |
| Meal Plan 14+ | |
| Housing Contract | $40  |
| Internect Connection Fee | $138  |
| International Student Fee | $100 per semester |
| Insurance Fee* | $699.90 per semester |
* The Insurance Fee can be waived if the student has their own traveler's insurance that meets US Department of State requirements. The waiving process will happen upon the student's arrival. 
Next Steps: After JMU Acceptance
After you have been accepted by JMU, you will recieve an Acceptance Packet via email. Within this packet, you will have the necessary materials to apply for visa, intructions to set-up your JMU email, and information regarding dates for your arrival.
Visa - All exchange students are required to attain a J-1 Visa. Your acceptance packet will include a DS-2019 Certificate of Eligibility for Exchange and other important documents which will allow you to apply for this type if Visa.
Insurance - Insurance is mandatory for all exchange students. JMU will automatically enroll students with our insurance provider provider CISI. If a student already has insurance, they can apply to have their insurance fee waived once they arrive to campus.
Course Enrollment - After your acceptance, the a JMU Academic Advisor will begin enrolling you in courses that were listed on your application. The advisor will conctact you once your enrollment schedule has been complete. You may also be contacted to find additional courses in the event a class has reached capacity or is not offered that semester.
Flight Itinerary - Once you have purchased your flight, you will be required to upload your flight itenerary into our application website, Terra Dotta. 
Airport Transportation - Our office will provide instructions for taking the bus from Dulles International Airport located in Washington DC to JMU's campus in Harrisonburg, Virginia. Our staff will meet students at the on-campus bus stop and transport them to their residences. Specific arrival dates and times will be included in the student's acceptance packet.
Orientation - JMU offers a great orientation program for international students. For the Fall semester, students will attend an orientation the week prior to classes. Specific dates will be provided within acceptance packet.