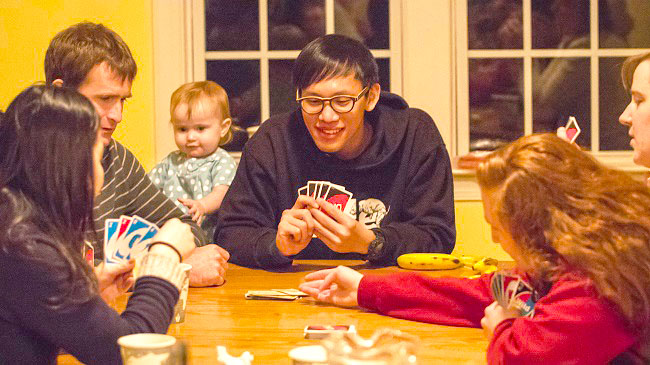 Update on the LIFE Program
Dear JMU community,
Thank you for your support of our international Dukes through the years! We are not continuing the LIFE Program in its current format for the Spring 2020 semester.
We are evaluating our current programs to find new ways to serve our international students and scholars, and one of our biggest goals for 2020 is to find a new way to connect them with the Harrisonburg community. If you're interested in hearing more about whatever cross-cultural exchange we cook up next, just drop us an email at isss@jmu.edu and we'll keep you in mind!
Hopefully we'll be in touch very soon with a new way for you and your families to continue connecting with our international community. In the meantime, check out the Events feed on our homepage to see what we're up to! We hope to see you at some of the events!
Best,
ISSS
Overview
Leaders in International Friendship Exchange (LIFE) is a special program that connects JMU international students and scholars with local community members and families who:
Have lived or traveled abroad themselves.
Simply enjoyed getting to know individuals who are from other cultures/countries.
Have connected and hosted students studying abroad at JMU before and loved those relationships and interactions.
This is a unique and wonderful opportunity for everyone involved to share their cultures, whether they are simple US traditions or interesting foreign customs, and together explore the local areas around James Madison University, Harrisonburg city, and Shenandoah Valley. While our community members and families thoroughly enjoyed the global connections and bonds, our international students and scholars greatly appreciated the relationships and kindness coming from outside of the regular JMU settings.
Program Information
Both students/scholars and community members must complete the appropriate application form to participate in the LIFE Program.
We do conduct background checks on all community members who apply. The application process includes requesting information on all adults in your household. This information is necessary to complete the background check. All background checks are kept strictly confidential.
Based on the information provided in the applications, at least one student/scholar will be matched with a member of the community, within the first few weeks of the semester.
Every effort is made to accommodate the listed (if any) personal preferences in the application, however, an exact match that satisfies all preferences is not guaranteed. We take all provided details as equally important pieces of information to be considered during our pairing process.
Information about the pairing is sent via e-mail, typically within a week after the submission deadline for applications.
Newly matched pairs of student/scholar-community member are expected to attend the first social event scheduled at the beginning of each semester so everyone who is matched can meet their new friend(s).
Community members are not expected to provide housing for international students and scholars, or assistance with financial, academic or medical difficulties.
Religious institutions are an important aspect of American culture. International students and scholars should be able to learn about them, if they wish. If you invite them to a religious event or holiday, clearly state the nature of the event and allow the student/scholar the right to choose if they want to participate or not. Religious proselytizing with the goal of conversion is not permitted.
While we will organize at least one additional event per semester after the first social event mentioned above, we strongly urge you to connect at least once per month. Invite your match to some of the events that you are involved with or interested in attending.
While matching typically lasts for a semester of up to one academic year, we encourage you to continue the relationship longer.