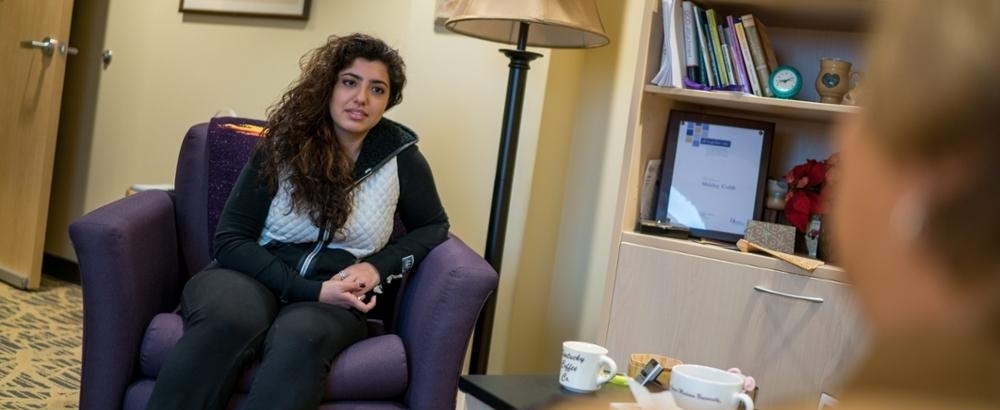 Individual Counseling At A Glance
Due to the high demand for clinical services, individual counseling services at the Counseling Center are brief. It is typically goal-oriented and focused on a specific concern. Clients referred to individual counseling meet with their clinician for approximately 3-5 sessions, depending on treatment needs and availability.
What Is Counseling?
Counseling is a collaborative effort between a clinician and a client. What it looks like often depends on those involved as well as the type of presenting concern. However, there are some common goals of brief counseling: making positive changes, exploring a painful experience, learning new skills and strategies, breaking an unhealthy pattern, accepting and/or reducing distress, etc. All Counseling Center clinicians are committed to helping their clients make positive changes and improve the quality of their lives. There are no guarantees that counseling will work for you; however, our most recent student feedback suggests that the majority of our clients have found our services helpful. Counseling at the Counseling Center is free, voluntary, and confidential. Frequency of appointments will be determined between client and clinician based on need and availability. For students with a desire or apparent need to receive treatment more than once a week or for multiple semesters, off-campus care will likely be most beneficial.
Do I Need Counseling?
It depends. Not everyone who is upset needs counseling. Sometimes feeling bad is a normal reaction to painful events, unhealthy relationships, or significant changes. However, just because it is a normal reaction doesn't mean you should go through it alone. It can also be possible if you've dealt with something long enough, that it can become "normal" and easy to talk yourself out of doing something new. Some people are so embarrassed about what they feel or believe they never share it with anyone, even though it might be a common experience. Here are some things to consider as you decide if counseling is right for you. 
Take this free, online assessment. It may highlight some potential areas of concern. Once you have that information you can decide what might be a good next step.
Individual counseling might not be the best treatment option. For symptoms that are relatively recent and where you are able to function in most areas of your life, you may want to start out with one of our workshops or visit our self-help resources. These provide access to information and recommendations about how to make positive changes.
If you are experiencing symptoms that are negatively impacting the quality of your life and your ability to function, you may want to consider one of our 3-week specialized treatment programs. We offer them on reducing anxiety, improving mood, improving communication/relationships, and self-care. These can offer the same strategies you would receive from a clinician, but in a condensed, classroom-style format. These are great for students who interested in skills and strategies to feel better quickly.
If you are motivated to address your presenting concerns, have specific goals, and are willing to discuss them with a clinician, you may consider individual counseling. Your issue may be appropriate for our short-term treatment model. However, since we cannot provide all the services necessary to meet every student's needs, there are times we have to provide referrals for longer-term or specialized treatment.
There are some concerns that are better addressed by one of our group counseling sessions. If you are dealing with relationship issues or concerns around interpersonal dynamics, group counseling is the best treatment option. There are also specialized groups for other issues that are effectively addressed in a group format (grief, eating disorders, family issues, etc.).
Visit our Your First Visit page for information about accessing Counseling Center services.