Counseling Center: Student Feedback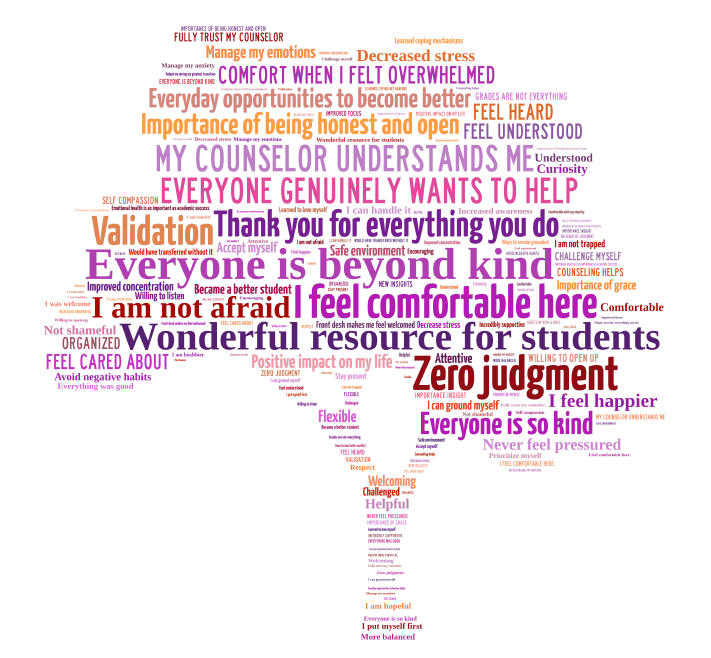 Feedback From Our 2020-2021 Client Evaluations*
96%  felt that services via telehealth were able to meet their needs
99%  felt that their counselor understood their concerns
99%  indicated that their counselor seemed skilled and competent
100%  reported that they felt that their information would be kept completely confidential
87%  reported that their clinician was sensitive to various dimensions of diversity (12% responded "Not Applicable")
76%  reported that counseling helped improve academic focus and performance (16% answered "Not Applicable")
68%  agreed that because of counseling, they were more likely to stay in school (29% answered "Not Applicable")

*The word cloud above was created from a summary of 2018 Counseling Center client evaluations
Student Comments: (Quoted with permission)
"Everyone has been very supportive and helpful!"
"I greatly value the therapeutic relationship I have with my counselor.  I appreciate the increased coping skills I have gained, my increased self-awareness, and my increased self-confidence.  I also feel more supported at JMU!"
"I've learned that opening up to those who are willing to help you is one of the smartest things I have ever done. My counselor has given me fantastic advice on how to manage my time properly, as well as control my stress and anxiety."
"It was an understanding environment that helped me deal with a difficult loss."
"What I liked best about my counseling experience was the group that I joined. I had never attended group counseling, but it helped me to connect with others and understand that everyone is fighting their own battles."
"My counselor was honest and they challenged me. I feel that I've grown immensely in becoming a better version of myself thanks to my experience here."
"There is no shame in receiving treatment."
"They also gave me a place where it was okay to share my true feelings."
"I have learned that I need to take time for myself and really look at what is important to me and make  that a priority rather than just focusing on others all of the time."
"I am better able to express myself to my friends and loved ones."
"I can't say enough good things about my counselor. They have helped me work through my emotions and anxiety about past trauma and regain confidence in myself."
"I like how close I became with the other group members and how safe I felt when talking."
"I have learned to deal with my stress and anxiety in a healthy way. I have also learned to cope with things in my past and work through tough issues. I have learned to be a better person"
"I have learned that my anxiety is not all that I am. I am able to better cope with it and use different techniques to feel like I am in control of my life."
"I have realized that I can work through my past and that it doesn't control me."
"I have already learned how to better manage stress and anxiety. This has helped me focus better on my academics, and given me a more positive attitude on staying at school. It's given me more hope."
"I learned a lot about the grieving process through counseling. I feel like I am more aware and in touch with my emotions. I am now better equipped to deal with grief."
"I've learned that I can handle things in my life in a healthier, constructive manner. I'm also better at asking for help and more comfortable talking about my struggles."