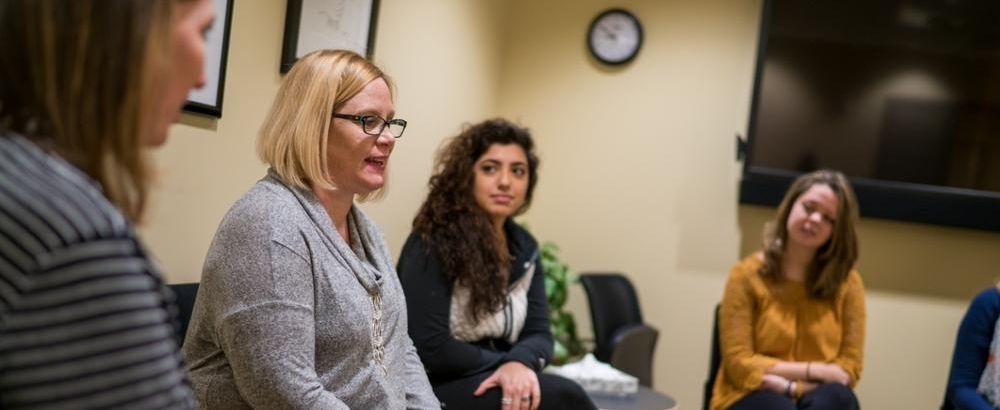 Group Counseling At A Glance
Group counseling is a great way to address a variety of issues, and for certain matters, it is the most effective. Counseling Center clinicians facilitate a small group of participants who meet weekly to discuss their concerns. Groups typically focus on a specific experience, identity, or symptom. We offer a number of groups each semester; our frequent offerings are listed below.
Frequently Offered Groups
What Makes Group Counseling Work?
When people interact with other group members, they tend to recreate the difficulties that brought them to counseling. With a skilled facilitator, the group is able to provide support and feedback, offer alternatives, and address the behaviors in a healthy way. Instead of perpetuating the issue, it is resolved. This process allows someone to learn and practice alternative behaviors and develop new ways of relating to people. Group counseling is a very effective treatment and for certain concerns, the best form of treatment. Group experiences decrease feelings of isolation, reduce beliefs that you are the only one experiencing these issues, and provide encouragement by hearing about others' experiences. It is powerful to be around others who understand your experience and support you.
Common Misconceptions about Group Counseling
"I will be forced to tell all of my deepest thoughts and feelings to the group." You control what, how much, and when you share with the group. Most individuals find that they feel safe enough to share their concerns with the group, and the group setting can be very helpful and affirming. Share what you are ready to share. Listening to others may also help, as some of what they say might apply to you.

"Group Counseling will take longer than individual counseling because I will have to share the time with others." Group counseling can often be more efficient than individual counseling. As a participant in a group, you can benefit from the group even during sessions when you say little if you listen carefully to others. You will find that you have a lot in common with other group members. As they work on a concern, you will learn more about yourself and can apply that information to your own situation.

"Group counseling is second-best to individual counseling." If a group referral is provided, it is because the clinician believes that it is an effective method to address your concerns. Not everyone is appropriate for group treatment. There are numerous presenting concerns that are more effectively addressed in group work than individual counseling.

"I have difficulty talking to people, I'll never be able to share in a group." Most individuals are anxious about the idea of sharing their thoughts and feelings with others, but within a few sessions, most participants find that they do feel comfortable talking in the group. Becoming comfortable speaking with others in a safe, group setting may help your relationships with others, and benefit other aspects of your life as well.
Benefits of Group Counseling
Learn how you are perceived by others
Experience a sense of acceptance and belonging
Discover that you are not alone in the difficulties you are experiencing
Hear ideas from others which enhance your ability to make decisions and solve problems
Benefit from the experience of being helpful to others
Learn to constructively express your feelings and ideas to others
Gain encouragement by observing the successes of others
What About Confidentiality?
The responsibility for confidentiality is shared among the group leader(s) and all group members. Virginia law requires that group leaders keep all client communications and information confidential. Each group participant is required to sign a confidentiality agreement. Group members make a personal pledge that nothing stated in group, including names of group members, will be shared with anyone outside of the group. These rules are critical to the development of a safe, respectful, and trusting atmosphere which allows individuals to openly share their feelings.
If you are interested in a Counseling Center group, mention that during your initial visit.
Group Descriptions
Breaking Through
This group provides an opportunity for participants to foster the courage and coping skills needed to confront anxiety and distress in order to create a more meaningful life. Information on anxiety and distress monitoring, mindfulness, grounding strategies, acceptance, distraction techniques, and using meaning as a motivational force will be provided
---
Dukes Better Together (DBT)
This group will provide students with information about how to identify and understand emotions, manage negative emotions, increase positive emotions, and develop effective interpersonal skills around assertiveness and dealing with conflict. Relevant mindfulness skills will also be taught.
---
Eating Disorders
This group is offered to students who are in various stages of preoccupation with eating concerns, food, body image issues, and thinness. It also provides an opportunity to discuss how these issues impact functioning and relationships. An expressive arts component may be present for some sessions.
---
Family of Origin
This is a group that focuses on discussing and connecting with others about family of origin issues and the impact that has on functioning, identity and relationships. An expressive arts component may be present for some sessions.
---
EXPLORE
EXPLORE is a group for students who want to explore their identity and self-worth, find new ways to connect and communicate with others, and understand what may be getting in the way of achieving their goals. Discussions in the group are opportunities to learn about themselves, identify and expand their own interpersonal patterns, try new behaviors and clarify feelings within a supportive and growth-producing atmosphere. A pre-group screening with the facilitator is required to join this group.
---
Grief
This group assists members by helping them cope with the reality of loss, manage the related feelings and make meaning out of the change in their world. This group provides an opportunity for members to feel understood and supported in the uniqueness of his or her situation, and to create an atmosphere that leads to growth and healing.
---
Queer 2 Questioning (Q2Q)
An open and affirming group for those in the process of exploring sexual orientation and gender identity issues as they relate to self-understanding, relationships, and daily functioning. This group provides lesbian, gay, bisexual, transgender, and questioning students the opportunity to share and explore issues and concerns in a safe environment. Diverse points of view will be equally respected and explored.
---
Self-Compassion
This group provides an opportunity for participants to explore and process different components of self-compassion (self-kindness, common humanity, and mindfulness) and how it applies to their lives. Information will be presented about concerns related to perfectionism, low self-esteem & self-worth, persistent "self-critical talk", and situational stressors resulting in guilt and shame.
---
Sexual Trauma Empowerment Program (STEP)
This is a group for survivors of sexual trauma. Survivors of all types of sexual trauma are welcome.
---
TrueSelves
This group provides an open and affirming space for those who identify as transgender, as having a non-conforming gender identity, and/or who are questioning their gender identity and gender expression. This group provides students the opportunity to share and explore specific issues and concerns related to gender identity and expression in a safe environment and to gain support from one another. Diverse points of view will be equally respected and explored.
---
Women's Process
This group is designed for female students who are interested in utilizing creative arts therapies, in conjunction with group discussion, to better understand themselves and others. This is an environment in which women can express thoughts and feelings regarding pertinent issues of gender and experience.
---
Home
HOME Group is a safe space for students that are far away from the familiarity of their home countries. The group welcomes international students, students who have spent much of their lives outside of the U.S., and/or students whose immediate family are currently residing in another country. The group will provide an open environment for these students to explore and understand what "home" means to them in the past, present, and future.
---
A space where students provide and support each other, and work through challenges they are experiencing (e.g., adapting to college life, homesickness, loneliness, and forming and maintaining relationships).