As JMU continues to expand its waste minimization and diversion initiative, more opportunities become available for the university community to support environmental stewardship in its daily activities. In addition to our recycling and composting programs, JMU has recently expanded our e-cycling program by fitting every residence hall on campus with electronic recycling (e-cycling) bins where students can place small electronic waste like batteries, phones, and cartridges to be reused, refurbished, or recycled.
E-cycling is the process through which electronic devices are properly disposed of so that dangerous pollutants do not cause soil, water, or air contamination. By reusing, refurbishing, or recycling these items, electronic devices are diverted from landfills and incinerators, which helps to reduce pollution, protect natural resources, and reduce greenhouse gas emissions.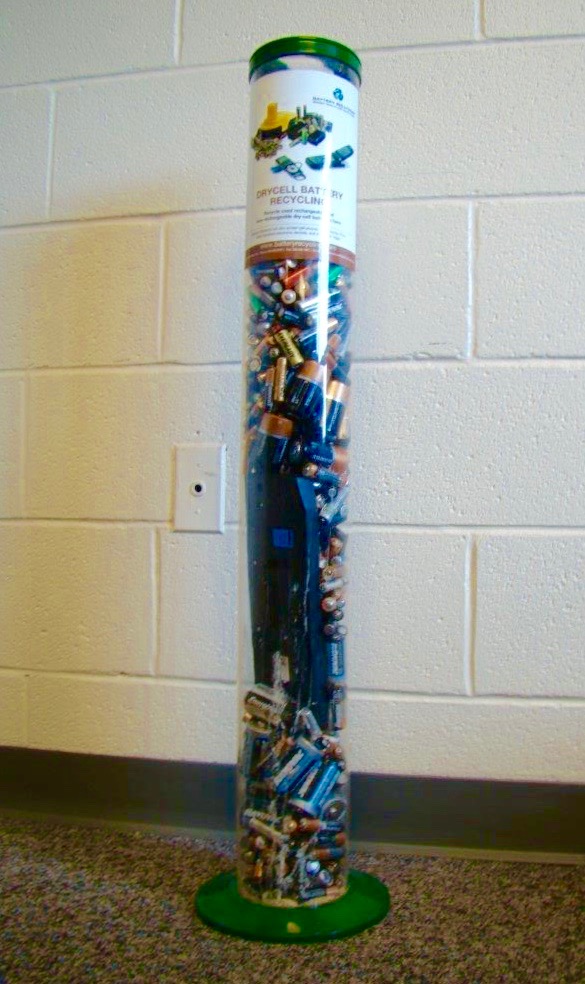 What We Do:
While recycling and reusing electronics are vital conservation efforts, it is essential that e-cycling is practiced safely and correctly. The following guide will help you learn more about the electronic recycling program at JMU.
E-Cycling Bins
E-Cycling Bins are located in each residence hall to collect residents' electronic waste. Students, faculty, and staff who live off campus can donate personally-owned electronics at many places in the City of Harrisoburg, such as Goodwill. For a full overview of the items that can be placed in bins for reuse or recycling, please view the E-Cycle Bin Guide.
E-Cycle Bins collect the following items:
Batteries 

Laptop batteries
Electronic batteries

Cartridges

Ink cartridges
Toner cartridges

Electronic Hardware

Small Portable Electronics
E-Cycling Bins do not collect the following items:  
Large Appliances

Large Electronics

Computer monitors
Printers
For large electronic waste items, students should contact JMU Recycling at 540-830-0177, 540-568-6074 or email recycle@jmu.edu.
Surplus Property Program
While personally-owned small electronic items can be placed by residents in e-cycle bins in the residence halls, JMU-owned electronic property needs to be transferred to JMU's Surplus Property program. In this program, working electronic equipment will be offered to other departments on campus. If equipment is not able to be reused internally, Surplus Property staff will offer the equipment to other state agencies, localities and approved non-profits. Any remaining equipment is offered for sale to the general public through GovDeals.com. If surplused equipment does not sell, items will then be recycled through JMU Recycling. If electronic equipment is non-functional, departments should contact JMU Recycling for proper handling and pick up. To transfer items to the Surplus Property program, an EICR form is required for each surplused item.
What You Can Do:
Students hoping to learn more about e-cycle bins in the residence halls should view the E-Cycle Bin Guide.
JMU employees, including faculty, staff, and students, should review the Surplus Property program requirements and follow the process for transferring JMU-owned electronic property.
Request Service
For any Recycling and Waste Management requests or inquiries, please call JMU Recycling at 540-830-0177, 540-568-6074 or email recycle@jmu.edu.