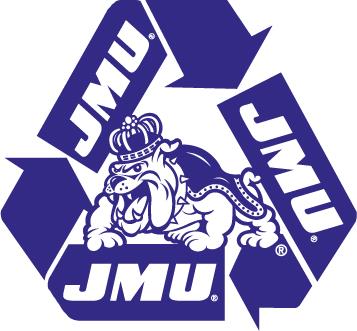 In all of its operations, JMU FM uses the 6Rs as a guiding principle towards waste: rethink, reduce, reuse, repair/restore, redistribute, and recycle.
Please read the following carefully!
RECYCLING IN ACADEMIC BUILDINGS AND OUTDOORS
ALUMINIM CANS, PAPER & CARDBOARD

There are large receptacles in each building on campus for these items to be collected.
Contact rexrodjp@jmu.edu to obtain a locked container and shredding service.

 BATTERIES AND PLASTIC FILM

These items are accepted in deskside bins only.
A frequent question is "What plastic bags and film packaging can you place in a deskside bin?" The following items must be clean, dry, and empty: LDPE / HDPE films, newspaper sleeves, bread bags, product wrap, cereal liners, food storage bags, produce bags, dry cleaning bags, grocery bags, case wrap, and packaging air pillows.

MIXED RECYCLING

Mixed recycling is accepted in deskside bins only. Items accepted are: paper, catalogs, magazines, inserts, envelopes, sticky notes, paperboard cartons, corrugated cardboard (flattened), aluminum cans (empty), plastic film (details above), batteries, ink and toner cartridges, adapters, chargers and cables. Plastic bottles and containers are not accepted in deskside bins.
 Contact rexrodjp@jmu.edu to obtain a deskside recycling bin.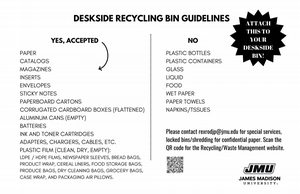 GLASS

Glass is no longer collected at JMU. There is not a viable market for glass recycling in our area.

 PLASTICS

Plastics recycling is no longer collected campus-wide. Previously the plastics receptacles had too many of the wrong materials mixed in to be accepted by the recyclers. A plastics collection pilot is in its second year, but despite various signage and education efforts, wrong items continue being placed in the bins precluding expansion of the program. Thus, it is best to avoid purchasing single-use plastic in the first place.
The plastics pilot includes a collection of only #1 plastics in the following limited locations:

Student Success Center
Outdoors near Mr. Chips
Outdoors in the D2 parking lot across from the Phys/Chem Building
In select Residence Halls (Shenandoah, Wayland, and Paul Jennings Halls)

COMPOST

In partnership with Dining Services, JMU composts back-of-house food waste in residential dining locations.
RECENT PROGRESS
The JMU football game recycling program has returned!
Information on JMU's recycling and composting rates, including many more materials such as grounds waste and fryer oil can be found at https://reports.aashe.org/institutions/james-madison-university-va/report/2022-01-27/OP/waste/OP-18/
Please read the recycling signs carefully on campus.
Learn more about how you can properly place your items in recycling containers by clicking each link below.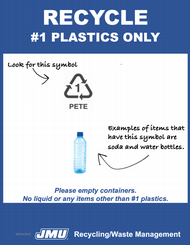 RECYCLING IN RESIDENCE HALLS
ALUMINUM CANS, PAPER, AND CARDBOARD

Many residence halls offer recycling collection with separate receptacles for aluminum cans, paper, and cardboard.

BATTERIES AND PLASTIC FILM

Many residence halls, when space allows, also have receptacles for batteries and film plastic.

PLASTICS

A plastics pilot to collect #1 plastics only is also available in Shenandoah, Wayland, and Paul Jennings Halls.
Request Service
For any Recycling and Waste Management requests or inquiries, please call JMU Recycling at 540-830-0177, 540-568-6074 or email rexrodjp@jmu.edu.