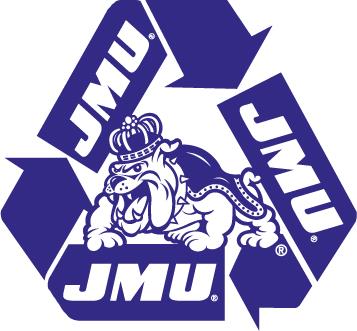 In all of its operations, JMU FM uses the 6Rs as a guiding principle towards waste: rethink, reduce, reuse, repair/restore, redistribute, and recycle.
Please read the following carefully!
Recycling
Indoor and outdoor recycling bins once designated for plastics, cans and glass are now for aluminum cans only. Signage on bins is being updated accordingly.
See the changes to what items are accepted in deskside bins by clicking the image below.
What plastic bags and film packaging can you place in a deskside bin? The following items must be clean, dry, and empty: LDPE / HDPE films, newspaper sleeves, bread bags, product wrap, cereal liners, food storage bags, produce bags, dry cleaning bags, grocery bags, case wrap, and packaging air pillows.

Separate containers for recycling paper and paper products are available in all buildings.  Contact

 

recycle@jmu.edu to obtain a deskside container or a locked container and shredding service.
Composting
JMU, in partnership with dining facilities, composts back-of-house food waste.
When in doubt, throw it out, and then send a question to recycle@jmu.edu so JMU Recycling/Waste Management can provide you with directions for the next time.
It is not possible to include every item on the signs, especially those from national brands and off campus. If you have a question, likely others will as well, and contacting us helps us improve our communications.
 Learn more about how you can properly place your items in recycling containers by clicking each link below.
Surplus Property Program
While personally-owned small electronic items can be placed by residents in bins in the residence halls, JMU-owned electronic property needs to be transferred to JMU's Surplus Property program. In this program, working electronic equipment will be offered to other departments on campus. If equipment is not able to be reused internally, Surplus Property staff will offer the equipment to other state agencies, localities and approved non-profits. Any remaining equipment is offered for sale to the general public through GovDeals.com. If surplused equipment does not sell, items will then be recycled through JMU Recycling. If electronic equipment is non-functional, departments should contact JMU Recycling for proper handling and pick up. To transfer items to the Surplus Property program, an EICR form is required for each surplused item.
Request Service
For any Recycling and Waste Management requests or inquiries, please call JMU Recycling at 540-830-0177, 540-568-6074 or email recycle@jmu.edu.