James Madison University has partnered with www.MyResNet.com (Apogee) to provide Internet service and support to all of our residence halls. To make sure you're connected, follow the steps below to register for service!
---
Set Up an Account
Once you've received your housing assignment, using your @dukes.jmu.edu email address, register for an account at www.MyResNet.com It's a great idea to get this set up before arriving on campus so you can login and access the wired and/or wireless network on the day you arrive.
---
Internet Speed and Connectivity
150 Mbps Download Speed
Connect 10 total devices 
---
 Connect Your Computer
For Wi-Fi, choose the network named "MyResNet" (for5Ghz devices) OR "MyResNet Legacy" (for 2.4Ghz devices)
Open a browser - You will be re-directed to the MyResNet Splash page.
Select "Click here to continue."
At the bottom of the page, copy and paste "MAC address" into a word document. You will need that later. 
Click "Create an account."
Fill in your information.
Select "Add devices."
Select your device and input MAC address. You will need to do this for all your devices.
Restart your device. 
---
Printers
It is highly recommended that students use a wired connection for their printer. 
---
Connect Your Other Devices and Increase Your Internet Speed
Make sure that all your other devices like smartphones, tablets, and game systems are registered. If you use a device that has not been added, you will be prompted to add that device using the device's MAC address. Please follow these instructions to add your additional devices to your MyResNet portal. 
 When you connect a device to MyResNet that is not registered, you will see this screen:
Once you click continue, you'll need to either create an account or log into your account. You'll notice the MAC address for your device is listed at the very bottom. Jot this down!
Once you login or create an account, you'll be re-directed to your MyResNet dashboard. Select Add Device, and input your MAC address from step #2. 
---
Stream2
Residence halls have cable TV connection in each student room and in the hall lounge. Students must bring a coaxial cable. Our halls also have Stream2, allowing students to stream TV shows, movies and sports from their phone, laptop and other Wi-Fi connected devices. 
See 
instructions
 to set up your Stream2 Account.
---
Need Some Help?
If you need any help registering or connecting your devices, a MyResNet support representative is available 24 hours a day to assist you.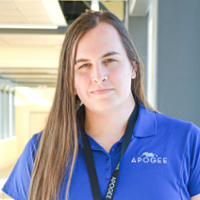 Meet JMU's MyResNet Field Services Coordinator Allison Oram!