First-Year Student Move-In: Friday, August 18 & Saturday, August 19
Transfer Student Move-In:  Sunday,  August 20 (morning)
Upperclass Student Move-In:  Sunday, August 20 & Monday, August 21 
Students will pick their move-in appointment time during the first week of August.
If you have any questions about Move-In (that are not addressed on this page), please contact the Housing Office at (540) 568-HOME (4663) or res-life@jmu.edu.
Move In FAQs
Hall Specifications
You will have the opportunity to complete an inspection of your room when you move in. All students with housing assignments will be able to access the electronic Room Condition Form (RCF) through MyMadison under the Student Center section. It will be used as a tool to measure the condition of the room when you move out. Examining the RCF when you check in and confirming the condition of the room will help you avoid unwarranted damage charges at the end of the year. If there are damages in your room and they are not noted on the check in RCF, you could be held financially responsible for repairs after check out.
Mattresses in our residence halls are twin extra-long (36" x 80").
Students have the option to order from Residence Hall Linens.
Bed types are subject to change at any time for any reason.
Bed types by hall

Bed Type

Area and Hall

Bunkable and Adjustable height; underneath clearance 5" to 28"

Bluestone Area: Converse Hall

Hillside Area: Bell Hall, Hillside Hall, McGraw-Long Hall

Lake Area: Eagle Hall

Skyline Area: Shenandoah Hall

Treehouses: Magnolia

Village Area: Chappelear Hall, Dingeldine Hall, Frederikson Hall, Garber Hall, Hanson Hall, Huffman Hall, Ikenberry Hall, Weaver Hall, White Hall

Apartments on Grace

Bluestone Area: Gifford Hall, Harper Allen-Lee Hall, Hoffman Hall, Logan Hall, Spotswood Hall, Wampler Hall, Wayland Hall

Skyline Area: Chandler Hall, Chesapeake Hall, Paul Jennings Hall

Permanent Triples: Chander Hall and Chesapeake Hall
A Wing: 381, 481, and 581; B Wing: 332, 432 and 532

Lake Area: Shorts Hall

Treehouses: Cedar, Dogwood, Oak, Willow

Village Area Room #100 Only: Chappelear Hall, Dingeldine Hall, Frederikson Hall, Garber Hall, Hanson Hall, Weaver Hall
We currently have two different desk chairs; The Southwest black rolling chair and the Solid Wood 2-Position Chair.
Chair types are subject to change at any time for any reason.
Bed types by hall

Bed Type

Area and Hall

Apartments on Grace

Bluestone Area: Converse Hall, Gifford Hall, Harper Allen-Lee Hall, Hoffman Hall, Logan Hall, Spotswood Hall, Wampler Hall, and Wayland Hall

Hillside Area: Bell Hall, Hillside Hall, and McGraw-Long Hall

Lake Area: Shorts Hall

Skyline Area: Chandler Hall, Chesapeake Hall, and Paul Jennings Hall

Treehouses and Greek Row

Village Area: Chappelear Hall, Dingeldine Hall, Frederikson Hall, Garber Hall, Hanson Hall, Huffman Hall, Ikenberry Hall, Weaver Hall, and White Hall

Lake Area: Eagle Hall

Skyline Area: Shenandoah Hall
A loft bed is any temporary structure or device that is intended to elevate a single sleeping surface from floor level so that it creates additional floor space in a room. We recommend a safety rail on highly lofted beds. 
Requests for safety rails must come from the student from their JMU student email account.
If residents are bringing their own loft bed or constructing one, the structure must comply with the guidelines specified in the loft Hall Policy. Please be aware that storage is not available for bed pieces that are not used.
All residence halls have tiled floors with the exception of Harper Allen-Lee Hall, Spotswood Hall and the Apartments on Grace (they have carpeted floors). Students may want to bring an area rug for their floor.
Specifics Items
JMU has partnered with MicroFridge to offer a Microfridge rental for the first time. The unit that we are offering is a fridge/freezer/microwave combo with a safety plug and smoke sensor.
Only ONE MicroFridge is allowed per room - you may have an additional mini-fridge. 
If you choose not to use MicroFridge, you may have one mini refrigerator (up to 5 cubic feet) per resident. 

Mini refrigerators are also available through the MicroFridge company if your room/roommate has already rented your ONE MicroFridge OR you would only like mini-refrigerators.

If you are in a Village Residence Hall, you may have one MicroFridge in your room as well as one in your suite, but still no more than 2 in the same room. 
See unit specifications
here
. 
The yearly rental fee is $209.99 + tax

Returns and refunds are allowed as well as waiting until after moving in to place your order. Order by
August 1, 2023
, to ensure your unit is delivered prior to move-in. 
This is the only MicroFridge allowed in JMU Residence Halls.
No microwaves are allowed in JMU residence halls other than MicroFridge - there is a community kitchen in every hall that has a microwave for use.
*Please note that this unit stands at 45.55in./115.69cm.
Our Residence Halls have two bed types - See the link above
If you have the Adjustable Loft bed, you will have to loft* your bed to almost the highest amount to fit MicroFridge under your bed.
*When lofting your bed to higher heights, we recommend safety recommend using a safety rail to prevent the risk of serious injury (not provided by the university).
If you have the Bunkable/Adjustable height bed, the bed will not allow Microfridge to fit underneath and will need to go somewhere else in the room.
Any appliance with a heavy electrical draw, such as a refrigerator, hair dryer, or an iron, must be plugged directly into a wall outlet, rather than a circuit-protected power strip. All power strips must be UL approved, circuit-protected, and have a reset button. Power strips must be plugged directly into a wall outlet. Plugging a power strip into another power strip is prohibited. Power strips must lie flat on the ground, or be secured to a flat surface so that no stress is placed on the power cords. Extension cords of any kind are strictly prohibited, including appliances with built-in electrical outlets, such as lamps, bed risers, etc.
All appliances should be covered under a homeowner's/renter's insurance policy. Students are responsible for renting or buying their own refrigerators. If you bring your own mini refrigerator from home, you will be responsible for unloading it from your vehicle and into your room. Due to liability reasons, move-in volunteers will not be able to assist with unloading refrigerators. 
Microwaves are not permitted in the residence halls. To have a microwave in your room, you may rent a MicroFridge. All Residence Halls have a community kitchen in which a minimum of one microwave is available for resident use. 
Airfryers of any kind are not permitted, except for in the Apartment on Grace.
Students interested in purchasing desk hutches can visit College Savers website for ordering information.
Orders can be picked up at JMU in parking lot C-12, located in the Skyline Area next to the Field Hockey complex.
Technology & Insurance
Internet service is available in all residence halls through MyResNet. Once residents have their room assignment, they should register for a MyResNet account at www.MyResNet.com. This should be completed prior to arrival on campus so residents have access to the network the day they arrive. Be sure to register all devices (computer/laptop/iPhone/iPad etc….)
Both wireless and wired internet access is available. There is one Ethernet port per resident in their room. If residents prefer to connect their computers to a wall-mounted Ethernet port, they should bring a network cable.
Residents should not bring wireless routers/hubs/servers etc. for use in the residence halls as these items are prohibited.
Residence halls have a cable TV connection in each student room and in the hall lounge. Students must bring a coaxial cable. Our halls also have Stream2, allowing students to stream TV shows, movies, and sports from their phones, laptop, and other Wi-Fi-connected devices. 
See instructions to set up your Stream2 Account.
Televisions are not to be mounted on any walls or university furniture.
For more in-depth information on how to set up your internet and/or tv cable or streaming, visit our Internet & TV page to create your MyResNet account. Be sure to do this before your move-in day in August!
A Note about Printers: Wireless printing on a large wireless network is much different than wireless printing from a home network. At home you might have ten total devices, one of which is a printer, therefore the printer is easy to identify, not to mention your network at home is usually secure and only accessible to you and your immediate family. At JMU there are thousands of devices on the network and a couple hundred of them could be printers. With the increased volume of printers, it makes it much harder to identify which printer is the right one to use. Another issue we face with wireless printers has to do with our network being open. On an open network, other people can see the printer devices, which means any student can print to any printer regardless of content or time of day. Also, our network is looking for an IP address, and based on the DHCP lease the IP address can change making it that much more difficult to locate the right device associated with a particular IP address. 
A Note about Appliances/Electronics: Appliances, coffee pots with automatic shut-off, desk lamps, radios, stereos, cable-ready televisions, UL-approved hot pots, and BlueRay/DVD players are all fine to bring with you but coordinate with your roommate first so you won't have two of everything. All appliances not plugged directly into a wall receptacle must be plugged directly into a circuit-protected power strip. For more information on appliances, visit our Hall Policies page. Any items not listed are up to the discretion of Residence Life.
Surge protectors with reset/on or off switches are not permitted.
These can come in all kinds of configurations.

Examples: Cube adapter, which looks more like a square with 6 plugs usually, but no on/off switch, a smaller looking power strip with 3 plugs and USB ports, but no on/off switch.
Only circuit-protected power strips are permitted.
Circuit protection: it needs to have a reset/on side and an off side.
 "Reset" is another word for "on", reset meaning the power strip is reset/on and functioning normally with the electrical load plugged into it.
If the electrical load becomes too much, then the power strip will switch to the off position and at that point needs to be turned back to the reset/on position.

Any kind of device with a USB-only plugin with charging capability is permitted, per the state fire marshal. Examples: lamps, alarm clocks
However, if there is an electrical outlet embedded within these types of items then it is not permitted. Example: bed risers.
The university cannot be held accountable for the loss, damage, or theft of any student's personal property. All students are encouraged to carry their own insurance coverage. Your family's homeowner or tenant insurance may provide coverage or you can arrange for personal property insurance through a private agency. Visit the National Student Services Incorporated website for more information about Theft, Fire, and Accident Insurance for students. 
View the NSSI Trifold here!
Peace of mind protection for your college student! Worth Ave. Group offers College Plus student property insurance that can protect student property and housing structures in the event of a loss or damage!
Move-In Day Tips
To make things fit in your car easier, consider unboxing new items. This will help you consolidate and will make for less recycling and trash bin trips on move-in day!
Assembled boxes containing other packaging or trash take up more space and can create hazards by overflowing trash rooms and dumpsters, blocking exits and contaminating recycling efforts.
Please empty boxes of any packaging or other contents.
Foam should be put in a dumpster.
Flatten boxes and stack in area designated by location below:

Village Halls, Eagle Hall: Boxes should be empty, flattened, and stacked next to dumpster.
All other Residence Halls: Boxes should be empty, flattened, and stacked in trash or recycling rooms. 
Storage Scholars
Student Storage, Made Easy
Storage Scholars is the preferred moving, storage & shipping partner of JMU.
How Summer Storage & Moving Works: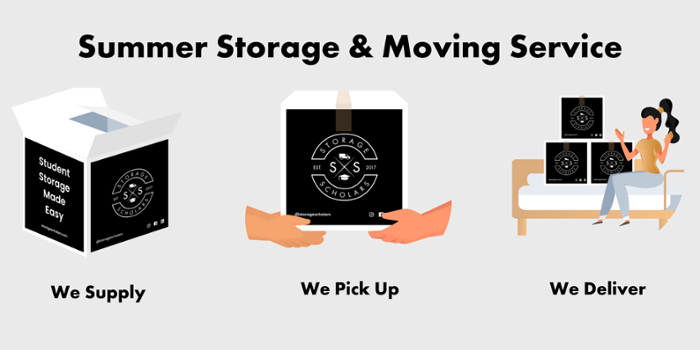 We Supply: We supply all the essentials to pack and safely store all your items.

We Pick Up: A fellow student will come to grab your things at a time that is convenient for you!

We Deliver: When you are ready to come back to campus, we will have your items delivered and waiting for you in your new home.
How Ship to School Works: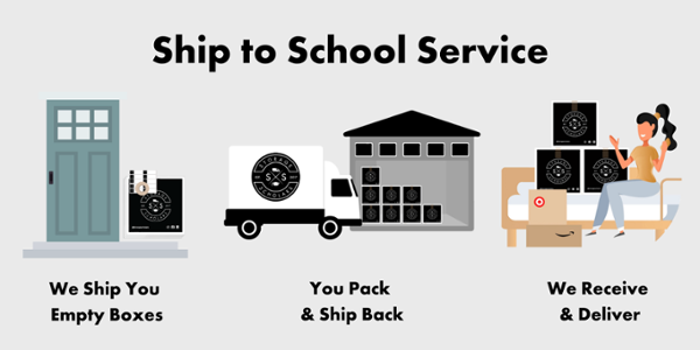 We Ship You Empty Boxes: We send a bundle of empty boxes along with tape and prepaid return shipping labels to your home.

You Pack & Ship Back: You pack your items in the boxes, seal them up, and ship them back over to us over the summer months.

We Receive & Deliver: Our team receives those packages, stores them, and delivers them ready and waiting in your room when you arrive on campus.
To help make move-in day run super smooth, be sure to label all your bags and boxes with your hall and room number!
Once you're all moved in and assess the things you really need, you can always make a store run! Consider waiting to bring your winter clothing until later. Your family can always bring it with them when they visit for Family Weekend!
Bed linens

Blankets

Pillows

Bed Risers (electrical outlets in bed risers are prohibited; USB ports are allowed)

Alarm Clock

Hangers

Desk Lamp (electrical outlets in bed risers are prohibited; USB ports are allowed)

Fan

Laundry basket

Circuit-protected power strip

Small trashcan

USB plug-in or wireless printer

Shower caddy & Shower shoes

High-Efficiency detergent

Rubber Mallet (bed adjustments)
This is not a comprehensive list. Don't hesitate to contact the Office of Residence Life directly for any questions or concerns.
Appliances with open heating elements

Bed risers with BUILT-IN electrical outlets

Desk lamps with BUILT-IN electrical outlets

Halogen lamps

 

Curtains/tapestries not tagged as

fire retardant

Candles and/or incense

Duct tape

Extension cords

Micro-fridges: microwave + fridge combo unit (unless rented from mymicrofridge.com through JMU partnership)

Weapons of any kind; knives, guns, bb guns, etc.

Pets (except fish and approved ESA)

Window unit air conditioners & Room heaters

Wireless routers and hubs
With the exception of Apartments on Grace:
George Foreman Grills

Microwaves

Toaster/toaster oven

Air fryers
This is not a comprehensive list. Don't hesitate to contact the Office of Residence Life directly for any questions or concerns.
Moving carts will not be available on move in day. Feel free to bring a handcart with you!
Please follow each residence hall's specific driving directions during move in to create a smooth move-in process for everyone. 
You will need your JACard at check in, so make sure its in an easy to reach spot in the car. Reference your One Book to learn more about securing your JACard.
If you're living in a hall without air conditioning in your bedroom, don't worry! Crisp fall air will be here before you know it. Until then, to maximize air flow in your room, both you and your roommate can bring a fan and also follow the following:
Place a box fan in your window with the fans facing outwards. This will pull the hot air out of your room, leaving cooler air inside! Have another fan in your room to circulate the cooler air in your room. 
Air conditioning window units and personal air coolers are prohibited. All suites and common areas in The Village, Eagle Hall, and Shorts Hall have an a/c unit. 
Also, be sure to check our HVAC page to learn about your hall's specific HVAC system and how to properly use it.
Other ways to beat the heat:
Hang out in your hall's TV Lounge! You can indulge in the air conditioning while hanging out and making new friends.

Drink lots of cold water! Staying hydrated is important no matter where you are. 

Need a bit of a break? You can always visit other places on campus like The Student Success Center, The Union, Festival, or UREC.
To avoid fines at the end of the year, be sure to check your res hall's hall description for wall type to see what types of adhesives are allowed. 
On Cinder Block:

poster putty

command strips and hooks

Bonus tip: Wipe the wall area with alcohol and let dry to ensure that things will stick really well!

On Drywall:
The following is prohibited on all wall types:

nails
screws
duct tape
any kind of tape
We're here for you! The Resident Advisers (RAs) and Hall Director (HD) are always available and are there to help you with everyday life. 
Resident Advisers (RAs) are dynamic leaders on a floor of residents who create positive communities and coordinate fun and educational events to enhance the campus living experience.
Hall Directors (HDs) manage the residence halls and supervise the RAs.
Building with our hall staff will give you a support system unlike any other!
Is something not quite right with your room upon your arrival?
JMU students are expected to maintain a high level of maturity, responsibility and common sense regarding their behaviors and actions. In addition, students are responsible for understanding hall policies, rules and regulations contained in the JMU Student Handbook, their JMU Residential Contract, the JMU Honor Code and information from residence hall staff members. Students may contact their resident adviser or hall director if they have questions.