What is a perception study?
A perception study by definition is:
"a study or research project completed with the goal of collecting impressions about a company, product, program or issue."
For ResLife, the goal of a perception study is to gather the impressions, opinions, or perceptions of students on our campus and in our Residence Halls to better the experience.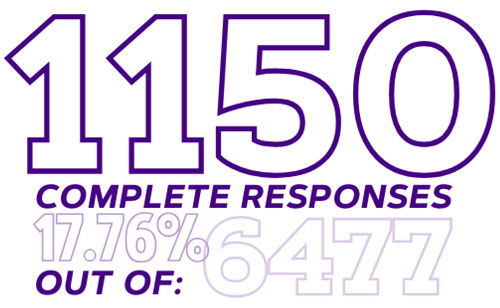 WE ASKED JMU STUDENTS:
Are you satisfied with your overall on-campus living experience?
88.2% Agree/Strongly Agree
Put Safety & Security First
All Residence Halls have Card Access systems that only allow access to assigned residents. Each hall has a staff that lives in the building and is available to assist with emergency situations if they occur. Residence Halls must meet all state-mandated fire codes including centralized alarm systems that communicate alarms directly to the fire department and JMU police whenever the system is activated.
96.8%
Agree/Strongly Agree that they feel safe on JMU's campus.
89.2%
Believe that the residence halls are free from harassment (yes/no).

95.9%
Agree/Strongly Agree that they feel safe in their residence hall.

93.5%
Feel that appropriate efforts are made to address harassment. (yes/no)
Feel supported in your Residence Hall
Only JMU students live in our residence halls which means you are guaranteed to be sharing spaces with Dukes and only Dukes! Each resident has an assigned Resident Adviser (RA) that lives in the hall and that they can go to if they need help. Each hall also has a Hall Director who manages their staff of RA's and the building. Programming is a large part of on-campus living and it brings the community together to participate in different bonding experiences throughout the year.
85.8%
Agree/Strongly Agree that their Resident Adviser is approachable.
82.6%
Agree/Strongly Agree that they can find a member of their hall staff when they need them.
89.2%
Agree/Strongly Agree that the Resident Advisers enforce policy fairly.
94.8%
Agree/Strongly Agree that the environment in their residence hall is accepting of people of diverse backgrounds & social identities.
Location & Amenities
Our Residence Halls are located all across campus in six different residential areas. Our halls offer a variety of living style and bathroom styles. There is at least one community kitchen and TV lounge per hall as well as study areas to promote conducive learning environments. Some of our halls even have outdoor recreational spaces for community building!
Be engaged at JMU
Research shows that students who live in the residence halls are more likely to graduate, are involved in extracurricular, social, and cultural events on campus, are more positive about the social climate, and interact more frequently with faculty and peers.
78%
Agree/Strongly Agree that the programs in their residence halls have had a positive impact on their learning experience at JMU.
80.7%
Agree/Strongly Agree that the atmosphere in their residence hall is conducive to studying and completing academic work.