The Graduate School is dedicated to providing meaningful support and growth opportunities for graduate students, faculty, and staff of diverse backgrounds. Our goal is to further an inclusive James Madison University culture that values the unique histories, experiences, and contributions across campus and ensures that all individuals have the resources to thrive. 
We seek to foster connections among graduate students from underrepresented and marginalized communities, provide tailored programming to engage and advance diverse perspectives, and exchange resources to help advance students and the educational vision of JMU.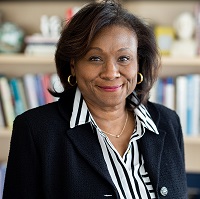 As an advocate for graduate students at JMU, my commitment as dean is to foster not only a welcoming and inclusive environment, but an environment where students feel supported and empowered to reach their own personal definition of success. Advanced education is a transformational experience and something that all students with a passion for learning should expect to experience-barrier free.
-Linda Thomas, J.D., Ph.D., Dean, The Graduate School