Get your graduate degree at James Madison University!
The accounting graduate program leads to the Master of Science (M.S.) in accounting degree, and has a choice of a general/audit track or a tax concentration. The primary goal of the M.S. program is to prepare business and non-business majors for entry into the public accounting profession. Prerequisite coursework must be taken at an AACSB accredited school.
The College of Business offers an MBA program with three distinct and engaging concentrations: executive leadership, innovation, and information security. Each concentration offers a unique blend of face-to-face and online course delivery ideal for working professionals who want to accelerate their career.
The

 

executive leadership concentration

 

is ideal for the mid-level manager with a minimum five years of professional work experience, and an interest in acquiring skills and abilities necessary for successful transition into C-Suite level positions.

The

 

information security concentration

 

is designed for the manager needing a strong understanding of the business fundamentals and implications of information security. Upon completion of the coursework, students are prepared to take the CISSP exam. Requires at least two years of professional work experience.

The

 

innovation concentration

 

captures the traditional MBA experience in a part-time format with evening classes. Our signature Leadership Development program and a 10-day global experience are the cornerstones of this program. Requires at least two years of professional work experience.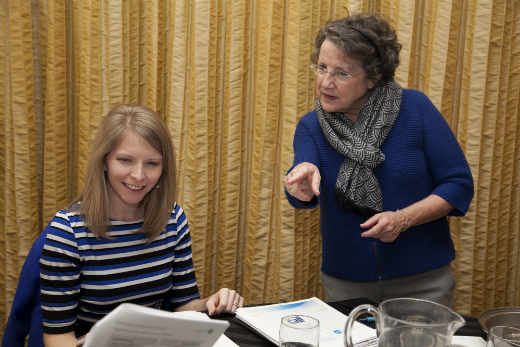 Highlights
Our MBA degree with an information security concentration has been ranked No. 23 in the nation by Princeton Review's "Top 50 Online MBA Programs, 2021" and No. 26 in the nation by US News and World Report's "Best Online MBA Programs" for 2021.
The College of Business is among the fewer than 5 percent of business schools in the world to have earned accreditation by AACSB International.

 

MBA courses are taught almost exclusively by full time College of Business faculty with Ph.D.'s in their respective disciplines.
Students matriculate through their programs in small cohorts of 20-25 peers.
Each program offers a unique approach to course delivery that blends face-to-face and synchronous online sessions.
---
Two schools associated with the College of Business provide students with a competitive edge:
The Hart School of Hospitality and Recreation Management offers an M.S. degree with concentrations in Sport and Recreation or Campus Recreation. This program empowers students to succeed and become a leader in the Sport or Recreation industries.
The School of Strategic Leadership Studies offers a unique Ph.D. in Strategic Leadership. This program combines business principles, accountability, leadership theory and applications, and a strong foundation in statistical analysis to prepare students for leadership roles that benefit from data-driven decision-making.