The Global Duke & Ambassador Program
Who are the Global Dukes and Ambassadors?
The Global Dukes and Ambassadors are the student voice of JMU Study Abroad! As study abroad alum, we have all completed programs abroad are passionate about sharing global opportunites with the JMU Community! We love to share our study abroad experiences and to hear about yours. If there is anything we can do to help you prepare to leave for study abroad or return, let us know and we will be happy to help!
What we do?
As a team, we all represent and promote study abroad at JMU. We assist the Study Abroad staff with programs throughout the school year such as the Study Abroad Fair. We connect with prospective study abroad students as we assist them with any questions they may have regading selecting a program or even preparing for their departure. We also host various events, such as socials, where study abroad alum get the opportunity to connect with other study abroad participants. These events also create a space for students to reunite with their study aborad cohort! Study abroad changed our lives in significant ways so this is a way for us to give back and encourage others to go abroad!
The Global Dukes serve as student leaders who work closely with the study abroad professional staff, assist in leading the Ambassadors, and also hold a specific coordinator position. These coordinator positions include Social Media and Promotion, Design and Marketing, Alumni Outreach. The Global Ambassadors are student volunteers who participate on event committees and contribute to study abroad recruitment efforts.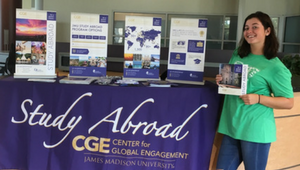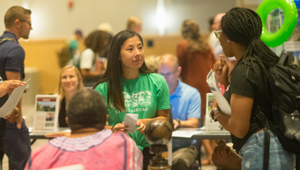 Zachary Alvarado
Semester in Salamanca | Summer, 2016
JMU Internship in Spain | Summer, 2017
"I can say with conviction that my experience studying abroad was one of immense growth and change, and a large part of my experience was influenced by both the JMU and Spanish community that I was surrounded in. My time studying abroad in Salamanca, Spain, showed me the resilience, strong will, and fortitude I have when faced in a global setting. I became more confidant in my ability to succeed, even when faced in difficult or demanding situations and I have brought this certainty into my life back home."
Email: alvaraza@dukes.jmu.edu 
---

Peggy Brozi
Study At Oxford Program | Spring, 2016
"I, without a doubt, only benefited from studying abroad in England. Having to adapt to a new country and culture, on top of a full workload pushed me out of my comfort zone. I became more independent and the whole experience truly prepared me for the real world. Studying abroad was the best choice I made at JMU!"
Email: brozipr@dukes.jmu.edu
---

Zoey Lee
Semester in London | Spring, 2016
"During my study abroad experience I learned a lot about my self while learning about different cultures. I learned that home is just a feeling and that I could become homesick for more than one place."
Email: leezj@dukes.jmu.edu
---

Annarose Lemba 
JMU Ghana Program & Internship | Summer, 2017
"My study abroad experience gave me a new adventure every day. By going to Ghana, it really opened up my eyes and gave me a greater appreciation for the opportunities that I have. I was able to volunteer at a school, intern at a hospital, and attend university lectures, all in just six weeks. I learned so much about the culture, in addition to making some really great friendships and memories."
Email: lembaas@dukes.jmu.edu

Jackie Martel 
Semester in Florence | Spring, 2017
Austrailia Hospitality Program | Summer 2016
"I honestly cannot even begin to explain how much my study abroad experiences have impacted me. Each time I travel I find a new trait inside of me that I would have never learned had I not studied abroad because it forces me to go outside my safe and familiar zone. It has even affected me on a professional level as I now will consider career fields that allow opportunities for international travel."
Email: marteljm@dukes.jmu.edu
---

Keonhee Rho 
JMU Internship in Spain | Summer, 2017
Internship in Busan, Korea | Summer, 2016
"From my experience studying/interning abroad, I've not only grown as a young professional, but have matured as a citizen of this world. Living, spending time, and immersing myself into a culture that I'm not accustomed comes with a huge learning curve that has personally taught me a greater sense of responsibility and an open perspective to new ideas and traditions."
Email: rhokx@dukes.jmu.edu
---

Chrissy Seymour
Second Year in Kyoto Program | Summer 2016
"My study abroad program showed me how independent I could be. I learned how to do things by myself and be more confident in my own skills."
Email: seymouce@dukes.jmu.edu
---

Erica Van de Graaf
Semester in London | Spring, 2017
"My study abroad experience has definitely changed me. My maturity, perspective, and aspirations have all been impacted. Interning abroad also heightened my expectations of myself, and now I am aiming to strive for bigger goals in my lifetime." 
Email: vandegm@dukes.jmu.edu