The Global Duke & Ambassador Program
Who are the Global Dukes and Ambassadors?
The Global Dukes and Ambassadors are the student voice of JMU Study Abroad! As study abroad alum (returnees), we are passionate about sharing global opportunities with the JMU Community! Study abroad changed our lives in significant ways, so this is a way for us to give back and encourage others to go abroad! If there is anything we can do to help you prepare to leave for study abroad or return to campus, let us know and we will be happy to help!
Presentation Request
Would you like a Study Abroad presentation for your classroom, residence hall, or organization? The Global Dukes and Ambassadors will be glad to assist you! Please complete the online presentation request form below.
What do we do?
As a team, we all represent and promote study abroad at JMU. We assist the Study Abroad staff with programs throughout the school year such as the Study Abroad Fair. In addition to connecting with the JMU community, we assist prospective study abroad students with any questions they may have regarding selecting a program or even preparing for their departure. We also host various events, such as socials and resume workshops, that are geared towards study abroad alumni. These events create opportunities for alumni to connect and network with other study abroad participants. These events also create a space for students to reunite with their study abroad cohort! 
Global Dukes serve as student leaders who work with the study abroad professional staff and hold a specific coordinator position. They serve as the leadership of our student volunteers and also spearhead our study abroad peer advising. They also hold a specific coordinator position. These coordinator positions include Social Media and Promotion, Design and Marketing, and Alumni Outreach. Global Ambassadors are student volunteers who contribute to study abroad recruitment efforts and help with the smooth running of JMU Study Abroad events. Both groups get to serve as peer advisors as they help JMU students find the perfect study abroad experience.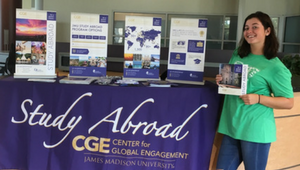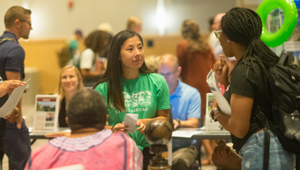 Global Ambassador 2021-22 APPLICATIONS
Have you studied abroad? Interested in this wonderful opportunity to tell others about your experience? We would love to have you join the team. Applications for Global Ambassadors are open for 2021-22 academic year! Talk to one of the Global Dukes today! 

Cat Cunningham
Semester in Scotland, Summer 2019
Napa & Sonoma Wine Cultures - Summer 2021
"I knew coming into JMU that I wanted to study abroad. Seeing the world in an educational manner made the experience of being away even more meaningful, as I engaged with local residences. The expectations I set for myself before studying in Scotland were far exceeded. Not only did I learn about Scottish culture and history through the courses I took and the excursions provided, but I also learned more about myself. I became a more independent and confident woman, by constantly putting myself in a position that was outside my comfort zone. That was one of the best decisions I could have made for myself. One of my favorite memories from my time abroad was running into some woman while on the Isle of May who noticed my JMU shirt and asked if I go there. When I said yes, she informed me that her friend's daughter was going to be attending the following year. This woman also happened to be from my hometown in Northern Virginia – small world. This memory just shows that no matter how far away from home you think are, you are not. I guarantee you there will always be a JMU Alumni or current student travelling abroad."
Email: cunningcr@dukes.jmu.edu
---

Grace Garvey
Semester in Scotland, Summer 2019
"Studying abroad was something I was looking forward to in college. I was certain that I wanted to travel with a group of college students. Going to school in another country sounded like a unique opportunity that I may not have been able to get after I graduated college. Being abroad brought me great friends that I might have never met if I didn't go on this trip. I became so close with the people on my trip and we had the best times. I learned so much about myself while I was abroad. I learned things about myself that I really thought I already knew, and that was shocking, yet eye opening for me. I love every bit of my time abroad and I am so glad I took the opportunity!" 
Email: garveygf@dukes.jmu.edu
---

Katelyn Moree
University of Heidelberg, Germany, AY 2020-21
"My study abroad experience was one I will always remember! I got to travel and see so many new things, learn about new cultures, and make so many great memories. Living and studying in a different country also pushed me out of my comfort zone and helped me learn a lot about myself. Some of my favorite things of studying abroad were traveling and being immersed in the culture and lifestyle. Studying abroad was definitely one of the best decisions I've made in college and I am so thankful I got the opportunity to do so!"
Email moreekb@dukes.jmu.edu 

Sumner Levenson
University of St Andrews, Scotland, Fall 2019
"I always knew I wanted to study abroad, but the experience I had surpassed every expectation and goal I had going into it! I sought out a program that would give me a different take on studying abroad thus I enrolled in the Direct Enrollment Program at University of St Andrews. In this experience, I was really able to meet and connect with the students. At one point, it felt as though I was a student rather than a study abroad participant! My abroad experience was made by the amazing running trails through the Scottish hillside. I learned a lot about myself on those runs. My abroad experience gave me a fuller appreciation for myself and others allowing me to become a Global Citizen!"
Email: levenssb@dukes.jmu.edu
---

Macy Marotta
Semester in Scotland, Summer 2019
"My time studying abroad taught me many unique lessons about independence and adaptability and caused me to learn a lot about myself in the process. Traveling, living, and going to school in an unfamiliar country forced me to step out of my comfort zone and change my routine. I was nervous before I left for my trip, but the challenges and experiences that I had in Scotland resulted in a newfound confidence when I returned home, one that continues to benefit me every day. The trip was truly one-of-a-kind and I am so thankful for the lessons that it taught me and the friends that I made."
Email: marot2ml@dukes.jmu.edu
---

Cassie Demarest
Semester in London, Spring 2020
"Studying abroad has been one of the best experiences I had at JMU. Between visiting new countries and trying new things, I was constantly being pushed out of my comfort zone. This helped me grow as a person and learn to be more adaptable. Along the way I met amazing people who are now some of my closest friends. I am excited to see more of the world and meet new people in the future! Email: demarece@dukes.jmu.edu