Who are the Global Ambassadors and Dukes?
The Global Ambassadors and Dukes are the student voice of JMU Study Abroad! As study abroad alum (returnees), we are passionate about sharing global opportunities with the JMU Community! Study abroad changed our lives in significant ways, so this is a way for us to give back and encourage others to go abroad! If there is anything we can do to help you prepare to leave for study abroad or return to campus, let us know and we will be happy to help!
Presentation Request
Would you like a Study Abroad presentation for your classroom, residence hall, or organization? The Global Ambassadors and Dukes will be glad to assist you! Please complete the online presentation request form below.
What do we do?
As a team, we all represent and promote study abroad at JMU. We assist the Study Abroad staff with programs throughout the school year such as the Study Abroad Fair. In addition to connecting with the JMU community, we assist prospective study abroad students with any questions they may have regarding selecting a program or even preparing for their departure. We also host various events, such as socials and resume workshops, that are geared towards study abroad returnees. These events create opportunities for returnees to connect and network with other study abroad participants. These events also create a space for students to reunite with their study abroad cohort! 
Global Ambassadors serve as student leaders who work with the study abroad professional staff and hold a specific coordinator position. They serve as the leadership of our student volunteers and also spearhead our study abroad peer advising. They also hold a specific coordinator position. These coordinator positions include Peer Advisors, Marketing and Design, and Returnee & Stewardship. 
Global Dukes are student volunteers who contribute to study abroad recruitment efforts and help with the smooth running of JMU Study Abroad events. Both groups get to serve as peer advisors as they help JMU students find the perfect study abroad experience.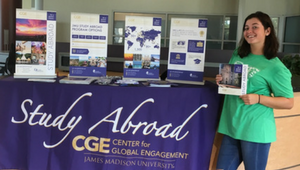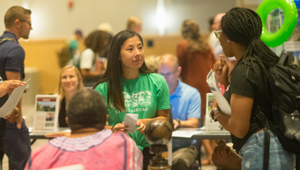 Global Ambassador & Duke 2022-23 APPLICATIONS
Have you studied abroad? Interested in this wonderful opportunity to tell others about your experience? We would love to have you join the team. Applications for Global Ambassadors & Dukes are now open for the 2022-23 academic year! Apply today! Deadline: April 8th
2022-2023 Global Ambassadors

Delaney Boone
Malmö University, Sweden – Spring 2022
"Like many other ambassadors, I knew I wanted to study abroad since before I came to JMU. There's no doubt that study abroad or an exchange program will change your life. Even though everyone says this, it's one of the truest statements. However, before my semester started, I was honestly terrified to go. Since I was going on an exchange program, I was entering an environment where there weren't many JMU students, let alone Americans there. Despite that fear, I pushed myself out of my comfort zone and tried to fully experience my time abroad. While in Sweden, I met some of the best people, made amazing memories, and opened my eyes to a whole world that I had not known before. I got to complete bucket list items that takes people a lifetime to achieve; like dog sledding, seeing the northern lights, hiking the Swiss alps, swimming in Greece, sailing through the Norwegian fjords, and so much more. I won't sit here and tell you that every moment was a walk in the park, especially in the beginning. But if you allow yourself to be open to new experiences, step out of your comfort zone, and embrace new cultures and environments, you will find such growth. Take the opportunity if you can, it will be one of your best decisions so far!"
Email booneda@dukes.jmu.edu 
---

Madeline (Maddie) Cason
Barcelona, Spain – Summer 2022
"Traveling has always been a passion of mine, whether it be a road trip to the Windy City
(Chicago, IL) or a trans-continental plane ride to Europe. I travel every opportunity I can because
I enjoy experiencing new places and learning about different cultures. Before college, I was
fortunate enough to travel within the U.S. extensively and even abroad to Mexico, Italy, and
France. Once at JMU, I connected quickly with the Center of Global Engagement and planned to
study abroad after my first year, but COVID had different plans. My trip to Barcelona, Spain was
a go in 2022! The summer 2022 short-term program, 20th Century Barcelona, offered through
the Honors College, met specific requirements for my Honors Interdisciplinary Minor and was
on my bucket list - WIN, WIN. In Barcelona, we visited La Rambla, La Sagrada Familia, and
Park Guell; cooked up a traditional Spanish dish - paella; enjoyed the Sant Joan festival; and
watched a castell performance. During this time abroad, I met forever friends and made so many
memories! Take advantage of the many trips offered by JMU and study abroad - you will not be
disappointed!"
Email: casonmr@dukes.jmu.edu
Mari Taye
Paris, France, Fall 2021
"I started the study abroad process as soon as I got to college because I've always known it's something I wanted to do. Having many families and friends worldwide made me want to travel, and getting the opportunity to do so during my college years is something I'll always be grateful for. While studying abroad in Paris, I noticed how much I had changed. I was more outgoing and confident, something I didn't think would be possible within just the first two weeks of getting there. Getting the opportunity to travel and live in a different country by myself for four months was indeed an experience I wouldn't trade for the world. I'll always cherish the memories I create with my new friends, who have become more like family to me now. Studying abroad in Paris truly gave me one of the best memories I could've asked for, and I didn't imagine falling in love with a city as much as I did with Paris."
Email: taye2me@dukes.jmu.edu
---

Clare White
Australia Internshiip, Summer 2022
"Studying abroad was the experience of a lifetime. I learned so much about being more independent and met so many different people that will be life-long friends. Gaining experience in my field was amazing and learning from completely different people in a different environment was so helpful. That knowledge has been beneficial to me personally and will help me in the future. I am so glad I jumped at this opportunity and if you can, do it!"
Email: white7cm@dukes.jmu.edu
---

Shukrana Shukrullah
JMU Semester in London – Fall 2021
Exchange in South Korea - Spring 2022
"Take a chance and make a wish come true," is a quote I find myself returning to all the time. I first saw it while I was traveling in South Korea as an exchange student. Although I knew I wanted to study abroad before I even came to JMU, I genuinely could have never imagined the journey I was about to set on. With the support of JMU and countless other organizations and scholarships, I was able to live a year abroad in Europe and Asia, doing things I had only ever dreamed about. From seeing my first ballet at the London Royal Opera House to paragliding in the Korean countryside, and so much in between, I have seen and experienced things I never thought I could do at the age of nineteen. Traveling is the most exciting and exhilarating thing in the world to me, but like everything else, it isn't a perfect journey. That's what makes it so impactful. Every day, I was outside my comfort zone, doing things that scared me or intimidated me. And every time, I surprised myself, stretching my limits and proving to myself that I was capable of doing great things. The places I visited, the foods I ate, the traditions I experienced, and the people I met gave me immense wisdom that I could have only learned through traveling. So, what are you waiting for? Take a chance."
Email shukr2sx@dukes.jmu.edu