Who are the Global Ambassadors and Dukes?
The Global Ambassadors and Global Dukes are the student voice of JMU Study Abroad! As study abroad alum (returnees), we are passionate about sharing global opportunities with the JMU community! Study abroad changed our lives in significant ways, so this is a way for us to give back and encourage others to go abroad. If there is anything we can do to help you prepare to leave for study abroad or return to campus, let us know and we will be happy to help.
Presentation Request
Would you like a Study Abroad presentation for your classroom, residence hall, or organization? The Global Ambassadors and Dukes will be glad to assist you! Please email studyabroad@jmu.edu to get started.
What do we do?
As a team, we represent and promote study abroad at JMU. We assist the Study Abroad staff with events and programs throughout the school year. In addition to connecting with the JMU community, we advise prospective study abroad students and families throughout the application process program help prepare for their departure. We also host returnee events designed to reconnect study abroad alumni with friends from their program and workshops to help students leverage their experience on resumes and interviews.
Global Ambassadors serve as paid student leaders who work with the study abroad professional staff and hold a specific coordinator position, assigned to them based on their skill set, experience, and interest. Coordinator positions include Peer Advisors, Marketing and Design, and Returnee & Stewardship. Global Ambassadors lead our student volunteers, Global Dukes, and spearhead study abroad peer advising. 
Global Dukes are student volunteers who contribute to study abroad recruitment efforts and help with the smooth running of JMU Study Abroad events. Global Dukes often support specific programs or program directors, and help promote, recruit and educate within their academic departments and learning communities.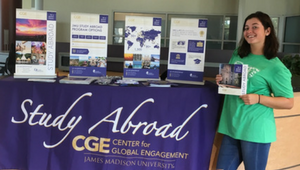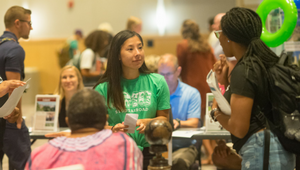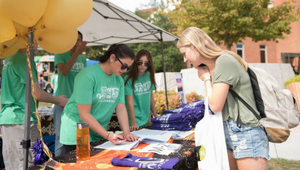 Volunteer as a Global Duke!
Have you studied abroad? Interested in the opportunity to share your experience, grow as a professional and work with a dynamic team? Email studyabroad@jmu.edu for more information about how to get involved.
Applications for 2024-2025 Global Ambassador positions will open March 1st, 2024.
2023-202 Global Ambassadors
Morgan Jamison
CEA CAPA Study + Internship Program, Paris, France – Spring 2023

"
Hello! My name is
Morgan
Jamison and I am a senior international business major from Lawrenceville, Virginia. Outside of class, I am a member of Phi Chi Theta Business Fraternity and the American Marketing Association. In spring 2023, I studied abroad with CEACAPA in Paris, France on their Study + Internship program.
Studying abroad has always been a goal of mine, so I chose international business as my major to give myself the ability to work it into my college experience. I started taking French classes my first semester here at JMU and have always loved the French culture, so Paris was an easy choice. I was lucky to find a program that also offered me the opportunity of an internship with a French makeup company, Clean Makeup Club, where I was a marketing intern. Between my internship and classes, I learned so much about French work culture and fashion that opened my eyes to new potential future careers. I was also lucky enough to travel to many places with many new friends that I met. Studying abroad opened my eyes to so many new people, places, foods, and experiences that I loved! I would give anything to be able to go back, so take the chance and do it!!"
Email:
jamisomm@jmu.edu
---
Maddie Cason
Honors in Barcelona, Spain – Summer 2022Scotland Psychology – Summer 2023
"My name is Maddie Cason and I'm from Chesterfield, VA! I am a senior Psychology major with minors in General Business and Honors Interdisciplinary Studies. In my free time, I work as a Front Desk Assistant in the Center for Global Engagement and hold the position of Academic Excellence Chairman on my sorority's Executive Board. During my time at JMU, I've traveled abroad to Spain and Scotland! Traveling, and experiencing new and different cultures, has always been a passion of mine. Having traveled abroad in high school to Italy, I knew that I wanted to connect with JMU's Center of Global Engagement and take more trips abroad during college. During my sophomore year, I studied abroad in a country on my bucket list - Spain! My trip to Spain met specific requirements for my Honors Interdisciplinary Minor, which was a Summer 2022 short-term program,
20th Century Barcelona
, offered through the Honors College. During my three weeks in Barcelona, I learned about the City's history, art, architecture, and culture. In the Summer of 2023, I was fortunate enough to study abroad again! I traveled around six different cities in Scotland, which allowed me to see and experience the country's different landscapes, climates, food, and general way of life. The course -
Nature, Creativity, & Well-Being Across the Lifespan in Scotland
- provided me many unique opportunities such as feeding Hairy Coos, volunteering at a nature kindergarten, and going wild swimming! During both of my times abroad, I met forever friends and added so many life skills to my repertoire! Take advantage of what JMU's Center for Global Engagement has to offer and study abroad - you will not be disappointed!
Email: 
casonmr@dukes.jmu.edu
---
Eliana Ross
Palestine/Israel: Surmounting Adversity – Summer 2022

"

Traveling has always been something I have always appreciated. When I chose what college to go to, I never had a strong desire to study abroad. After deciding on James Madison and learning about the Study Abroad programs I realized there were so many opportunities and amazing experiences to choose from within the study abroad department I knew I had to take advantage of one of them. On my trip I loved learning about different cultures, trying new foods and making lifelong friends. It was amazing to not only study abroad and gain credit for it, but it be in major, political science! It was a super hands-on experience and I hope everyone who wants to take advantage of the amazing programs at JMU gets a chance to do so!
"
Email:
rosses@dukes.jmu.edu
Chloe Manning
Semester in St. Andrews, Scotland – Fall 2022
"I am a senior dietetics major from Medfield, MA, eagerly embarking on the final year of my academic journey. Engaging actively in both JMU's dietetics association and Students Against Sexual Violence, both of these have enriched my collegiate experience. Among the remarkable chapters of my academic journey, studying abroad stands out as an unparalleled highlight. My semester at the University of St. Andrews not only gifted me with cherished friendships from other colleges, but also broadened my perspectives in ways I could never have anticipated. The camaraderie formed amongst fellow study abroad students, all navigating unfamiliar territories, forged an unbreakable bond. These are still freinds I see and talk to every day. Amidst my academic endeavors, I took the opportunity to explore independently, traveling to captivating cities; Budapest, Nice, and Amsterdam were my personal favorites. As I enter into my senior year, I wholeheartedly encourage others to seize every opportunity available"
Email: mannincp@dukes.jmu.edu
---

L.A. Perez
Semester in Salamanca, Spain – Spring 2022
"Hi! My name is L.A. Perez and I am a junior International Affairs and Modern Foreign Languages double major at James Madison University. Currently I have a concentration in Global Human Development, the Spanish language, and am working towards a minor in Latin American, Latinx, and Caribbean studies as well. I am originally from Springfield, VA and an active member of the JMU Climbing Club Team, the JMU Latinx Student Association, and the JMU Spanish Club. I am also the founder and president of the Heavy Music Club at JMU, focusing on providing a hub for enjoyers of alternative music genres to interact and get together. Ever since I was young, I have wanted to explore and experience as much as I could about the many different languages, cultures, and countries around the world. The amount of knowledge that you can gain from traveling and talking to people who live a different life than your own is a wholly rewarding and life changing experience. I was sold the minute I learned about the study abroad programs at JMU; I sprang into action and applied for the Spring semester in Salamanca, Spain. The experience was absolutely amazing, and I learned so much about the country of Spain, the people, the language, the art, and especially myself. I am so thankful for having been afforded the opportunity to explore a new part of the world and study in a place previously unknown to me. Every day I strive to use the lessons that I learned from studying abroad in many aspects of my everyday life."
Email: perezol@dukes.jmu.edu
---

Niki Capaldo
JMU Semester in London – Fall 2022
"After hosting a German exchange student for a year, I gained a passion for learning about different cultures. As soon as I got to JMU, I began the study abroad process and eagerly applied for the Semester in London program. I am an International Affairs major from Richmond and was very excited to navigate London's different lifestyle, learning how to learn, work, and develop independently. My semester abroad gave me the confidence to step out of my comfort zone, embrace new cultures, and environments. I am glad I chose to take this leap. I truly think everyone should consider studying abroad and step outside the familiar boarders of the United States."
Email: capaldnm@dukes.jmu.edu