The Global Duke & Ambassador Program
Who are the Global Dukes and Ambassadors?
The Global Dukes and Ambassadors are the student voice of JMU Study Abroad! As study abroad alum (returnees), we are passionate about sharing global opportunities with the JMU Community! Study abroad changed our lives in significant ways, so this is a way for us to give back and encourage others to go abroad! If there is anything we can do to help you prepare to leave for study abroad or return to campus, let us know and we will be happy to help!
Presentation Request
Would you like a Study Abroad presentation for your classroom, residence hall, or organization? The Global Dukes and Ambassadors will be glad to assist you! Please complete the online presentation request form below.
What do we do?
As a team, we all represent and promote study abroad at JMU. We assist the Study Abroad staff with programs throughout the school year such as the Study Abroad Fair. In addition to connecting with the JMU community, we assist prospective study abroad students with any questions they may have regarding selecting a program or even preparing for their departure. We also host various events, such as socials and resume workshops, that are geared towards study abroad alumni. These events create opportunities for alumni to connect and network with other study abroad participants. These events also create a space for students to reunite with their study abroad cohort! 
Global Dukes serve as student leaders who work with the study abroad professional staff and hold a specific coordinator position. They serve as the leadership of our student volunteers and also spearhead our study abroad peer advising. They also hold a specific coordinator position. These coordinator positions include Social Media and Promotion, Design and Marketing, and Alumni Outreach. Global Ambassadors are student volunteers who contribute to study abroad recruitment efforts and help with the smooth running of JMU Study Abroad events. Both groups get to serve as peer advisors as they help JMU students find the perfect study abroad experience.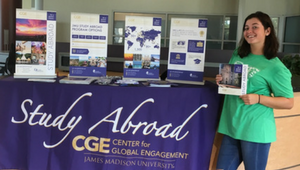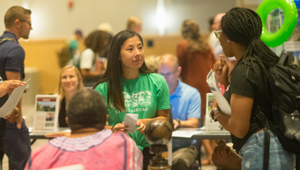 Join Our 2020-2021 Team!
Do you have a passion for study abroad and international education? Join our team! 
Applications for the 2020-2021 Global Dukes and Ambassador Program are now open! Students may apply for the program if they have completed a program abroad, are currently abroad this semester, or will go abroad this summer. 
As a Global Duke or Global Ambassador, you will have the opportunity to talk with incoming and current students about the awesomeness that is Study Abroad. You will work in a team environment to create programs, events, marketing and media plans to get JMU students just as excited as you were when you first decided to go study abroad!
If you are interested in becoming a GLOBAL DUKE or GLOBAL AMBASSADOR for the 2020-2021 academic year, please email your completed application to globaldukes@gmail.com by 11:59pm March 15th, 2020.  
Frequently Asked Questions:
"Can I still apply if I have not studied abroad before, but I will during this Summer?" 

Yes! We strongly engourage summer participants to apply to the program. This will give you a chance to continue talking about you fresh experience abroad.

"I am currently abroad, can I still apply?"

Yes, if are currently abroad, you can still apply now! This will be a great way for you to further your Global experience upon your return to JMU.

"I will study abroad during the Fall or Spring of next academic year. Am I still eligible to apply?"

Yes, you are able to apply, but only as an Global Ambassador. On your application, please indicate which semester you plan to go abroad.

"What is the time commitment of the being a participant in this program?"

Participating in this program is very flexible to your schedule.

As a Global Duke, you will have mandatory weekly team meetings in which you work with the Study Abroad staff in developing events and marketing campaigns. These meetings usually last one hour. Outside of the weekly team meetings, Global Dukes are required to complete two office hours a week. During this time, they will help with Peer Advising or any other tasks related to their position. 
As a Global Ambassador, you will have monthly meetings to discuss upcoming events and to signup for volunteer opportunities. You are able to sign up for events based on your availability.

Outside of these meetings, there are mandatory events such as Pre-Departure Orientations (occurs once a semester) that are required for Gloal Dukes and Ambassadors to attend.

Alexis Kakar
Semester in Antwerp, Fall 2018
Malta Honors Program, Summer 2017
"I was hesitant to go abroad for fear of being so far from home, but decided to try it on a whim. It was easily one of the best decisions I have made throughout college. Both programs I have gone on have taught me more about life and the world than anything I could have ever learned in a classroom. Studying abroad has completely defined my college experience and solidified my career goals/ pathway. I left my semester abroad with so much confidence in myself and a new found adaptability that has been so beneficial throughout all other areas of my life. I strongly believe that everyone should experience a study abroad program!"
Email: kakarar@dukes.jmu.edu
---

Dalia McCoy
South Africa Justice Program, Summer 2018
"One of the biggest lessons I learned while studying abroad was that no matter how far we travel, we are not tethered to a geographical location of "home," but to a common sense of being human. During my time abroad, I was encouraged to find ways to connect with people who spoke different languages and learn just how much humans have in common from their stories and ways of life. "Ubuntu," a word I heard frequently while in South Africa, translates to "you are because I am, therefore I am because you are" - I think this describes my study abroad experience perfectly."
Email: mccoy2dm@dukes.jmu.edu
---

Kiera Moyer
Semester in Antwerp, Spring 2019
"My favorite part of study abroad was the travel. It was so crazy getting to go all over the world with people who were complete strangers a few months ago, but who I would now consider my family. It really pushed us to be individuals and learn how to function in the real world as an adult; being submerged in completely new environments and having to adapt and learn as we go. We learned so much about effective group work, the logistics of traveling all the time (especially how to pack lightly), and having to excel as a student in a new, unfamiliar setting."
Email moyerkl@dukes.jmu.edu 

Mistire Kifle
Cape Town Internship, Summer 2019
Semster in London, Spring 2018
The JMU semester in London program was my first time in Europe and it was a cultural experience that I would never be able to gain had I stayed on campus all four years. Since I have returned from study abroad, I continue to recognize my growth in curiosity of other cultures. During my time in London, we had many excursions that introduced us to different people and stories and I try to find ways that I can do that in my hometown. I plan to continue visiting countries to expand on my knowledge about other cultures.
Email: kifle2mx@dukes.jmu.edu
---

Kaylah McFarland
Semester in London, Summer 2019
"Studying, living, and working in London allowed me to gain my independence in new ways. I contributed to major projects at my internship and gained a newfound confidence. Studying abroad provided me a new, indescribable outlook on the way I live my life. I've met people and found new places that will always feel like home."
Email: mcfarlkf@dukes.jmu.edu
---