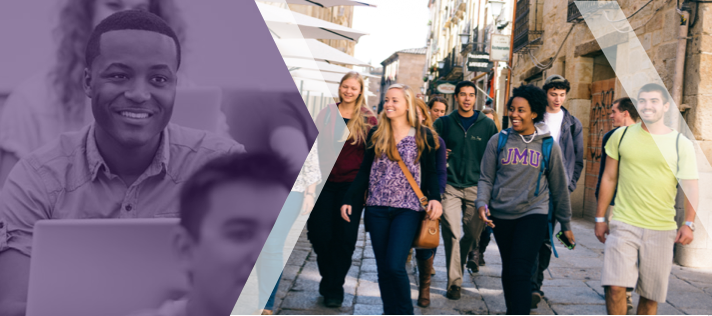 Exchange Programs 
What is an Exchange?
An Exchange program offers JMU students an amazing opportunity to study at a foreign university.  Currently, JMU has Exchange partnerships with 18 universities through the International Network of Universities (INU), giving students access to some of the best universities and professors around the world.  Exchange programs are the most cost-effective way for in-state students to study abroad.  Students continue to pay their tuition to JMU, but pay rooming and board fees to the host university, which in most cases, can be less expensive than housing in the states. 
Exchange programs are available only for the fall or spring semesters or a full academic year.  Exchange programs are not available during the summer.  
*Space availability is based on keeping a balance of students being exchanged between the universities. When there is an imbalance, it will affect the number of students that can be sent. These cases are noted below. 
Partner Institutions
Research the courses
Visit our partner universities online by follow the links above to your potential host university's course listings.
Meet with your advisor
Confirm with your academic advisor in your department that the courses you intend to take through the exchange program will be appropriate for your academic plan. (Credits will be evaluated and approved by individual department heads or advisors in each department.)
Application deadlines
The deadline for the following academic year (2018-19) is January 15th, 2018. Applications will be accepted on a rolling basis for remaining spaces after deadline.
If the application deadline falls on a Saturday or Sunday, applications will be accepted until 5 p.m. on the next business day.
See an advisor for complete details and space availability.
Application Materials
The application for admission has a number of parts, all of which must be received by the CGE before your application can be processed. Please make certain that you have completed all steps in the application process.  *All students must be in good academic standing and hold a minimum 2.5 GPA (or as listed on the program page) to be considered for admission. 
A completed Fall or Spring Exchange Program application consists of the following components:
·         Complete online JMU Exchange application
·         "Personal Statement" Essay indicating the reasons for choosing this program and how the choice of courses, program structure, city, or country, relate to your past, present and future academic, career and personal goals. How do you think you will benefit from the experience?
·         Letter of Recommendation from a current or former instructor or from your academic advisor
·         Official transcript
·         Application from the host university (Exchange partner timing varies. Accepted applicants will be emailed further instructions.)
*All applicants must meet with a study abroad advisor before applying for an exchange program.
Financial Aid
JMU offers financial aid for students on JMU programs subject to the standard restrictions. For more information, please contact JMU's Financial Aid Office.
Any questions or concerns?
Call CGE at 540-568-5209 or send an e-mail message to: studyabroad@jmu.edu.