This page is part of the campus environmental stewardship tour. To return to the tour, which includes a map and descriptions, please click
here
.
  GREEN SPACE
PHOTOS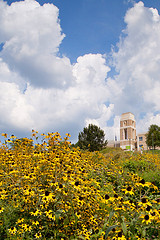 Photos by JMU Creative Services.
TECHNICAL INFORMATION

The meadow with 29 species of native plants provides wildlife habitat on campus. The replacement of traditional fescue grass by the meadow reduces the potential for pollutant runoff into the stream channel from traditional turf management practices. It also reduces the potential for erosion from the hillside meadow by establishing deep rooted vegetation. Additionally, the naturalized meadow was planted in multiple strips along the contour to provide an example of the common practice in conservation agriculture of contour farming. Scholar-In Residence Michael Singer facilitated the design of the meadow portion of the project- an idea that originated from a professor in the department of Integrated Science and Technology. Students (as part of their courses and capstone projects) worked with faculty to contribute to the overall vision and the design of the meadow.
The tree planting area contains 2 of each of the 25 tree species planted. The trees were selected based on aesthetics and screening as well as usefulness for education. Many trees are native and included overstory hardwoods, understory hardwoods, and gymnosperms. A number of species of trees not commonly found elsewhere on campus were included in this area to help promote the biodiversity of trees on campus.
The restored stream channel and associated riparian buffer provide valuable protection for the nearly 600 acre urbanized watershed that drains to this area. The stream restorations were funded in part by a National Fish and Wildlife Foundation grant, "Community Solutions to Stormwater Pollution in Blacks Run," awarded to a community partnership which included JMU Facilities Management.
Chesapeake Bay Stewardship Case Study (2012)
STUDIES
Developing a Natural Educational Landscape on Campus Grounds, Christie-Joy B. Hartman, Wayne Teel,
Amy Goodall, and Carole Nash, Smart and Sustainable Campuses Conference, Baltimore, MD, March 30-31, 2015

COURSES ENGAGED WITH THE FACILITY PREVIOUSLY
GEOG 290. Human Interactions with the Physical Environment
GEOG 322. Agricultural Systems
GEOG 470. Senior Seminar in Environmental Conservation, Sustainability and Development
ISAT 112. Environmental Issues in Science and Technology (General Education Course, Cluster 3)
ISAT 320. Fundamentals of Environmental Science
ISAT 424. Natural Resource Management/GEOG 342. Management and Protection of Natural Resources
ISAT 429. Sustainability: An Ecological Perspective/GEOG 429. Sustainability: An Ecological Perspective
BIO 366. Plants and Environment
Examples of Learning Opportunities
ISAT 320: Fundamentals of Environmental Science
Learning Objectives:
1. Identify plant species and populations
2. Execute proper field techniques for soil collection and preparation for storage and analysis
3. Articulate fundamental soil properties
GEOG 470: Geographic Science Senior Seminar, Global Biodiversity
Learning Objectives:
1. Explain the importance of expertise for identification of species
2. Describe how biodiversity of butterfly species is measured
3. Explain how expertise influences knowledge of global biodiversity
4. Develop a guide to butterflies
GEOG 390-490-495: Senior Capstone
Learning objectives:
1. Supply the university with a keyed guide for plant identification for future use
2. Create a baseline of the meadow's development through transect survey of vegetation
3. Analyze vegetation distribution based on recommendations outlined by the Society for Ecological Restoration International Primer
Example Project: Baseline Study of the East Campus Hillside Meadow, Dilan Abdullah, Erin Frigm, and Erin Knight, ISAT Capstone Project, Advisor: Dr. Carole Nash, Department of Integrated Science and Technology, May 2013.