Environmental Stewardship Tour: University Recreation Center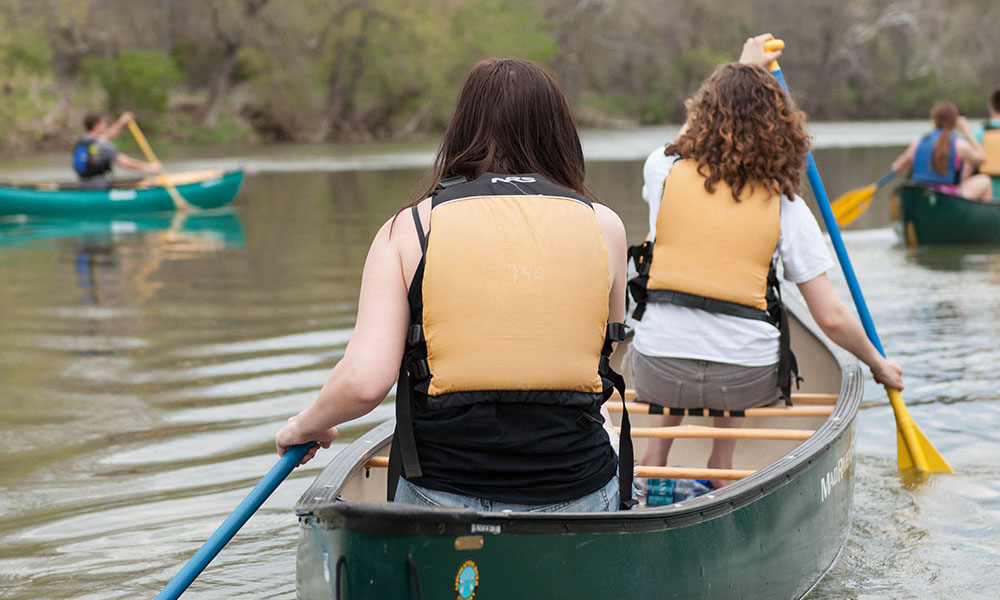 UNIVERSITY RECREATION CENTER
The University Recreation Center at University Park is location 16 on the tour. The following description also appears on the Story Map.
UREC operates an award-winning recreation facility, opened in 1996, and also utilizes additional indoor and outdoor facilities around campus including University Park. In 2013, University Park received silver-level LEED (Leadership in Energy and Environmental Design) certification. Subsequently, UREC's indoor facility was expanded and renovated in 2016, earning the building a silver-level LEED certification. UREC programs for students also use adventure as a platform for connecting with nature and educating about the importance of caring for the outdoors by offering trips that teach and follow "Leave No Trace" principles while hiking, kayaking, skiing, canoeing and more. Additionally, UREC offers classes by students for students, which promote sustainable life skills.
PROGRAMS
The University Recreation Center (UREC) offers nutrition and wellness programs, bicycling programs, and adventure trips.  
Examples of Nutrition and Wellness sustainability-related programs offered in Spring 2020 include:
Cooking with Seasonal Produce: In this class participants will learn about a seasonal produce item specific to that month and cook a recipe using this item.
Cosmos Catastrophe: Are you frustrated with the way we are treating the earth? Do you want to make a difference in the environment? Do you care about having a healthy earth for your grandchildren in 50 years? Want to know how you personally are impacting the earth with your ecological footprint? Join us in learning about plastic, pollution, the food industry, energy sources, and water waste and discover easy ways to make an environmental impact.
Passionate about the Planet: The environment is one of the most overlooked public health concerns and an issue that affects all of us. We only get one Earth so come learn how to protect and preserve our cosmological home.
The Race to Zero Waste: Do you find yourself spending a lot of money at the grocery store, only to find you are throwing most it away? About 1/3 of food produced in the world for human consumption every year gets wasted. Learn easy tips on how to save, plan, and store your food to make sure there is zero waste at every meal!
The programs are designed and facilitated by UREC student staff members. The goal is to have these students apply what they have learned in the classroom to positively impact the health and well-being of the JMU community. Students determine all program names, descriptions, learning outcomes, general outlines, and final presentations with the assistance of the Assistant Director for Fitness & Wellness, University Recreation and Wellness Student Managers. 
UREC also offers bicycling programs including:
Bike Care 101 is a hands on workshop to learn and practice the basics of bike care.
2 Wheels & 2 Scoops is an evening adventure bike ride 

that starts and ends at UREC and includes a stop at Kline's Dairy Bar in downtown Harrisonburg for some tasty treats! UREC provides some basic cycling information at the beginning and the use of bikes and helmets at no additional cost.
As part of the Adventure Trips, almost all comprehensive outdoor trip offerings provide instruction in Leave No Trace principles, and almost all outdoor trips offer instruction in Federal Land Management.