Environmental Stewardship Tour: Wayland Hall

WAYLAND HALL
In 2012, Wayland Hall became the first renovated residence hall in the United States to achieve platinum-level LEED (Leadership in Energy and Environmental Design) certification. The renovation strategy at James Madison University's Wayland Residence Hall pursued the highest levels of sustainable design in 2010. The building utilizes a ground-source heat pump and well field, a 10,000-gallon water tank to collect rainwater, a drain-water heat recovery system for the showers. The design increased natural light, and sustainable materials were used on the interior walls, carpets and living spaces. The outside of the building has natural landscaping and a parking lot was converted to green space behind the residence hall.
Wayland Hall is location 4 on the tour map. 
FACILITIES AND OPERATIONS
Hall for the Arts: Wayland Hall
Wayland Hall Renovation Design Brochure (click to enlarge)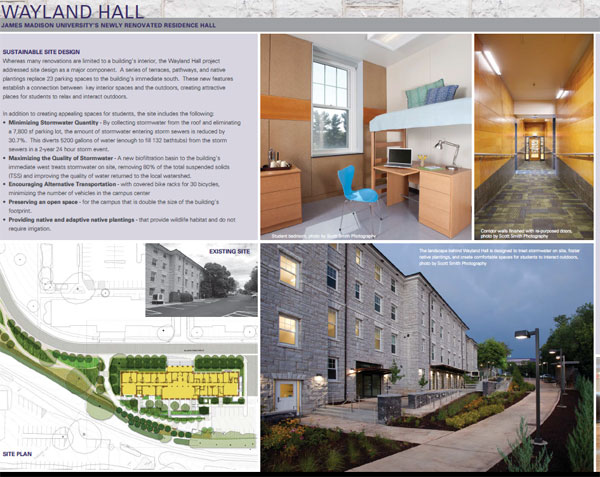 Brochure by VMDO Architects. 
COURSES AND PROJECTS ENGAGED WITH THE FACILITY PREVIOUSLY
ISAT 100. Environmental and Energy Sustainability (General Education Course, Cluster 3)
SRM 436. Facilities and Events in Sport and Recreation Management
Example of Learning Opportunities
ISAT 100: Environmental and Energy Sustainability provides non-STEM majors basic physics and chemistry education within the context of today's complex issues involving energy and environmental sustainability.  Students learn through activities that
1. Enhance understanding of the potential for science and technology to impact energy/environmental sustainability
2. Encourage ways to have a personal impact on sustainability
3. Appreciate the importance of advocating for sustainability policy decisions 
The course also provides experiential learning opportunities for students through activities that use the JMU campus as a living laboratory.  JMU's Office of Environmental Stewardship and Sustainability and Office of Facilities Management assist with demonstrations and tours that allow students to see first-hand the major sustainability initiatives on campus.