AAAD Presents: Good Trouble Episode Two Show Notes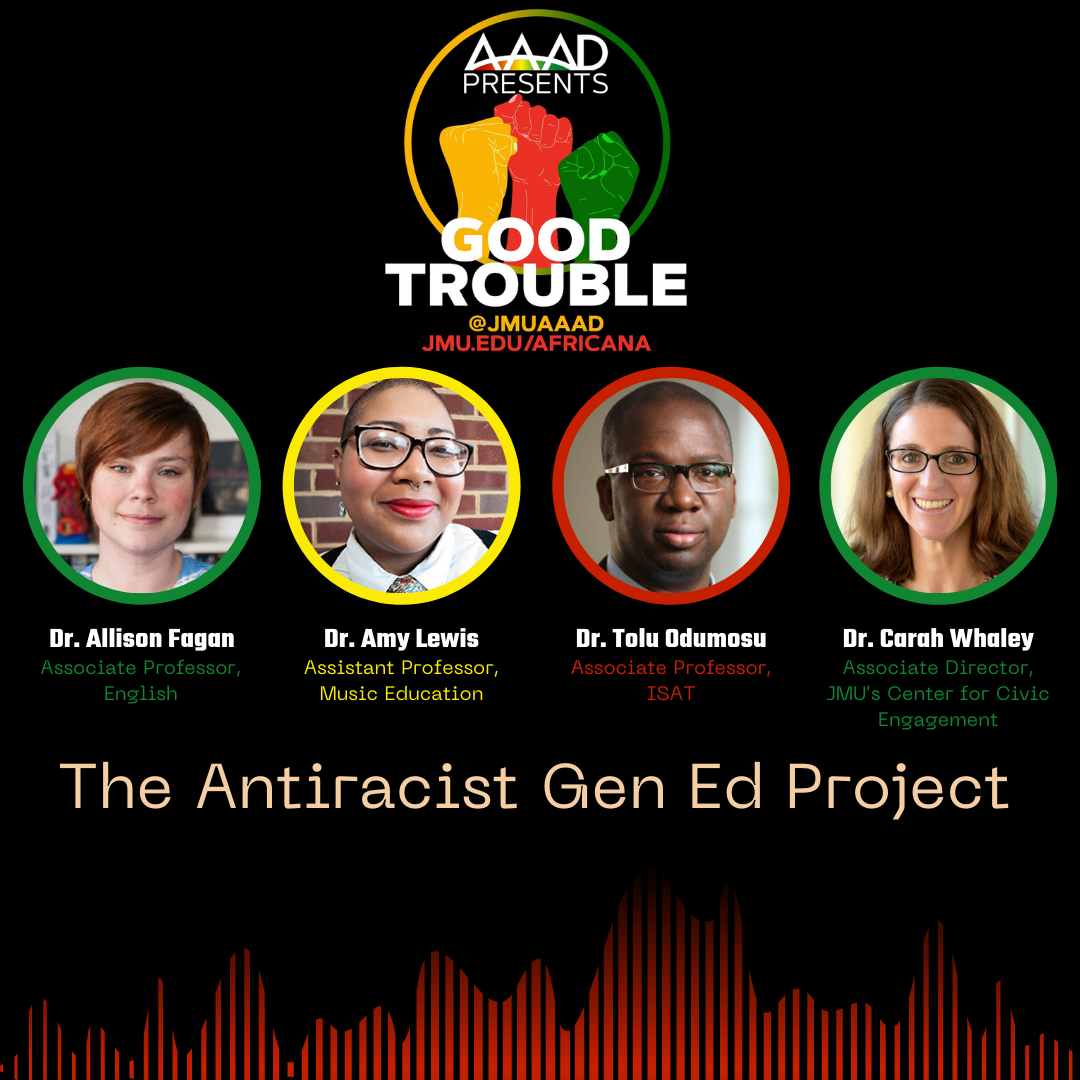 Dr. Allison Fagan is an associate professor of English, where she teaches courses in contemporary Latina/o and African American literature. She researches and teaches about the challenges writers of color meet in the publishing industry. 
Dr. Amy Lewis is an assistant professor of music education and Director of the Center for Inclusive Music Engagement at James Madison University in Harrisonburg, VA. Her research is focused on critical race theory, antiracism education, and activism in music education. Previously she studied her doctoral work at Michigan State University in music education. Her work is published in The Bulletin for the Council of Research in Music Education, Action, Criticism, and Theory in Music Education, and Michigan Music Educator Journal.
Dr. Tolu Odumosu is an associate professor of integrated sciences at JMU. His scholarly interests and research topics include science and technology studies, digital privacy, internet of things, cyber-physical systems, race and technology, ethics in science, technology and engineering, and policy and governance, technical standards.
Dr. Carah Ong Whaley is the associate director of JMU Civic where she works in partnership with students, faculty, staff and community partners to embed civic learning and democratic engagement across campus through curricular and co-curricular programming. Carah currently serves as the Vice Chair of the Civic Engagement Section of the American Political Science Association, a Civic Fellow at the American Democracy Project and is co-host of Democracy Matters. Her work has been featured in the Wall Street Journal, Forbes, Teen Vogue, NPR, Inside Higher Education, Education Dive, and more.
The Antiracist Gen Ed Project was a course offered at JMU in the fall of 2021 in collaboration with AAAD and JMU X-Labs. The course description is as follows:
"What does one need to know to be a fully functional citizen? What kind of knowledge is important to operate in the world of tomorrow? What broad skills does a college graduate in 2026 need to have? Perhaps more importantly, whose knowledge should count as important and relevant enough to teach to the leaders of tomorrow? Whose perspective should be dominant? Whose stories should we tell? These guiding questions will inform the organic and liberatory nature of the course experience. 
Working in interdisciplinary teams, students and faculty in this JMU X-Labs/AAAD course will explore and reimagine JMU's General Education curricula to include meaningful, transformative courses and learning opportunities focused on addressing the oppressive structures that create barriers to justice, equity, diversity, and inclusion (JEDI). Elevating the work of the Black Leadership Coalition and student activists at JMU who have been advocating for this change to the General Education program for the past year, this class will explore best theory and practice in antiracist and decolonial pedagogy, conduct interviews and focus groups with a broad range of constituencies, gain experience working in interdisciplinary teams while using a variety of innovation and design methods, and practice skills that enable effective responses to complex and pressing problems. Additionally, students within this course will connect with faculty partners from various JMU colleges in order to maintain the collaborative essence of this course. At semester's end, course participants will share their work with members of the university administration and faculty for potential future development and implementation."
---
(3:41) Dr. Odumosu discusses his work with JMU X-Labs, "an ecosystem specifically designed to teach innovation with intention and nurture a culture of creativity." For more information on JMU X-Labs, click here.
(4:24) Dr. Odumosu mentions the Black Student Alliance group on campus and the work they did to "prime the environment for this class." 
(5:10) Dr. Fagan mentions the "events over the summer of 2020" as being a catalyst for what's happened on campus in regards to antiracism and DEI efforts. This is in reference to the Black Lives Matter protests across the nation.
(5:15) Dr. Fagan discusses the movement to change the names of buildings on campus, referring to those named in honor of Confederate soldiers. This was also mentioned by Spencer Law in our last episode. The Campus History Committee at JMU succeeded in having the buildings renamed for notable Black individuals in JMU's history, Dr. Sheary Darcus, Drs. Joanne and Alexander Gabbin, and Doris Harper Allen and Robert Walker Lee.
(8:36) Dr. Whaley mentions Dr. Meg Mulrooney, a professor in the History Department at JMU and a AAAD faculty member, and Dr. Nick Swayne, executive director of 4-Virginia and founding director of JMU X-Labs
(40:00) Dr. Lewis mentions the diverse student group that took the course and in so doing mentions CAL, which is an acronym for the College of Arts and Letters at JMU. It includes a wide variety of humanities majors including but not limited to English; Foreign Languages, Cultures, and Literatures; History; Political Science; Justice Studies; Psychology; Writing, Rhetoric, and Technical Communications; Communications Studies; etc.