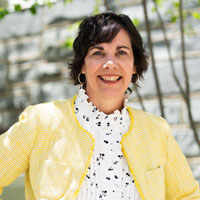 Senior Associate Vice Provost for Academic Programs and Equity, Office of VPFAC
Education
Ph.D., College of William and Mary (American Studies)
Fields and specialties
19th century to early 20th century US social and cultural history, especially race and ethnicity; public history; collective memory
Teaching areas

American studies; local and public history; campus history

The "Mad" '70s: Madison College in the 1970s. Created by students in HIST 337, this site explores what everyday life was like on this campus during a pivotal era. The 16 digital exhibits cover topics like "Searching for Hippies," "The Marching Royal Dukes," Desegregation, President Carrier, Title IX, and Athletics. Resources provide a starting point for JMU campus history.

JMU History and Context. This site was created by students in HIST 396: Intro to Public History to explore unfamiliar or 'silenced' aspects of JMU's history as a segregated institution for women. Intended to support the work of the President's Taskforce on Inclusion, it includes digital exhibits, reports conducted by the History and Context committee, as well as reports related to student dialogues about JMU's past. Resources provide a starting point for JMU campus history.

Besides these digital humanities projects, Dr. Mulrooney has directed undergraduate theses examining JMU's history as a segregated, single sex institution, and has worked with undergraduate and graduate students on a variety of other topics, as well as on alternative public history projects.

She uses her blog to communicate some of her own research into JMU's campus history; Posts include: Confederate Heritage at JMU, Alumnae Scrapbooks and Collective Memory, and Blackface minstrelsy.
Research interests
History and culture of the Shenandoah Valley; history of James Madison University; higher education; race relations in Virginia and North Carolina; collective memory in the South; civic engagement
Selected publications
Deep Currents: Race, Place and Memory in Wilmington, NC (Gainesville: University of Florida Press, 2018).
Editor. Fleeing the Famine: North America and Irish Refugees, 1845-1851 (Westport, CT: Praeger, 2003).
Black Powder, White Lace: The du Pont Irish and Cultural Identity in 19th-Century America (Hanover, NH: University Press of New England, 2002).
Co-author. Norvelt and Penncraft, Pennsylvania: Subsistence Homestead Communities of the 1930s (Washington, D.C.: HABS/HAER Division, NPS, 1991).
A Legacy of Coal: The Coal Company Towns of Southwestern Pennsylvania (Washington, D.C.: HABS/HAER Division, NPS, 1989).
Service

Personnel Advisory Committee, History DepartmentCivic Engagement Steering Committee (Co-chair)
Carnegie Community Engagement Steering Committee
The Madison Collaborative: Ethical Reasoning in Action
General Education Diversity Board (Chair)
Association for General and Liberal Studies (President)Madison Caucus for Gender Equality (Past chair)