Established in Fall 2017, the ASW is an interdisciplinary space for the exchange and development of ideas in the field of African, African American, and Diaspora Studies. Each of our monthly meetings will showcase the work in progress of a JMU faculty member, graduate student, or visiting scholar working on the study of Africa and the African Diaspora. The ASW is an incubator for projects addressing the conceptual ambitions, intellectual positions, and pedagogical implications of Africana Studies. In 2020, our earlier name, "Africana Literatures and Cultures Workshop," was altered to "Africana Studies Workshop" in order to express our commitment to the advancement of Africana Studies as a fully interdisciplinary project embracing the arts, humanities, social sciences, and STEM fields. If you would like to be added to our mailing list, in order to receive copies of works-in-progress beforehand, if available, and to stay informed about future meetings, please contact Bailey McInturff at mcintubd@jmu.edu.  
You can find the password-protected paper for the upcoming workshop here. 
Upcoming Workshops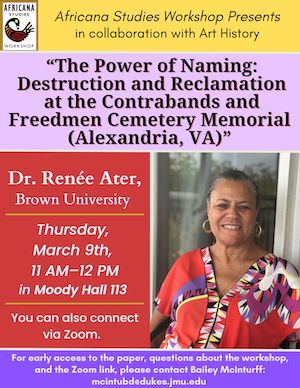 "The Power of Naming: Destruction and Reclamation at the Contrabands and Freedmen Cemetery Memorial (Alexandria, VA)"
Past Workshops