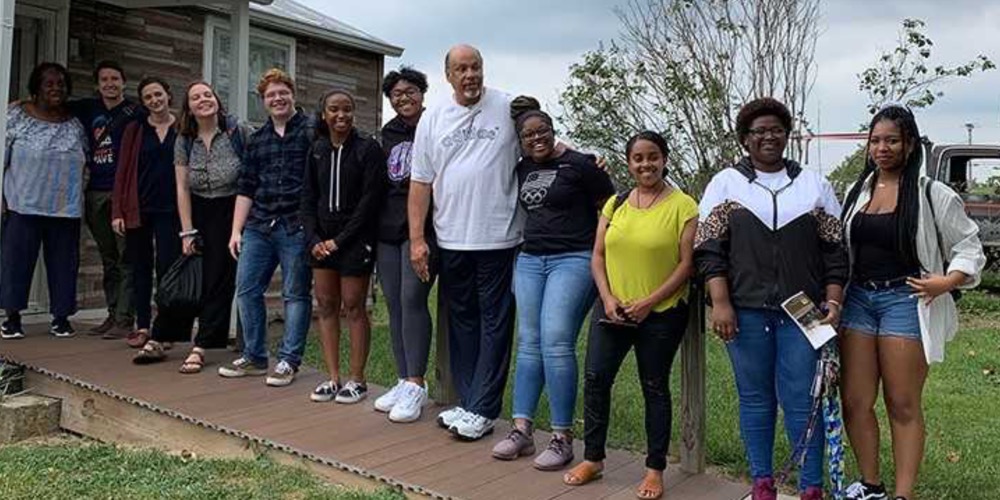 AAAD Internships & Research Internships
AAAD 401: Internship in African, African American and Diaspora Studies provides students with opportunities to apply knowledge learned in the classroom to professional and community-based settings. It provides valuable experience and prepares students for working independently in the field.
The AAAD minor also offers several internal internship opportunities every year. AAAD Minor Interns, typically serving for a full academic year, support the AAAD coordinators and AAAD faculty by contributing to campus and local events, academic programming, visiting scholars, and the annual AAAD conference, and maintaining a social media presence for the minor. AAAD Media Interns, also serving for a full academic year, support the minor and minor programming by designing promotional materials for events and social media. Please contact the AAAD Minor Coordinators if you are interested in learning more or applying.
AAAD faculty also occasionally offer Research Internships, which are designed to involve AAAD minors in the research life of the AAAD program. By enrolling in AAAD 401, research interns earn academic credit for their work supporting an AAAD faculty member's research, teaching, or service project. In the process, research interns will deepen their knowledge and skills in their area of interest, while experiencing what it means to be part of an intellectual community engaged in research and professional development, and gaining a competitive edge on future job, fellowship, or graduate school applications. Available research internships will be announced to minors. Students are also welcome to reach out to faculty to inquire about possible research projects and internships. 
For a list of our past interns, click here.
Krystle Brown
My name is Krystle Brown and I am a senior Writing Rhetoric and Technical Communications major. This year I serve as an editor and managing co-editor of WRTC's undergraduate academic journal Rhet Tech. After graduation, I plan on continuing my education and pursuing a master's in library science to become a librarian. 
Ken Kensky
Ken Kensky is in his third year of studies at JMU. He is majoring in Media Arts & Design with a concentration in Creative Advertising. He's also minoring in Jazz Studies & AAADS. Kensky is the media manager for JMU's oldest LGBTQ+ organization, Madison Equality, and has done web design and social media consulting for local Plato's Closets & other businesses. He plans to continue a career in social media marketing after graduation.
For more information . . .
For more information about AAAD internship opportunities, please contact the AAAD Internship Coordinator Case Watkins.