AAAD Presents: Good Trouble Episode One Show Notes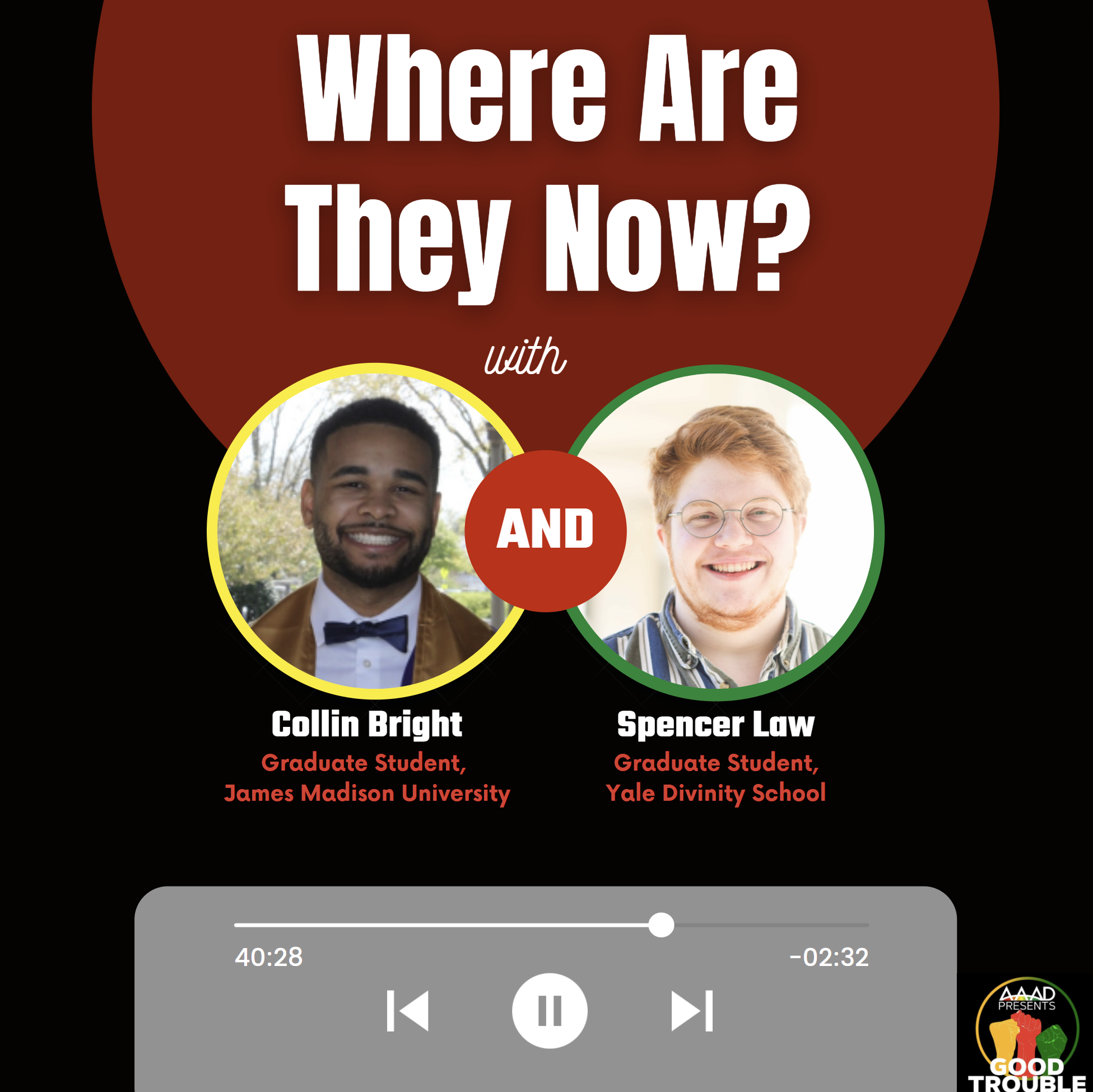 Collin Bright is a first-year Communications and Advocacy graduate student, a teaching assistant for Communication Studies at JMU, and the graduate assistant for the AAAD Accomplice Network (@network.jmu).
Spencer Law is a first-year Master of Divinity student at Yale Divinity School. He is a 2020 graduate of JMU, where he majored in History and Media Arts & Design with minors in Honors Interdisciplinary Studies and AAAD. Spencer recently worked with the Furious Flower Poetry Center at JMU as a communications specialist, and now works for Andover Newton Seminary at Yale Divinity School as an archival specialist. 
---
(2:09) Collin mentions Dr. Besi Muhonja and the Annual AAAD Interdisciplinary Conference as being chief reasons for joining AAAD.
(4:21) Collin calls JMU a "PWI," which stands for Predominately White Institution - it is generally referenced in opposition to "HBCU," which stands for Historically Black Colleges and Universities.
(4:40) Spencer mentions Dr. Sean McCarthy and the collaborative project, Celebrating Simms, of which he is a part with Dr. Mollie Godfrey, Center Director.
(8:00) You can follow the AAAD Accomplice Network on Instagram at @network.jmu 
(10:29) Spencer mentions working in the Black Studies, Black Spaces class which was taught by Dr. Mollie Godfrey.
(11:07) When Spencer says Special Collections, he's referring to JMU Special Collections.
(11:20) For more information on the Center for Multicultural Students Services (CMSS) visit their webpage or follow them on social media at @JMUCMSS
(12:09) Spencer mentions the Divine Nine which refers to the collaborative umbrella council of historically Black fraternities and sororities.
(12:13) Spencer mentions learning about the history of the Furious Flower Poetry Center here at JMU. You can find some of this history archived here.
(12:34) Spencer mentions his work as a part of The Campus History Committee at JMU, a group that was instrumental in the process of having buildings on campus formerly named for Confederate soldiers renamed in honor of Dr. Joanne Gabbin and Dr. Alexander Gabbin, Dr. Sheary Darcus Johnson, and Doris Harper Allen and Robert Walker Lee.
(14:33) Collin mentions Dr. Kathryn Hobson, a AAAD faculty member and coordinator for the AAAD Minor at JMU.
(15:02) Collin mentions Dr. Melissa Alemán, a AAAD faculty member and facilitator of the 2021 AAAD Critical Perspectives and Pedagogies Institute.
(15:08) Collin mentions Dr. Jennifer Peeks-Mease, a AAAD faculty member and coordinator of the AAAD Accomplice Network.
(16:03) Megan mentions the concept of "ubuntu," which is a Nguni Bantu term meaning "I am because you are." This phrase and philosophy are a prime focus of the AAAD program. 
(29:41) Spencer mentions his capstone research project that he presented at the AAAD Conference. The capstone research project is a requirement for all undergraduate AAAD minors.
(30:12) Spencer mentions the Shenandoah Valley Black Heritage Project, a partner of AAAD.