Environmental Stewardship Tour: Science On a Sphere
SCIENCE ON A SPHERE
Science On a Sphere is location 4 on the tour. The following description also appears on the Story Map.
JMU was the first university to install Science On a Sphere® (SOS), which was developed by the National Oceanic and Atmospheric Administration (NOAA) as a captivating way to illustrate Earth System Science to people of all ages and increase environmental literacy. At JMU, faculty across many disciplines use SOS as a pedagogical tool for subjects such as geographic science, data analysis, and art. The local community benefits too, as access extends to K-12 students through JMU's Middle School Visit Program and the STEM Education & Outreach Center with programs that often highlight our globally-connected society and how the actions in one place affect the well-being of other places. You can preview one of the many JMU student SOS projects that explores these local and global connections below.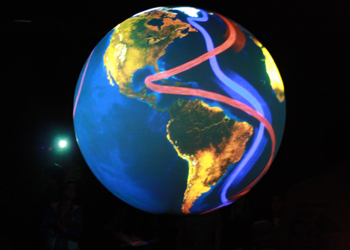 ENGAGED COURSES AND STUDENT PROJECTS
For more information about each course, search by course number in the Undergraduate Catalog.
ASTR 120. The Solar System (General Education Course, Cluster 3)
ELED 432. Children and Science
ELED 434. Children and Social Studies
GEOG 350. Topics in Geography
GEOL 115. Earth Systems and Climate Change (General Education Course, Cluster 3)
GEOL 301. Earth Sciences for Teachers (General Education Course, Cluster 3)
GEOL 406. Paleoclimatology and Paleoceanography
SCI 166. Environment in Context
ISAT 100. Environmental and Energy Sustainability (General Education Course, Cluster 3)
ISAT 112. Environmental Issues in Science and Technology (General Education Course, Cluster 3)
ISAT 302. Instrumentation and Measurement of the Environment
ISAT 480. Selected Topics in Integrated Science and Technology
IA 342. Visualization Methods, Technologies and Tools for Intelligence Analysis
IDLS 395. Topics in Interdisciplinary Liberal Studies
SCOM 461. Public Relations Campaigns
Example Project: C. Ham satisfied a six-credit capstone requirement for a Master of Arts in Writing, Rhetoric & Technical Communication by completing a 300 hour internship in Spring 2019.  As part of that internship, the narrated movie below, which challenges us to think about how environmental stewardship is and can be integrated in our lives at JMU, was created for use with Science On a Sphere outreach programs.