This page is part of the campus environmental stewardship tour. To return to the tour, which includes a map and descriptions, please click here.
  ENERGY
PHOTOS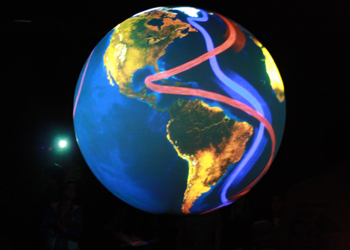 Photos by the Office of Environmental Stewardship and Sustainability.
OVERVIEW
The Sphere Theater contains Science On a Sphere (SOS), which uses computers and projectors to display data onto a 68 inch diameter sphere.  It was developed by the National Oceanic and Atmospheric Administration (NOAA) and is primarily utilized by museums and science centers for informal education.  There are 62 institutions in the United States (and 51 more institutions internationally) that use SOS. JMU was the first university to install SOS and is one of a few universities to use SOS as a pedagogical tool in university courses. The Sphere Theater is also frequently used for school visits, which are arranged through JMU's Middle School Visit Program and the STEM Education & Outreach Center. JMU faculty and staff who would like to use the Sphere Theater should email stewardship@jmu.edu.
STUDIES
Faculty and Student Perceptions of Learning on a Spherical Display System, Christie-Joy Hartman, Joy Ferenbaugh, Kristen St. John, and Jennifer Mangan, 14th Annual National Conference and Global Forum of the National Council for Science and the Environment: Building Climate Solutions, Washington, DC, January 28-20, 2014.
COURSES ENGAGED WITH THE FACILITY PREVIOUSLY

ASTR 120. The Solar System (General Education Course, Cluster 3)
ELED 432. Children and Science
ELED 434. Children and Social Studies
GEOL 115. Earth Systems and Climate Change (General Education Course, Cluster 3)
GEOL 301. Earth Sciences for Teachers (General Education Course, Cluster 3)
GEOL 406. Paleoclimatology and Paleoceanography
SCI 166. Environment in Context
ISAT 100. Environmental and Energy Sustainability (General Education Course, Cluster 3)
ISAT 112. Environmental Issues in Science and Technology (General Education Course, Cluster 3)
ISAT 302. Instrumentation and Measurement of the Environment
ISAT 480. Selected Topics in Integrated Science and Technology
IA 342. Visualization Methods, Technologies and Tools for Intelligence Analysis
IDLS 395. Topics in Interdisciplinary Liberal Studies
SCOM 461. Public Relations Campaigns