Environmental Stewardship Tour: Science On a Sphere
SCIENCE ON A SPHERE
JMU was the first university to install Science On a Sphere® (SOS), which was developed by the National Oceanic and Atmospheric Administration (NOAA) as a captivating way to illustrate Earth System Science to people of all ages. The facility has used furniture, some used equipment, and environmentally preferable carpet. At JMU, faculty across many disciplines use SOS as a pedagogical tool in courses. The local community benefits too, as access extends to K-12 students through JMU's Middle School Visit Program and the STEM Education & Outreach Center. 
While SOS is most often employed at JMU for science education, it is applicable to any discipline. Students and faculty from Writing, Rhetoric and Technical Communication; Art and Art History; and the College of Education have completed projects with SOS. JMU faculty and staff who would like to use SOS should email stewardship@jmu.edu.
Science On a Sphere is location 5 on the tour map.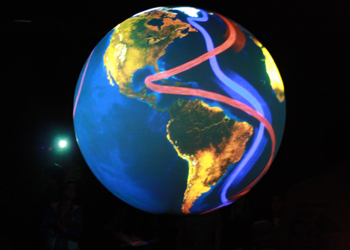 COURSES AND PROJECTS ENGAGED WITH THE FACILITY PREVIOUSLY