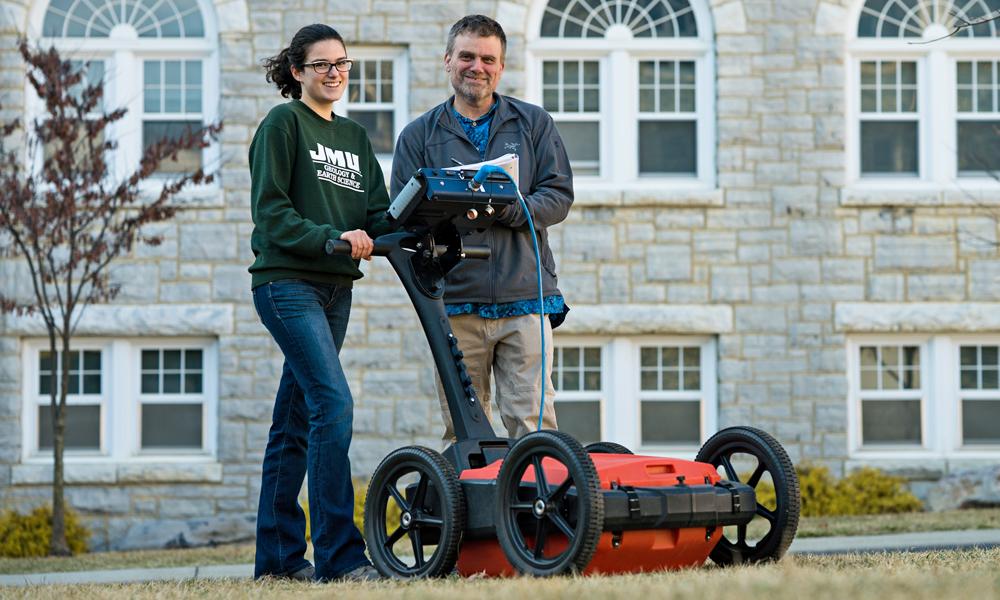 Present and Publish Scholarship
Students with interests related to sustainability or the environment have the opportunity to participate in research projects, field studies, and scientific experimentation. Learn about JMU faculty research interests. 
The ISNW offers competitive support for students to present environmental and sustainability scholarship at conferences. Students can also publish their scholarship in the JMU Undergraduate Research Journal. 
Examples of student environmental projects published in the JMU Undergraduate Research Journal include:
Using residential location to assess the JMU environmental gap, Emma Martin, Geographic Science, 2019. This study focuses on the environmental value-action gap of students at James Madison University (JMU) in Harrisonburg, Virginia. An environmental value-action gap occurs when a person has pro-environmental beliefs but does not have congruent actions.

Jungle gyms of justice: Understanding the urban park accessibility problem. Victoria Holmes, Geographic Science, 2019. Urban parks and green spaces have the potential to provide outstanding benefits to both children and adults. However, increased urbanization and the disproportionate placement of urban parks and green spaces can make these benefits elusive. To address the problem, the study proposes increased efficiency of public transportation and increased environmental education through school gardening programs.
Highlights of other student scholarship:
In the photo above, Geology Student Michelle Proulx and Professor Shane McGary use ground-penetrating radar technology to detect possible African-American burial sites in Virginia without disturbing important environmental features. Read more.
In 2015, an interdisciplinary team of four undergraduate students, Austin Underhill, Katie Kelly, Katie McCullar and Chris Graves, won a best poster at the American Society of Mechanical Engineers 2015 Additive Manufacturing + 3D Printing Conference & Expo for their poster, "Application of Bio-inspired Design to Minimize Material Diversity".
Catherine Bruns, M.A. Communication & Advocacy '17, won second place in the Competitive Communication Scholarship Paper, graduate category at the Florida Communication Association Annual Convention in October 2016. Her research focused on how the film Promised Land can be used to spark conversation on sustainability and environmentalism.