Environmental Stewardship Action Plan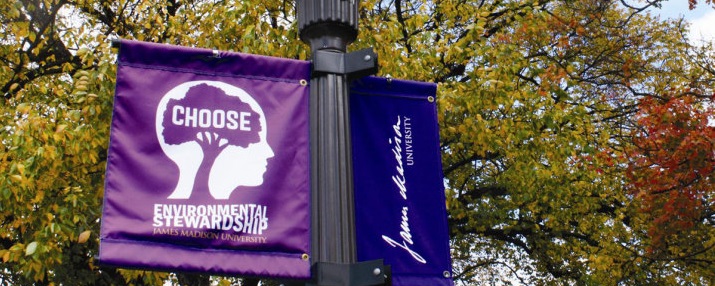 INTERIM ENVIRONMENTAL STEWARDSHIP ACTION PLAN 2021-2023
President James Madison has been referred to by author Andrea Wulf as the "forgotten father of American environmentalism," and fittingly, the JMU community has a long history of environmental stewardship. Individuals and our institution work independently and collaboratively to improve environmental quality and conserve natural resources and to advance sustainability through education, scholarship, engagement, and operations. The JMU Environmental Stewardship Action Plans (ESAP) 2011-2015  and 2016-2020 communicated our university-wide strategic commitment and initiated more systematic tracking, coordination and recognition of the many environmental stewardship activities occurring. These videos, (2011-2015) and (2016-2020), highlight accomplishments over those periods.
The following are the goals in the 2021-2023 interim plan as JMU recovers and advances from the pandemic:
JMU Strategic Plan Goal

JMU Goal 3A: The university will foster student success by providing a holistic learning environment focused on furthering intellectual development as well as education in areas such as teamwork, leadership, collaboration, interpersonal skills, entrepreneurship, ethics, citizenship, sustainability and service. 

JMU Goal 3E: The university will develop programs that are responsive to the needs of the Commonwealth, nation and the world.

ESAP Objective(s)

Increase the number of students who perceive that our institution offers opportunities for students to develop awareness, knowledge, and understanding of environmental concepts.

Increase the number of students who have adopted environmental stewardship practices.

Increase students' understanding of the most pressing challenges facing the world today as articulated in the Sustainable Development Goals.

---

JMU Strategic Plan Goal

7C: The university supports students' skill development through engaged learning.

ESAP Objective(s)

Increase the number of students who participate in an environmental project outside of courses (including civic engagement, citizen science, etc.).

---

JMU Strategic Plan Goal

JMU Goal 3B: The university will provide high-impact learning experiences such as student research, service learning, internships and study abroad programs in a climate that fosters intellectual engagement in and outside the classroom.

ESAP Objective(s)

Increase the number of students who have a local or regional environmental issues field experience as part of a course or research.

---

JMU Strategic Plan Goal

Goal 7A (new): The university will address community priorities by being deeply embedded in local, regional and global communities through mutually beneficial and reciprocal partnerships to create student learning opportunities and align institutional practices.

ESAP Objective(s)

Increase the number of students who indicate that JMU builds sustainable community through partnerships, service, and outreach.
The process for identifying objectives for the interim ESAP was evidence-based and stakeholder-driven, using information from the JMU Continuing Student Surveys - CSS, the National Survey of Student Engagement - NSSE (2017), and the Sustainability Assessment Questionnaire - SAQ (2020)*. Final selection of recommended objectives was made based on those that align with JMU's strategic plan and membership in the University Global Coalition, which includes a commitment to increasing students' understanding of the pressing environmental challenges facing the world today and inspiring students to play an active role in driving change and finding new solutions. Accordingly, the objectives focus on increasing students' awareness of and participation in engaged learning and community engagement opportunities related to environmental stewardship and sustainability. See highlights of the results.