Welcome to the James Madison University community! Our Dukes at Work onboard program is designed to streamline the onboarding process and make your entrance to JMU as smooth as possible. Now that you have accepted a position at JMU, you are ready to take the first steps in becoming a JMU employee.
1. Getting Started - Onboarding
To ensure that your start at JMU is a great one, our Onboard team will reach out to you via email instructing you to complete the following documentation before you begin working:
Complete

 

Section 1 of Form I-9 to verify your employment authorization. 
Complete a

 

background check authorization. Employment is contingent upon a completed background check.
Schedule your appointment

 

with the Onboard Specialist prior to your start date to complete all required hiring paperwork and Section 2 of your I-9. This appointment must be completed before any work is started at the university.
Provide your

 

vehicle information

 

to acquire a temporary JMU parking pass.
Once you have completed all of the tasks in step one, you are ready to visit Human Resources for your onboarding session! 
The Office of Human Resources is housed in the Wine-Price building at 752 Ott Street, Harrisonburg, VA 22807. Upon arrival, you may park in the parking spots reserved for new employee onboard to the right of the oval flower bed. 
Please check in on the second floor by letting the front desk attendant know that you are here for your employee onboarding session with HR. 
If you have any questions or need help with directions, please contact us at (540)-568-3597.
Social Security Card

 

–

 

If you have lost, misplaced, or damaged your social security card, request a new card at your local Social Security Office as soon as possible. The Harrisonburg office is located at

 

351 North Mason Street, Harrisonburg, VA 22802.
Original, unexpired identification documents to verify your identity and eligibility to work in the United States. Find a list of acceptable documents here.

Voided Check

 

– To attach to your direct deposit form.
 Paperwork completed during the onboarding session:
2. Your First 30 Days of Employment - Action Items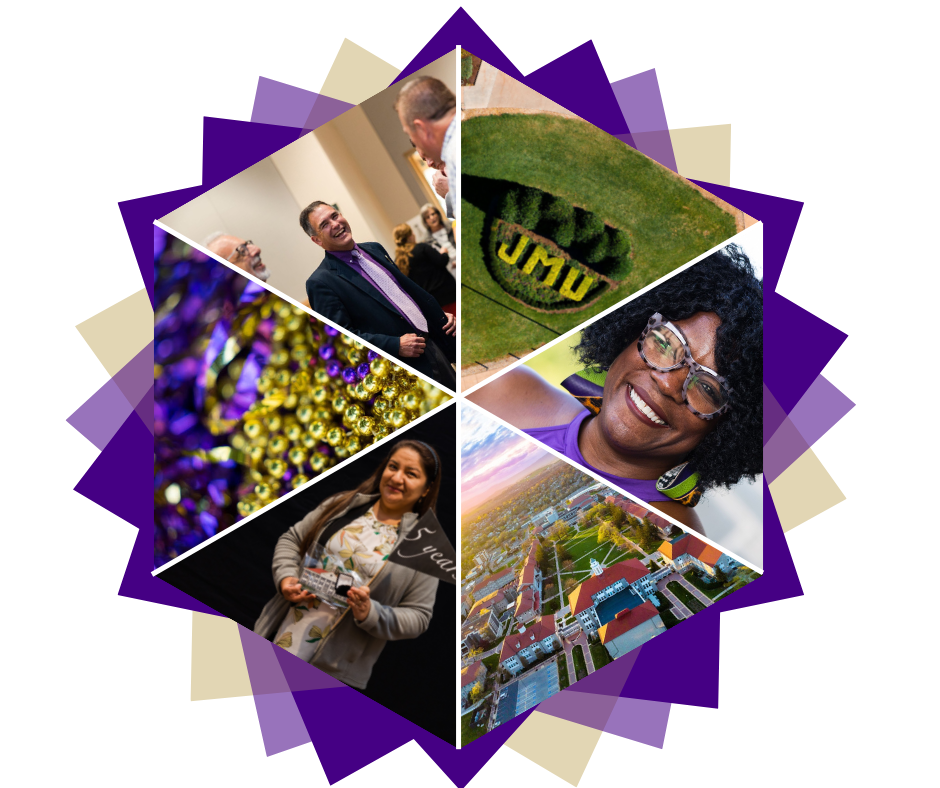 Balanced Dukes, the work-life balance and integration program for James Madison University, offers wellness programs, initiatives, and campaigns that encourage health and wellness among faculty and staff across campus.
Connections Day - Orientation
Connections Day is designed to orient new employees of all classifications to the culture, mission, and values of JMU, while fostering an environment of networking and engagement. This event is also used as as a means to inform employees about the plenteous perks and professsional development resources available, as well as ways to engage with the univserity as they begin their careers here. Visit the Connections Day website to view the event calendar and register to attend.
Faculty Welcome
An orientation for incoming faculty, JMU's Faculty Welcome orients new hires to the culture of JMU, offers the opportunity for networking and community building, encourages a comprehensive approach to career planning, and more! Typically held in August, just before the commencement of the fall semester, Faculty Welcome is a timely resource for getting acclimated to your role as a faculty member at JMU. Visit the Faculty Welcome website to learn more about the event!
Professional Development Opportunities
Navigating a new system can seem confusing and, at times, difficult. Allow IT Training to guide you to the road of safe and informed system use through their numerous available trainings. Register to attend IT training courses through MyMadison.
Recommended courses for new employees include:
IT200 Computing @ JMU - Learn the basics of navigating the JMU website and MyMadison. This 90-minute training is recommended for all new employees.
IT204 RunSafe - Discover how to safely use technology by learning how to recognize risks and prevent cyber attacks.
IT Training also provides system-specific trainings about central systems used at JMU, like eVA and AiM, as well as how to optimize efficiency when utilizing Microsoft programs, the beginner's guide to Cascade, and more! Training is required to gain access to many JMU systems. 
Wondering which IT Training classes you need to take? IT Training has created a short eLearning to help you figure out which courses you should take to be successful in your role.
Which IT Training Classes Should I Take?
JMU values the growth mindset and encourages all employees to use the resources available to them to grow both personally and professionally. Complete training through Talent Development to gain useful and transferrable skills. 
Talent Development Workshops: Talent Development holds development workshops focusing on various competencies, from administrative skills to team building and work-life wellness. View a full list of upcoming workshops on their event calendar.
Certificate Programs: Achieve a higher level of knowledge and skill by becoming a certified professional in your role. Offered certificate programs include:
Resource Collection: Gain more knowledge by reading your way through Talent Development's Library. Borrow publications for free through TD's book checkout system!
Explore more of Talent Development's valuable employee resources by visiting the website!