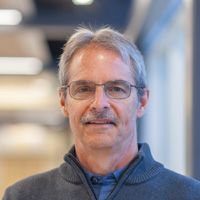 BS - James Madison University
MD – Virginia Commonwealth University Hospitals (formerly Medical College of Virginia)
Residency – Emergency Medicine, Madigan Army Medical Center, Tacoma, WA
UHC Medical Director Andy Guertler transitioned from Emergency Medicine to College Health in 2010 and says it was one of the smartest career decisions he has made. This has been a great opportunity to return to his Alma Mater to provide medical care to JMU students.
With an interest in preventative intervention, Dr. Guertler sees the opportunity to educate students while providing medical care. "I really enjoy the chance to interact with college students and have an opportunity to impart medical knowledge they can use in the future. Teaching college students to be good "medical care consumers" is an area of primary focus.
"I think it is vitally important that we educate our students as much as possible when they visit the Health Center. One reason I like my job so much is that every day I interact with students gives me an opportunity to plant a seed of positive change."
Spending time with family (especially the grandchildren!) is a priority for Dr. Guertler. In addition he makes regular trips to Haiti, and enjoys hiking, biking, and home improvement projects.