News
UHC Spotlight: Andy Guertler, MD
---
by Jason Diggs, UHC marketing GA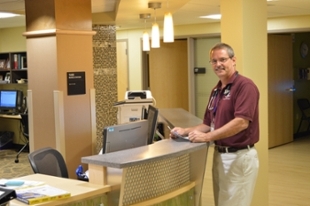 Meet Dr. Andy Guertler. He has been practicing emergency medicine since 1985. Dr. Guertler has been with JMU for nearly four years and works in the University Health Center's walk-in clinic, providing urgent medical care to JMU students.
He earned his MD at Medical College of Virginia (now VCU Medical School), and did his residency in emergency medicine in the US Army at Madigan Army Medical Center in Tacoma, Washington.
Prior to JMU, he practiced emergency medicine at Augusta Health for 10 years. He was also a residency director and practiced emergency medicine at UVA from 1993-1999. Dr. Guertler began working with JMU students because he finds them to be pleasant, bright, cooperative, and interested in their health.
"I think there is a lot of potential in providing them with as much education as we can in the limited time we have during a patient visit. The more they learn about illness and injury will benefit them both now and down the road, " he said.
When Dr. Guertler is not working at JMU, he enjoys home improvement projects, running, reading, and spending time with his family – especially the grandchildren.