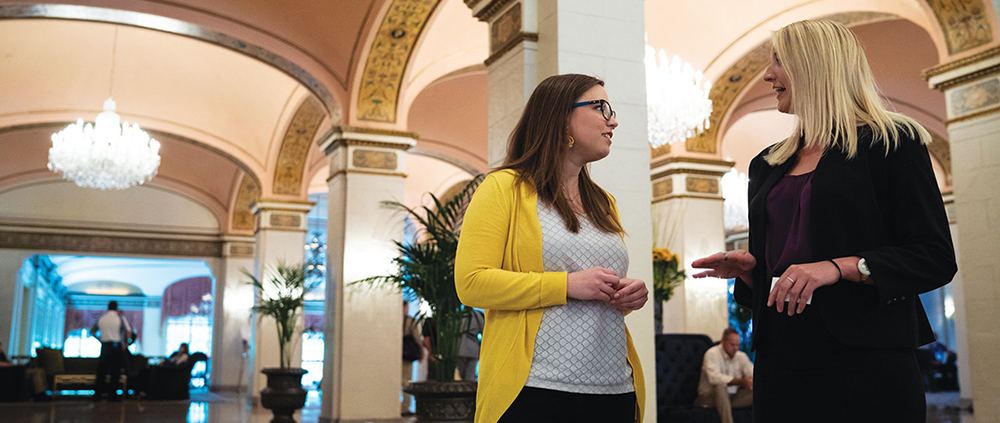 Effective hospitality managers create memorable events and environments that exceed their guest's expectations
.
Whether you work for a resort, restaurant or cruise ship, you'll need a wide range of management, communication and leadership skills to capture the hearts of your patrons. This major will provide you with innovative learning experiences, mentorship opportunities, exposure to premier hospitality organizations and interactions with dynamic industry professionals. Major requirements are met through small classes, team learning experiences and meaningful personal contacts with faculty and industry professionals.
"The hospitality program prepared me for working in hotels all over the country. The hands-on experience I gained working for Aramark and my required summer internship pushed me to learn Food & Beverage operations. I was introduced to the New York hotel market by attending the HX Experience-Hotel Trade Show with my classmates. These experiences led to me to be chosen for Hyatt's Corporate Management program at the Park Hyatt, New York, in Food & Beverage upon graduation and a role in management at the property upon completion of the program. I am now working at the corporate office."
Alesea Wimmer, Hospitality Management ('16)
Instructional Kitchen
The kitchen in the hospitality management program provides hands-on learning in a state-of-the-art facility, supports event management, hosts guest chefs and offers unique learning opportunities for high school students looking at a future in hospitality.