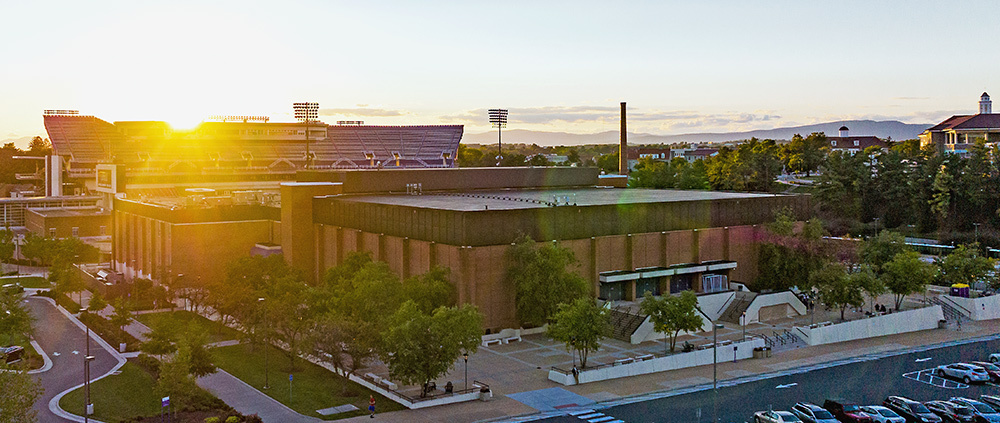 Your tomorrow begins here.
At the Hart School of Hospitality, Sport and Recreation Management, we are invested in our students and their success. In fact, we're the first named school at JMU.
With our award-winning programs, we deliver an educational experience designed from the ground up with your success in mind. Classes engage students with hands-on learning taught by faculty who have previous industry experience. A low student to faculty ratio and an on-site Center for Academic and Professional Success also mean you'll have the support you need to take charge of your classes and your career.
All of these are reasons why JMU is No. 2 in the nation on the Wall Street Journal/Times Higher Education list of colleges that current students gladly recommend to their friends.
Come build your future with the JMU Hart School.  We're invested in you.
Hands-on-learning at the Hart School
Class experiences for sport and recreation management students includes rebranding players in the women's national basketball association and redesigning a local park. Hospitality management students learn about revenue management and group sales through simulations and case studies, acquire valuable industry certifications and gain experience planning and executing events like themed event dinners.
Since internships are such a transformative experience for students, the internship opportunities at the Hart School go beyond just giving participants résumé entries on which to build and launch a professional career. From Madison Square Garden to the Baltimore Orioles, and from Marriott International to Disney, required internships prepare you for career success.
Employers come to you at our Hart School industry-specific Career Fairs, giving you a chance to network and ask questions in a relaxed meet and greet opportunity for you to learn more about your career options, whether you are looking for an internship, externship or are ready to start your career.
Academics
51% - Hospitality Management
49% - Sport and Recreation Management
Employment
36% - Employment offer accepted prior to graduation
23% - Seeking employment
10% - Deciding between multiple offers at time of survey
7% - Attending full-time Graduate School
24% - Other 
Salary
$43,828.76 - Average base salary
This report highlights the post-graduation pursuits for 99% of the Hart School Class of Dec '21, May and August '22 bachelor's degree recipients.