Study.com
Study.com ranked JMU's hospitality management program No. 8 in its 2021 rankings for the best Bachelor's Degree in Hospitality Management in the country.
Best Hospitality Management Degree Programs
Study.com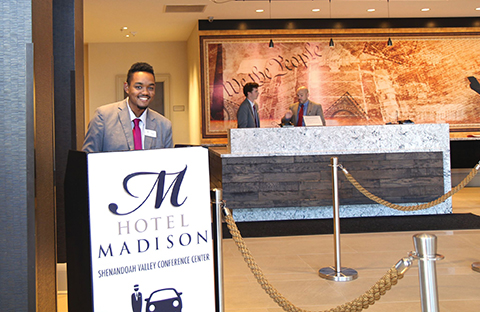 Hotel Madison & Shenandoah Valley Conference Center
Your experiential learning begins right on campus with the Hotel Madison, regarded as a premier destination for Virginia business and leisure travel. You can gain practical knowledge and a head start in the industry through shadowing employees, manager-in-training programs, internships, working events and research.
Career Outcomes: Class of 2019 Bachelor's Degree Recipients
The class of 2019 includes students graduating August '18 through May '19.  
The report highlights the post-graduate pursuits for 84% of the Hart School Class of 2019 graduates.
Career Outcomes
88% Employed Full-Time
6% Continuing Education
3% Seeking Employment
1% Internship/Experiential Learning
of Hart School graduates are employed, in graduate school or engaged in other career-related endeavors within 6 months of graduation.