Study.com
Study.com ranked JMU's hospitality management program No. 8 in its 2021 rankings for the best Bachelor's Degree in Hospitality Management in the country.
#8
Best Hospitality Management Degree Programs
Study.com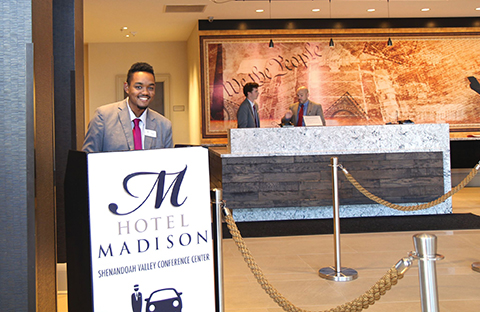 Hotel Madison & Shenandoah Valley Conference Center
Your experiential learning begins right on campus with the Hotel Madison, regarded as a premier destination for Virginia business and leisure travel. You can gain practical knowledge and a head start in the industry through shadowing employees, manager-in-training programs, internships, working events and research.
NASCAR University
You can start your career in the fast lane by participating in the NASCAR University initiative. JMU is the first university to be invited to join with NASCAR in a program that will provide training, internships and networking opportunities for sports marketing majors. Students who do well in the program will be guaranteed interviews for sales associate positions with NASCAR and will be invited to work the big race at Richmond.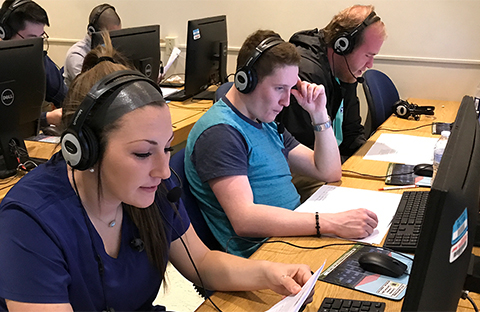 Career Outcomes: Class of 2019 Bachelor's Degree Recipients
The class of 2019 includes students graduating August '18 through May '19.  
The report highlights the post-graduate pursuits for 84% of the Hart School Class of 2019 graduates.
Career Outcomes
98% Employed Full-Time
6% Continuing Education
3% Seeking Employment
1%Internship/Experiential Learning
98%
of Hart School graduates are employed, in graduate school or engaged in other career-related endeavors within 6 months of graduation.
School Highlights
Professor Gilpatrick Hornsby was awarded the J.W. and Alice S. Marriott Professorship beginning July 2021
Professor and senior associate director at UREC Julia Wallace Carr received the 2020 Provost Award for Excellence in Graduate Advising.
SRL instructor Eric Nickel received the 2020 NIRSA Honor Award, the highest accolade granted by the Association for Leaders in Collegiate Recreation. He also serves as the director of University Recreation and is a Hart School Advisory Board Member.
Two members of the Adventure and TEAM Programs at UREC have received JMU's 2020 Compass Award for Diversity and Inclusion: Guy DeBrun, assistant director; and Sasha Griffith, coordinator.
The Hart School is well represented on the Board of Directors of the International Council of Hotel, Restaurant, and Institutional Educators, or ICHRIE.

Theresa Lind serves as the president of the Northeast North American (NENA) Federation of ICHRIE. The NENA Federation comprises 13 of the 50 United States and Canada.
Reg Foucar-Szocki serves in a volunteer capacity as its interim executive director of operations.
Tassie Pippert serves as the international secretary and as a member of the executive board.
Tony Kim is NENA's director of conferences and events, and Ruth O'Rourke is chair of the Board of Governors for Eta Sigma Delta, the international honor society administered by ICHRIE.