College of Business - Speaker Series
Are you curious about how business leaders lead? How they navigate unforeseen challenges like a pandemic? What innovative processes they use to consistently grow their businesses and increase profits? How they know it's time for a strategic pivot?
Join us for the CoB Business Insights Speaker Series!
Tune in each Tuesday at 12:15 p.m. for a glimpse inside the minds of some of JMU's most successful titans of business. Bring your lunch and your questions, and gather with fellow JMU alums for these virtual TED style presentations.
Supply Chain Challenges Amid COVID-19 – May 4 – June 1, 2021
Presentations begin at 12:15 p.m. and conclude about 12:45 p.m.
Introduction by Dr. Mert Tokman
Speaker Presentation
Q&A w/Speaker
Wrap-Up by Dr. Tokman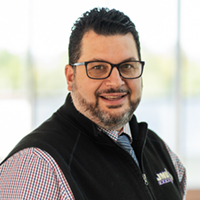 Moderated by Mert Tokman
Global Supply Chain Management Minor, Program Co-coordinator; Kenneth R. Bartee Endowed Professor
Speaker:
Tony Glass
SVP, Global Business Development & Marketing, EFL Global
Title: "Lessons learned from transportation-related disruptions during COVID-19"
Tony Glass is the Senior Vice President, Global Business Development & Marketing at EFL Global, a global leader in supply chain and freight forwarding solutions. He drives business growth by leading the sales team, identifying new business opportunities, and managing customer relationships. He also leads global marketing initiatives for multiple digital channels. Tony has 25 years of professional experience, working for organizations in both the consumer and B2B sectors, including Gap, Kuehne + Nagel, and Under Armour. He has extensive experience in domestic and international logistics and supply chain management.
Speaker:
David Grant ('83)
Founding Partner, Potomac Ridge Consulting; Former Chief Procurement Officer, FEMA and IRS
Title: "Lessons learned from global sourcing related disruptions during COVID" 
Mr. David Grant is the Co-Founder and Partner of Potomac Ridge Consulting firm. He is a senior Executive with over 35 years of experience in procurement, acquisition, program management, and leadership with eighteen years in the Senior Executive Service. David is an experienced leader of large complex multi-functional organizations, program management, acquisition planning, budgetary formulation and management, program lifecycle management, strategic planning and measurement of outcomes.
In his most recent public service role, David served as FEMA's Associate Administrator for Mission Support and Component Acquisition Executive (CAE) and was responsible for Agency-Wide integrated support operations. For much of 2017, Mr. Grant served as the FEMA's Acting Deputy Administrator. In this role, he was leading the operation of the Agency during transition of Administration and Departmental leadership and continuing of operations for critical Agency programs. Prior to becoming the Associate Administrator for Mission Support, Mr. Grant served as the Chief Procurement Officer for FEMA and IRS respectively.
David is a recipient of numerous public sector service awards such as the Presidential Rank Award, Treasury and DHS Secretarial awards, IRS Commissioner awards, and FEMA Administrator awards. David is a graduate of James Madison University and currently serves as the chair of JMU Global Supply Chain Management Executive Advisory Board and as a founding member of the JMU Federal Dukes alumni group.
Speaker:
Brian Tilton ('91)
Senior Leader for Strategy and Operations, Deloitte Consulting
 Title: "Lessons learned from technology-related disruptions during COVID "
Brian Tilton is a leader in Deloitte's Supply Chain and Network Operations practice with 25+ years of experience helping Commercial and Government organizations transform their enterprise product development and engineering, product sustainment, and supply chains via strategy development, execution, and technology initiatives to include: systems engineering, product lifecycle management (PLM), product data management (PDM), blockchain, and IoT. He is a Certified Scrum Master, Project Management Professional (PMP), and a Certified Internet of Things Professional (ICIP).
Mr. Tilton's market expertise spans Commercial Start-ups, Commercial Aerospace and Defense, National Manufacturing Institutes, and each of the Department of Defense Military Services to include direct support to Office of the Secretary of Defense and Joint Service Working Groups, Program Executive Offices, Program Offices, Sustainment Depots (Shipyards and Air Logistics Complexes), field activities, and war-fighter focused organizations.
Mr. Tilton proudly served as a key advisor to several large-scale information technology initiatives for the U.S. military including the U.S. Airr Force's Enterprise Logistics for the 21st Century campaign, where he lead key aspects of the Product Lifecycle Management (PLM) initiative focused on delivering "the right information and parts, at the right time, to the right place, every time." He also served as a Business Process Re-engineering Team Lead for the U.S. Army's Enterprise Business Systems Convergence initiative. This project was responsible for helping the Army re-engineer its entire Integrated Supply Chain process "from factory to foxhole."
Speaker:
Sheri Laubach ('85)
Associate Director in Supply Chain Integration, Merck & Co., Inc.
 Title: "Lessons learned from manufacturing-related disruptions during COVID"
With 30+ years of manufacturing experience in research, quality, internal /external operations, logistics, and ERP implementations, Sheri is a dedicated and accomplished supply chain expert, often consulted for challenging E2E site integration projects.
As a leader in digital transformation, she ensures that supply to patients is never disrupted by providing close-to-real-time collaborative information sharing between Merck and its partners thru various digital solutions, allowing for faster decision-making through more accurate and timelier inventory. A BS in Biology ('85) and an MBA ('06) from JMU have been the perfect educational foundation for her success.
Adapting for Competitive Advantage (March 23 - April 27, 2021)