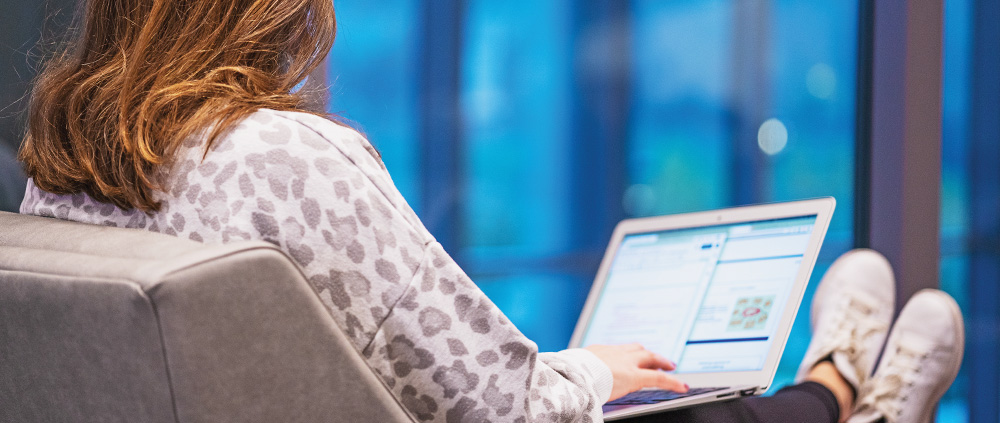 College of Business requires a laptop that meets the following specifications:
8 GB ram, 16 GB recommended

256 GB Solid State Hard Drive (SSD), 512 GB SSD recommended

Four year accidental damage coverage is recommended
The JMU Bookstore offers Dell and Apple products that meet our specifications and they provide warranty service on campus at the Madison CyberZone. Madison CyberZone may be able to service Dell and Apple products not purchased at JMU, depending on warranty coverage and parts availability.  
College of Business understands that laptops may have issues and we will work with you if your laptop is not available at any given time. JMU provides general computing labs on campus with all software used in College of Business. While many of your classes will use laptops there are some that may not. Each professor will have their own policies on laptop usage in class.
The JMU Bookstore has a list of recommendations for incoming students, including specific recommendations for College of Business students.
Financial Aid Disclaimer
In some situations, the cost of a computer may be included in the student's estimated financial aid cost of attendance. However, it should be noted that students will not receive increased grant or scholarship consideration for the cost of a computer. Additionally, in almost 100% of the situations, a student is able to apply for all of his/her full Federal Direct Loans without the consideration of a computer. Generally speaking, the only additional aid eligibility this may create would be increasing a dependent student's parent PLUS loan eligibility, or increasing the student's eligibility to apply for a private educational loan.
All appeals for inclusion of a computer in the cost of attendance should be submitted to the Office of Financial Aid & Scholarships. Students must provide a copy of their receipt or purchase order for their computer with a written request for inclusion of the computer. The request must include an explanation of why the computer is being purchased.
Cybersecurity Tips
When using public Wi-Fi networks at coffee shops, libraries, or airports, always use a

Virtual Private Network (VPN)

to "tunnel in." A VPN encrypts your connection, making it harder for attackers to intercept your data.

Ensure that your operating systems, software and apps are updated regularly. These updates often contain patches for known security vulnerabilities.

Keep a copy of your most critical data on an offline external hard drive to protect against ransomware.

Don't just close the browser.

Always log off

(sign out) from your web email or any other web applications on public computers (such as labs, classroom podiums and cafes).

Use multi-factor authentication (MFA) for all your critical accounts (e.g., email, institutional logins). This adds an extra layer of security by requiring two methods of verification, like a password and a mobile code.

Keep your devices secure

by using screen locks, full-disk encryption and remote-wipe capabilities to protect data on your smartphones, tablets and computers. If a device gets lost or stolen, these precautions can prevent unauthorized access.

Use Windows BitLocker (or a similar solution) to encrypt and password-protect your hard drives (especially external hard and flash drives) that contain confidential/sensitive personal data.

Always use strong, unique passwords. Try using a

combination of passwords that combine uppercase and lowercase letters, numbers, and special symbols

to make it hard to crack and use different passwords for different accounts to prevent a breach on one site from compromising multiple accounts. If trying to remember so many passwords is holding you back from following safe practices, use a password manager to make it easier to safely track and keep up with them.

Beware of phishing. Cyber attackers often try to trick people into giving away their credentials or downloading malicious software. Always double-check the sender's email address, be cautious about clicking links in emails and never provide sensitive information unless you initiate the contact.

Be mindful

of the personal and professional information you share on social media or other online platforms. Cyber attackers can use this information for spear-phishing or social engineering attacks
If you encounter something unusual, like a suspicious email or an unexpected software prompt,

report it to your institution's IT or cybersecurity department

.

Do not share your password even with your boyfriend/girlfriend.

Do not respond to urgent text messages or emails if you do not know the sender (ex: your package can not be delivered, confirm your address here). Scammers use all types of "phishing" schemes to gain access to your sensitive and personal data.

Learn how to use virtual machines. It will pay off in the long term.