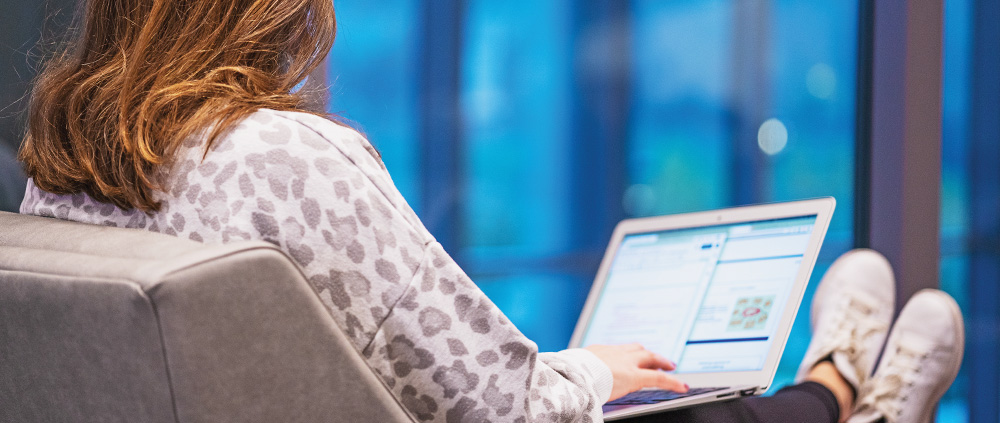 College of Business requires a laptop that meets the following specifications:
8 GB ram, 16 GB recommended

256 GB Solid State Hard Drive (SSD), 512 GB SSD recommended

Four year accidental damage coverage is recommended
The JMU Bookstore offers Dell and Apple products that meet our specifications and they provide warranty service on campus at the Madison CyberZone. Madison CyberZone may be able to service Dell and Apple products not purchased at JMU, depending on warranty coverage and parts availability.  
College of Business understands that laptops may have issues and we will work with you if your laptop is not available at any given time. JMU provides general computing labs on campus with all software used in College of Business. While many of your classes will use laptops there are some that may not. Each professor will have their own policies on laptop usage in class.
The JMU Bookstore has a list of recommendations for incoming students, including specific recommendations for College of Business students.
Financial Aid Disclaimer
In some situations, the cost of a computer may be included in the student's estimated financial aid cost of attendance. However, it should be noted that students will not receive increased grant or scholarship consideration for the cost of a computer. Additionally, in almost 100% of the situations, a student is able to apply for all of his/her full Federal Direct Loans without the consideration of a computer. Generally speaking, the only additional aid eligibility this may create would be increasing a dependent student's parent PLUS loan eligibility, or increasing the student's eligibility to apply for a private educational loan.
All appeals for inclusion of a computer in the cost of attendance should be submitted to the Office of Financial Aid & Scholarships. Students must provide a copy of their receipt or purchase order for their computer with a written request for inclusion of the computer. The request must include an explanation of why the computer is being purchased.