University Park Recreation
University Park (UPARK)
University Park's recreation facilities expand programming opportunities, support learning, promote wellness and create a sense of community among students, faculty and staff. University Park serves as JMU's "backyard," and can accommodate up to 4,000 participants daily when fully utilized. Download the University Park Facility Guide.

Street Address: 1090 Devon Ln, Harrisonburg, VA 22801
UPARK Highlights
Event Lawn: available primarily for informal recreation but may also be scheduled for special events.
Pavilion: offers students an area for picnics and cookouts, and may also double as a performance venue.
Gatehouse: serves as a welcome center and includes an equipment checkout area, an administrative office, restrooms, dressing rooms and a meeting room.
18 hole Disc Golf Course 
4 flag football fields
4 tennis courts
3 soccer fields
2 softball fields
2 sand volleyball courts 
2 basketball courts
One lap around the outside of the fence at the turf is 0.4 miles.
Basketball Courts
Disc Golf
Gatehouse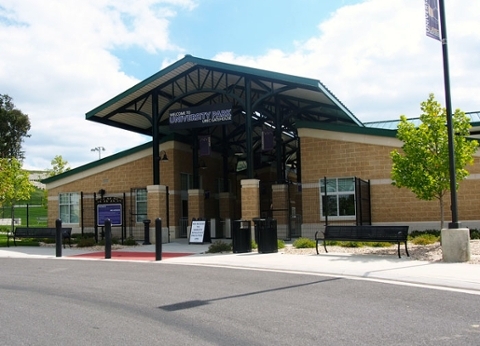 Event Lawn
Event Pavillion
Sand Volleyball Courts
TEAM Challenge Course
Tennis Courts
Multi-Purpose Turf