University Park Recreation
UPARK Highlights
Event Lawn: available primarily for informal recreation but may also be scheduled for special events.
Event Pavilion: covered space with picnic tables for events and informal use
Gatehouse: serves as a welcome center and includes an equipment checkout area, an administrative office, restrooms, dressing rooms and a meeting room.
18 hole Disc Golf Course 
Multi-Activity Turf

4 flag football fields
3 soccer fields
2 softball fields

4 tennis courts with tennis and pickleball lines
2 sand volleyball courts 
2 basketball courts
One lap around the outside of the fence at the turf is 0.4 miles.
Fitness Zone Update: The temporary UPARK Fitness Zone closed May 2022. Indoor equipment, which is not suitable for years of outdoor use, was moved to University Park for social distancing during the COVID pandemic. UREC is now in the process of expanding equipment check out at University Park and proposing permanent outdoor fitness equipment features at University Park. Do you have ideas or suggestions for outdoor equipment? Please submit a Comment Card!
Basketball Courts
Disc Golf
Gatehouse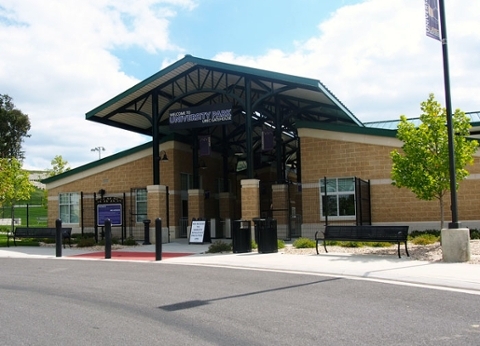 Event Lawn
Event Pavillion
Sand Volleyball Courts
TEAM Challenge Course
Tennis Courts
Multi-Purpose Turf