University Park Recreation
University Park (UPARK)
University Park's recreation facilities expand programming opportunities, support learning, promote wellness and create a sense of community among students, faculty and staff. University Park serves as JMU's "backyard," and can accommodate up to 4,000 participants daily when fully utilized. Download the University Park Facility Guide.

Street Address: 1090 Devon Ln, Harrisonburg, VA 22801 - Learn about Getting to UPARK

University Park COVID-19 Activity Information and Modifications
University Park
No pre-registration

 

is required to participate at UPARK
Enjoy the

 

outdoor fitness zone!

Equipment available in the new fitness area includes: 

2 squat racks
3 platforms
2 flat Olympic benches
1 incline bench
1 decline bench
1 overhead press bench
Preacher curl
10 assorted free benches
Dumbbells
Ground base squat/lunge
Back extension

Masks are required at University Park: this includes the entry/pathways at the Gatehouse, in the fitness zone, during competitive play, indoors (ex: restroom) and anytime within 10 ft of another person. You may choose to remove your mask ONLY when you can consistently maintain 10 ft of distance outdoors on courts/fields or in selected group exercise/fitness classes.
Sports such as basketball (3 v 3 max, half court only), sand volleyball (4 v 4 max), tennis (2 v 2 max), cornhole, soccer, ultimate frisbee, football, are permitted. Any offense/defense play in a sport with guarding or close proximity requires masks.
Equipment may be checked out for these sports and will be disinfected between each use. 
Read UREC's full COVID-19 fall plan for more details on safety modifications and procedural changes.
UPARK Highlights
Event Lawn: available primarily for informal recreation but may also be scheduled for special events.
Gatehouse: serves as a welcome center and includes an equipment checkout area, an administrative office, restrooms, dressing rooms and a meeting room.
18 hole Disc Golf Course 
4 flag football fields
4 tennis courts
3 soccer fields
2 softball fields
2 sand volleyball courts 
2 basketball courts
One lap around the outside of the fence at the turf is 0.4 miles.
Enjoy the

 

new outdoor fitness zone!

Equipment available in the new fitness area includes: 

2 squat racks
3 platforms
2 flat Olympic benches
1 incline bench
1 decline bench
1 overhead press bench
Preacher curl
10 assorted free benches
Dumbbells
Ground base squat/lunge
Back extension
Basketball Courts
Disc Golf
Gatehouse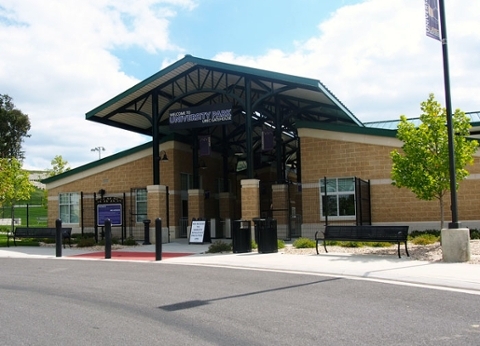 Event Lawn
Event Pavillion
Sand Volleyball Courts
TEAM Challenge Course
Tennis Courts
Multi-Purpose Turf