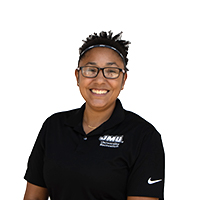 540-568-8733
UREC 265
Stephanie joined UREC as the Coordinator of Fitness Programs in 2017. She is responsible for managing the fitness staff, personal training staff, fitness spaces, and fitness programming.
She has a graduate degree in Campus Recreation Leadership from JMU. She attended James Madison University and received her BS in Kinesiology with a concentration in Exercise Science. While at JMU, Stephanie worked at UREC as a Recreation Assistant and an Operation Supervisor. She was also a member of the JMU Women's Rugby Team (2010-2014) and served as both the President and team captain. 
Stephanie is from Blacksburg, VA. When she's not working or playing rugby, Stephanie enjoys working out, hanging out with friends, and watching Netflix.