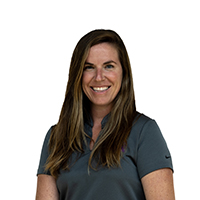 540-568-8706
UREC 255
Kristin Gibson (she/her) joined UREC in 2008. As the Associate Director for UREC Services, Kristin provides oversight for the Marketing & Social Media, Technology, and Member Services areas, along with managing UREC's contracted services (Athletic Training, Cycle Central, and Massage Therapy). She serves on the departmental leadership team and guides efforts related to communications, service ethic, and advancement. Kristin is also the point of contact for sponsorships and the UREC Practicum and Internship program.
Kristin is a 2020 JMU Woman of Distinction award recipient, 2019 JMU All Together One award recipient, and completed the Impact3 Leadership Program in 2019. She teaches adjunct in the Hart School of Hospitality, Sport & Recreation Management. During her time at JMU, Kristin has served on JMU's University Economic Development Council Steering Committee, Employee Advisory Committee, Taskforce on Inclusion, Student Affairs Engagement Team, Compensation Advisory Council, University Planning Team, Compensation Task Force, Communications Council, and the Madison Future Commission.
She is the author of the chapter "Succeed with Sweat" in the collaborative book "The Freshman Project."  She is a lifetime member of NIRSA (Leaders in Collegiate Recreation), and has presented at the national NIRSA and Athletic Business conferences on topics related to digital communication, employee alumni fundraising, contractual partnerships, and customer service. 
Kristin earned both of her degrees from James Madison University. Her master's degree is in College Student Personnel Administration (M.Ed, 2010) and her undergraduate degree (B.S., 2006) is in Media Arts & Design and Communication Studies. She has formerly served as UREC's Assistant Director of Marketing & Technology and the Coordinator of Marketing and Development. Prior to working at UREC, Kristin worked in the field of legal marketing.
Kristin and her husband Kevin (co-founder of VA Momentum) have two young children, Brady and Colbie. Kristin loves exploring with her family in their camper van, jogging, mountain biking, building stuff and reading. Her favorite thing about UREC is working with UREC's super student employees and being surrounded by people who encourage her to continue leading an active and adventurous life.