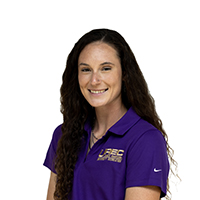 540-568-8718
UREC 267
Kara McClure (she/her) joined UREC as the Interim Coordinator of Reservations and Events in 2023.  Kara began her UREC journey as an undergrad student in Fall 2021, first as a Facilities Assistant and then an Operation Supervisor in Spring 2022. She then served as one of the two Graduate Assistants for Operations & Student Development, with a focus on reservation and event management.

Kara graduated from James Madison University in Spring 2022 with a Bachelor of Science in Sports and Recreation Management with a minor in Business. She is now pursuing her graduate degree in Sports and Recreation Leadership with a concentration in Campus Recreation.  

Kara was born and raised in Mohnton, Pennsylvania. She is currently on the Varsity Field Hockey team at JMU and when she is not at UREC she likes to watch Disney movies, hang out with friends and go out for ice cream. Her favorite thing about UREC is the people who motivate her daily to be her best self.