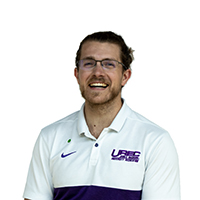 540-568-8715
UREC 264
Ben Zwilling joined the UREC professional staff in 2021. As the Coordinator of Group Exercise, Ben oversees the group exercise and small group training programs and staff.
Ben graduated from JMU with his bachelors in Kinesiology: Exercise Science. He is a Certified Personal Trainer through the National Academy of Sports Medicine (NASM-CPT). During his time at JMU he worked as a Personal Trainer, Personal Training Manager and a Group Exercise Instructor at UREC. 
Ben grew up in Central Virginia before moving to the Valley when he attended JMU. When not training for or competing in Olympic Weightlifting, he likes to garden, eat food, wrestle with his cat, Rey, or skateboard in downtown Harrisonburg.