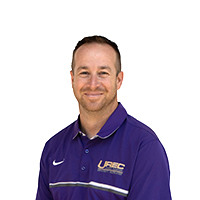 540-568-8721
UREC 149
Jason Ritter joined UREC as the Facilities Manager in 2012. He oversees the day-to-day operations and maintenance of University Park, East Campus Turf Field, UREC Softball Field, Long Field Mauck Stadium, UREC Turf Field, Godwin Hall, Memorial Hall, and the Hillside Hockey and Basketball Courts.
Jason graduated with a Bachelor of Science from Eastern Mennonite University in 2007 with a Recreation and Sport Leadership degree, Business Administration minor.  The summer before his senior year, he completed his internship with DC United of Major League Soccer with the Operations Department.  After completion of his degree, Jason was a JMU Assistant Athletic Equipment Room Manager, an Assistant Equipment Manager for DC United, and a Facilities Coordinator in the JMU Athletic Department for Facilities and Events. In the most recent role he was the lead field painter for athletics, along with coordinating game and facility operations for football, men's and women's basketball, men's and women's soccer, field hockey, lacrosse, and track and field.
Jason got married in 2011 to Samantha Ritter and now has two daughters, Eva and Allie. He values faith, family, and friends. During his spare time, Jason enjoys playing golf and skiing with his family. Another passion of his is traveling domestically and internationally.