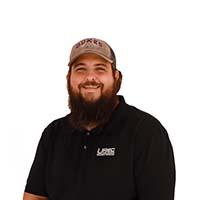 540-568-8719
UREC 149
Travis Bussey joined the UREC team in 2016 as the Pool Technician/Maintenance Assistant and currently serves as the Maintenance Manager. His main responsibility is to ensure that UREC's two swimming pools and Spa run smoothly day to day.
Travis was born and raised in Roanoke, VA. Before coming to UREC, Travis worked for Facilities Management at JMU for nine years in the Life Safety Department. Travis attended Virginia Western Community college where he completed the Electrical Journeymen's Curriculum in 2006. He is also part of the National Swimming Pool Foundation where he earned his Certified Pool Operators certificate.
Travis is married to his wife Priscilla and has a son named Jayden. He also has a seven year old, 140lb female English Mastiff named Zoey. In his free time, Travis likes to spend time with his young family and work on vehicles when he can. His favorite things about UREC are the family atmosphere and positive work environment provided by all the staff and students.