This is your guide to understanding how to apply the brand system to university communications of all sorts.
Two years in the making, this brand guide is the result of qualitative and quantitative research reaching over 15,000 members of the JMU community. Alumni, faculty, staff, current students, parents and prospective families provided their perspective on why JMU is important and what makes the university different from all others.
The results of this research were then interpreted to build a brand platform comprising a brand essence as its foundation, brand drivers as its scaffolding and brand personality as its skin. You will see how it all fits together in this guide.
Once the brand platform was built and tested, creative concepts to express the brand compellingly were developed and tested with critical stakeholder groups. Selected as the top concept, the brand system was then built. This is your guide to understanding how it authentically connects to our identity and how to apply it to university communications of all sorts.
What is a brand?
Every organization, company, business enterprise and institution has a brand, including James Madison University. Our brand is far more than our logo or tagline.
Our brand aims to establish a single unifying idea that reflects how we are different and the value of our differences. Once established, our brand must then define the points of connection between our critical audiences - students, parents, alumni, donors, friends, community - and our university.
We communicate our brand in various ways, through our promises of value, the messages we emphasize, the images and symbols we portray, the tone of our language, the experiences we create.
In short, our brand is what we promise to our students, our community and ourselves.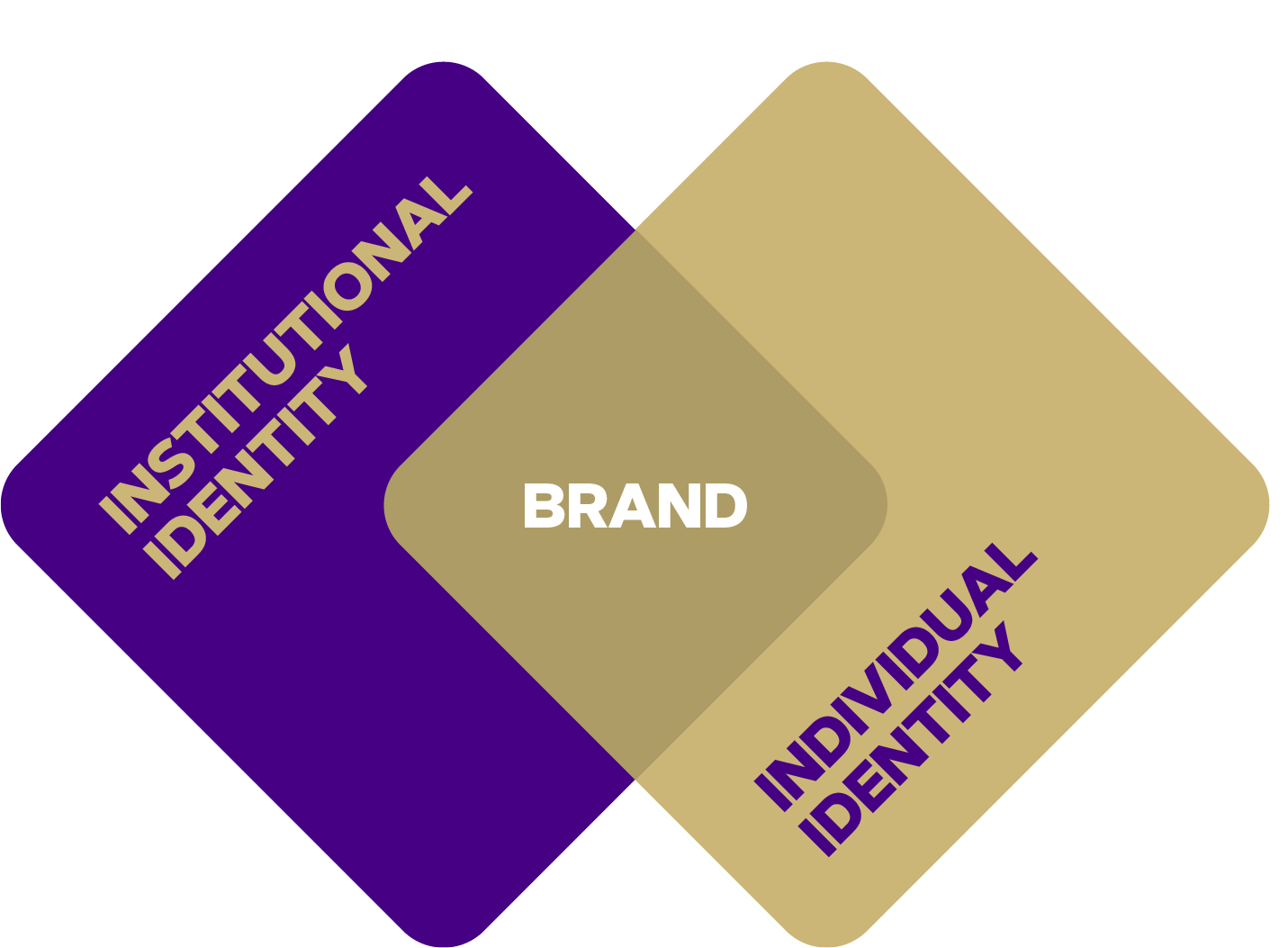 Brand is the cognitive and affective space where institutional and individual identity encounter, converse and experience one another.
Efforts to promote brands to various audiences take many forms, especially now as digital media have multiplied the number of communication channels and created expectations among audiences that communication is now two-way between brands and individuals.
Smart organizations understand that a brand is the cognitive and affective space where institutional and individual identity encounter, converse and experience one another. Successful organizations know that delivering consistently compelling and valuable content to this space will make it an enjoyable and meaningful place where individual identities are enriched and want to remain.
Why our brand is important
JMU has attracted national attention for our recent trajectory of growth and the exceptional educational value we represent for students from the Commonwealth of Virginia, across the nation and the world.
We know that success — of our students, alumni and faculty and staff — requires equal parts intellect and action, whether excelling academically, pursuing research and creative breakthroughs, advancing and achieving professionally, leading in athletics or serving as leaders in our communities.
Now we are poised for even greater advancement. Gallup recently published a report of its national research seeking to identify elements of higher education that are the most positively transformative for students. Their findings concluded that among 30,000 college graduates surveyed, close relationships with faculty, staff and fellow students — one of JMU's most distinctive traits — are the most decisive factor leading to students' sense of well-being after graduating.
Gallup then found that on every dimension of well-being surveyed — including a feeling of purpose, a sense of community, financial stability, social support and physical health — JMU alumni scored not only far above the national average, but also significantly above the average of alumni who graduated from the top 100 colleges and universities in the U.S. News & World Report rankings.
Members of society living purposeful lives lead us toward a more promising future. We have reliable proof that JMU does a consistently better job at preparing students to live purposeful lives. That's why our brand is important. Now more than ever, it is essential that all of us dedicated to JMU speak with a powerful, collective voice around how Being the Change is a rallying call, and these brand guidelines express our common voice and show how to speak it.