Design Elements
These standards are part of the University Style Guide, and relate specifically to the requirements of email. All emails representing James Madison University must conform to the following standards:

Emails should use the wordmark; do not use the JMU logo in emails. There should be no more than one use of the wordmark in an email. Follow the wordmark standards in the Style Guide.
If you are using a department, college, or office mark:
Use a mark that uses JMU brand colors.
Do not use a graphic that is blurry or pixelated.
Do not use a version of a mark that includes the JMU wordmark. 
Any text in the mark must be legible.
Email colors
 
 
 

Dark Purple
HEX #450084
for titles, background color, linked text, buttons

Purple
HEX #B599CE
use for icons, graphic elements


Light Purple
HEX #DACCE6
use for graphic elements, background color

 

Dark Gold
HEX #AD9C65
use for titles and graphic elements

Gold
HEX #CBB677
graphic elements

Light Gold
HEX #F4EFE1
background color

 
 
 

Slate
HEX #333333
paragraph text, captions, subheads

Light Gray
HEX #D6D6D6
background color

Yellow
HEX #FFBD00:
only used for buttons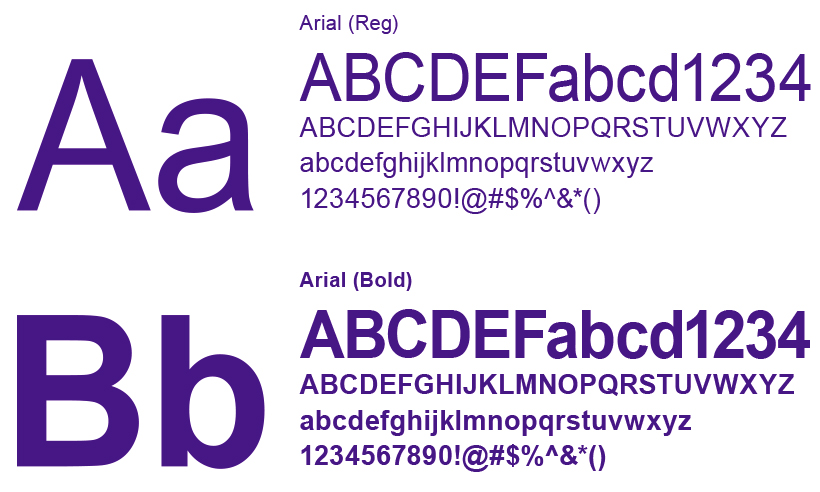 All emails use the font Arial (fallback of Helvetica, san-serif) in the following sizes: 
Heading One: 26px
Used for headlines
Heading Two: 20px
Used for subheadings
Heading Three: 22px
Department name in the email header
Paragraph: 16px; line-height: 24px
Image guidelines for email
The human brain processes images 60x faster than text. When designing your email, break up the text with images to make the message visually appealing and scannable.
Images in email must meet the following criteria: 
72ppi 
RGB color mode
Ratio of 5:3 is encouraged
Each image must have alt-text so that if the image doesn't load in the inbox your content is not compromised.