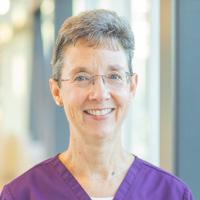 BS – Health Education from University of Tennessee
AAS – Nursing from Blue Ridge Community College
Began work at UHC in 2001 after 10+ years in Home Health. Began working in the Allergy/Immunization Clinic and as the clinic grew and transitioned to electronic medical records, my position transitioned to Informatics. In 2012, after several years of planning, she began the Student Volunteer Program.  
Watching students mature and grow both personally and professionally is so rewarding as a Health Educator. Being just a small part of that process on an individual basis brings me so much satisfaction and joy personally. The volunteer program has grown to over 50 students and knowing that our team plays a role in their growth as a health care team member makes me come to work every day. I am so lucky to be part of such a caring team!
Outside of work, spending time with family is priority. We enjoy water sports at Smith Mountain Lake on a regular basis and we are Disney fanatics! I also enjoy reading, sewing, and flower gardening when time allows.