The heart of our B.B.A. programs is a 12-credit-hour core course that integrates finance, management, marketing and operations known as COB 300, taken immediately following formal acceptance into the College of Business. During the semester, students are placed in cross-disciplinary teams and are tasked with integrating material from the four classes and developing a viable business plan. A distinguishing factor of an education at the College of Business, it helps to ensure success, not only in the program but in your career.
The top business plans to come from COB 300 each year are entered into the Jackson-Rainey Business Plan Competition, an annual event with more than $25,000 in scholarships and prizes distributed to the student teams.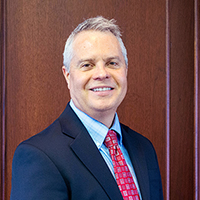 "We call it integrative business. It isn't just teaching in silos. It is teaching how business operates, and how you need all of these disciplines in a holistic approach to conduct business. That is the difference with COB 300."
Fernando Pargas, COB 300 coordinator and professor of Management
Curriculum
The COB 300 core is taken concurrently and consists of:
COB 300A.  Integrated Business:  Management

COB 300B.  Integrated Business:  Finance

COB 300C.  Integrated Business:  Operations

COB 300D.  Integrated Business:  Marketing
The learning in each individual discipline is designed to work in concert as your group develops a business plan from the ground up.
Advice
Here is some advice for success from Jackson-Rainey Business Plan Competition finalists:
"The integrated class concept combined with the business plan exposes you to some of the relationships that exist between different areas of a business. You get to see how finance affects marketing or management affects operations. Taking all of the classes at the same time helps you understand those relationships in your business plan."
Alex Bretthauer, Finance
---
"Start working on the business plan as soon as possible! This is essential to succeed in the course. It took us multiple tries to find a business plan idea that all professors approved. And get help from professors. Go to office hours. Your professors want to help you and see you succeed!"
Sara Ghazzaoui, Computer Information Systems
---
"The business plan is not your whole grade, and in order to succeed you need to learn the class material as well. There is a lot of interesting and valuable learning within the classes that can help you with your future studies as well as your career."
Danielle Kratowicz, Accounting
---
"Do not let others' experiences deter how you think of CoB 300 before you've attended the first class of the semester. I wish I would have attended the first day of class with full confidence because by the end of the semester, I was at loss for words at how fast the time had flown by and how knowledgeable I had become on topics I never thought I'd understand."
Taylor Bowles, Accounting
---