The heart of our B.B.A. programs is a 12-credit-hour core course that integrates finance, management, marketing and operations known as COB 300, taken immediately following formal acceptance into the College of Business. During the semester, students are placed in cross-disciplinary teams and are tasked with integrating material from the four classes and developing a viable business plan. A distinguishing factor of an education at the College of Business, it helps to ensure success, not only in the program but in your career.
The top business plans to come from COB 300 each year are entered into the Business Plan Competition, an annual event with more than $25,000 in scholarships and prizes distributed to the student teams.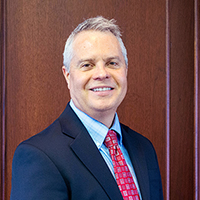 "We call it integrative business. It isn't just teaching in silos. It is teaching how business operates, and how you need all of these disciplines in a holistic approach to conduct business. That is the difference with COB 300."
Fernando Pargas, COB 300 coordinator and professor of management
Curriculum
The COB 300 core is taken concurrently and consists of:
COB 300A.  Integrated Business:  Management

COB 300B.  Integrated Business:  Finance

COB 300C.  Integrated Business:  Operations

COB 300D.  Integrated Business:  Marketing
The learning in each individual discipline is designed to work in concert as your group develops a business plan from the ground up.
Advice
Here is some advice for success from Business Plan Competition finalists:
"Teamwork and collaboration are truly the essence of COB 300. Engage with your team extensively and you will be surprised at the wealth of knowledge, experiences, and perspectives within."
Devam Patel ('22), computer information systems
---
"The best thing you can do is ask questions until you understand what you need to, take advantage of the office hours, and don't be afraid to say you don't know how to do something. It may not feel like it sometimes, but it is possible and if you put in the work, it will get done!"
Kenya Balser ('23), marketing
---
"Have a consistent work schedule, especially on the front end of the semester, to stay ahead of the curve and keep lines of communication as open as possible between team members."
Jasmin Jones ('22), accounting
---