If you have a passion for international humanitarian work, CISR is the place to put your passion to work!
Join the Dukes for Post-Conflict Recovery student group!
Research and edit for The Journal of Conventional Weapons Destruction. The Journal Conventional Weapons Destruction is an international print and online magazine providing a forum for the global ERW (explosive remnants of war) and landmine abatement community. Through editorials, articles, reports, reviews, profiles and news, The Journal strives to bring current and valuable information to its readers. The print magazine has a circulation of 2,400, two-thirds of which is outside the US. The publication is viewed in over 150 countries online.
Global Humanitarian Week (GHW). CISR hosts GHW the first week of April each year to highlight the global issues related to the aftermath conflict and war. Students assist in planning the week of activities which includes speakers, special events, and receptions.
Senior Managers' Course. CISR brings up to 25 managers from mine action centers around the world for three-weeks of leadership and management training. The course is conducted by CISR at regional locations around the world and on the JMU campus. When the course is held at JMU, student employees assist with execution of the course.
The Frazure-Kruzel-Drew Memorial Fellowship. The FKD Fellowship is a paid 2-year fellowship at the U.S. Department of State in the Office of Weapons Removal and Abatement. The fellowship provides experience in resource and program management providing assistance to activities that enhance U.S. national security, protect civilian populations from the dangers posed by conventional arms, assist victims of conflict, and facilitate economic development.
CISR student employees gain valuable resume building experience including writing, editing, researching, databasing, networking, conference facilitating and more.
Contact CISR about potential opportunities
---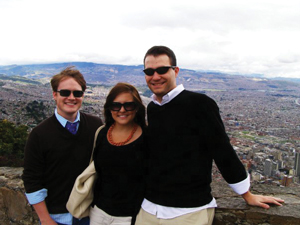 Testimonials from Former Student Employees:
Photo left: Former CISR student employees Geary Cox, Emma Smith Atkinson and Tony Morin do some sight-seeing while attending a CISR-led conference in Bogotá, Colombia.
"The Center's work prepared me for what I currently do because it gave me real world experience in the non-profit field which is essential if you ever want to be successful in the industry. I gained experience through my tasks and responsibilities at the Center, but more, I realized that if you find something you feel strongly and passionately about, then work doesn't seem like work at all." ~ Lauren Hill, former CISR employee
"CISR provided the building blocks for me to be successful… CISR is truly a hidden gem at JMU and a great way to start figuring out what JMU's motto 'Be the Change' really means."~ Kate McFarland, former CISR employee and Frasure-Kruzel-Drew Memorial Fellow
"I gained so much of my professional foundation from my time at CISR, and I really owe that to the fantastic staff…On top of everything, the personal satisfaction that I was able to draw from contributing, if only a little, to a field of such great humanitarian importance is something that I'll keep with me for the duration of my life. I can't say enough about what CISR means to me, and I couldn't recommend a better place to spend time in between classes at JMU." ~ Tony Morin, former CISR employee and Frasure-Kruzel-Drew Memorial Fellow
"Overall, my time spent working at CISR was extremely positive and provided me with valuable experience that I know will serve me well with any job in the future. " ~ Alex Tsurdinis, former CISR student employee
"Working for CISR was phenomenal! You have the opportunity to be a part of something that matters, something fun, and work with a group of great people who have so much to teach you. You are in great hands and have everything to gain." ~ Jessica Jacklin, former CISR student employee
"Along with a rewarding experience, the greatest thing I took away from my work at CISR was having pride in the work I did. Whenever people asked what I did at my job, I couldn't help but to get excited and tell them the work that I did and the experts I worked with… The traits I learned at CISR – the writing, editing, communicating, work ethic, pride, and responsibility – have carried over, and I have enjoyed a successful start to my new job." ~ Cory Kuklick, former CISR student employee