Assessment 101, Winter 2020
Division of Student Affairs & CSPA Students Engage in Assessment Training Offered by SASS Team
---
Andrea Pope, Chris Patterson, Samantha Gonzalez, and Sean York (all JMU graduate students) and Dr. Sara Finney of the Student Affairs Assessment Support Services (SASS) team offered "Assessment 101" from January 7 to 10.
Beginning on January 7th, the Student Affairs Assessment Support Services (SASS) team offered a three-and-a-half-day workshop intentionally designed for current and future student affairs professionals. The workshop was done in partnership with the Division of Student Affairs and the College Student Personnel Administration (CSPA) master's program, as all first-year CSPA students were required to attend with remaining seats then available to the student affairs division. Twenty-two total attendees participated in the workshop with twelve CSPA students and ten staff. Student Affairs staff included an Associate Vice President and professionals from the University Health Center, Learning Centers, Career and Academic Planning, the Center for Multicultural Student Services, and University Unions.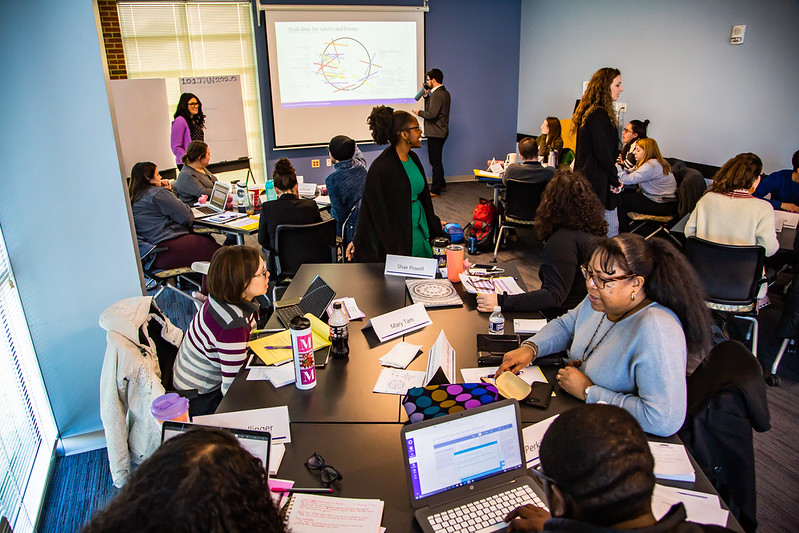 Participants and facilitators discussing data interpretation.
The workshop was designed and implemented with several student learning outcomes in mind. Upon completion of the workshop, participants should demonstrate an:
Increased value for assessment
Increased assessment self-efficacy
Increased confidence in their ability to advocate for sound assessment processes
Throughout the three and half days, student affairs professionals and students were introduced to the entire assessment cycle. Major focus was placed on the following steps: specifying student learning outcomes, creating and mapping theory-based programming, selecting and designing instruments, examining implementation fidelity, and using results for improvement. Additionally, there were explicit links between the training and the various professional standards related to assessment put forth by organizations like ACPA, CAS, and NASPA. By engaging in activities related to a few crucial assessment topics, participants were able to build a strong foundation for future assessment work and continued education.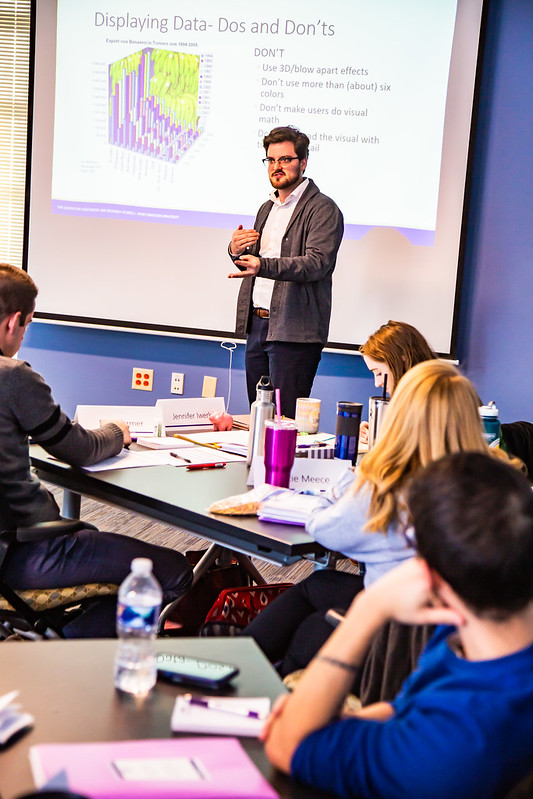 Chris Patterson leading a discussion on data display.
The excellence of the training and facilitation could not have been attained without the hard work of Andrea Pope (4th year Assessment & Measurement PhD student), Chris Patterson (1st year Assessment & Measurement PhD student), Samantha Gonzalez (1st year Early Childhood Education Master's student), and Sean York (1st year Assessment and Measurement PhD student). Overseeing these three graduate students was Dr. Sara Finney, who also contributed to the training throughout the week. Together, they offered an engaging and empowering experience designed to increase participants' perceived value and confidence to engage in meaningful assessment practice.
The Center for Assessment and Research Studies thanks Andrea, Chris, Samantha, Sean, and Sara for their efforts to build and sustain a positive culture of assessment on campus.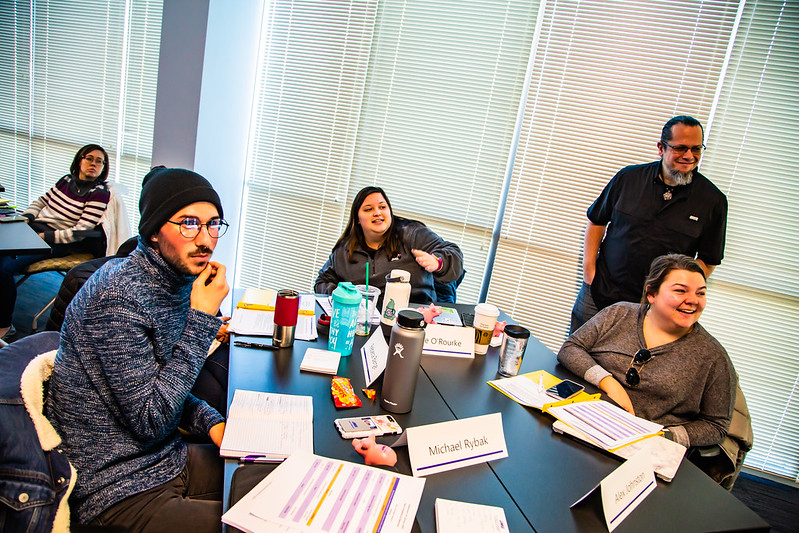 Sean York interacts with participants during the workshop.